Research Talks: Dr. Paul Lawrie and Leslie Sabiston
Centre for Research in Cultural Studies
---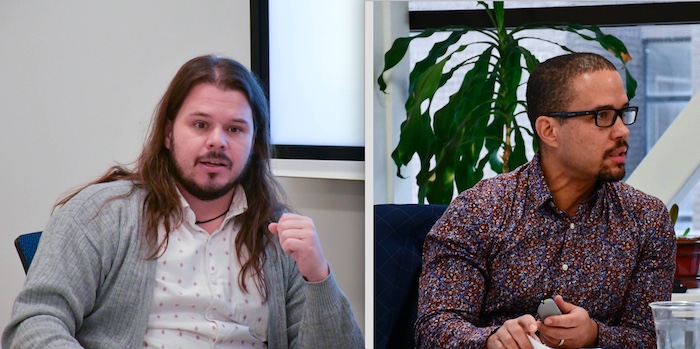 On December 2, 2019, the Centre for Research in Cultural Studies (CRiCS) held its final fall 2019 session of the Research Talks Series. The series features members of the Cultural Studies Research Group (CSRG), and offers an opportunity for students and members of CRiCS to hear more about faculty research in progress.
This session included 
presentations by 
Dr. Paul Lawrie (Department of History) and Leslie Sabiston (Department of Anthropology). Lawrie's "The Color of Hours: Race, Time, Place, and the Making of the Postwar City" explored historical temporal geographies of Detroit in a way to better understand how the city can be understood as "out of time". Sabiston
's 
"The Penetrating Gaze of Fetal Alcohol Spectrum Disorder: Intimate Encounters with Indigenous Life in Canada" focused on a recent chapter from his dissertation that explores the discursive and affective forces that correlate FASD with Indigeneity. 
The Research Talk Series will continue in January 2020.
(Image - Leslie Sabiston, left, and Dr. Paul Lawrie during their talks. Photo credit: Lauren Bosc)