Research Week
Tue. Nov. 14 11:30 AM - Fri. Nov. 17 06:00 PM
Contact: Rachel: r.keijzer@uwinnipeg.ca
Location: 2M70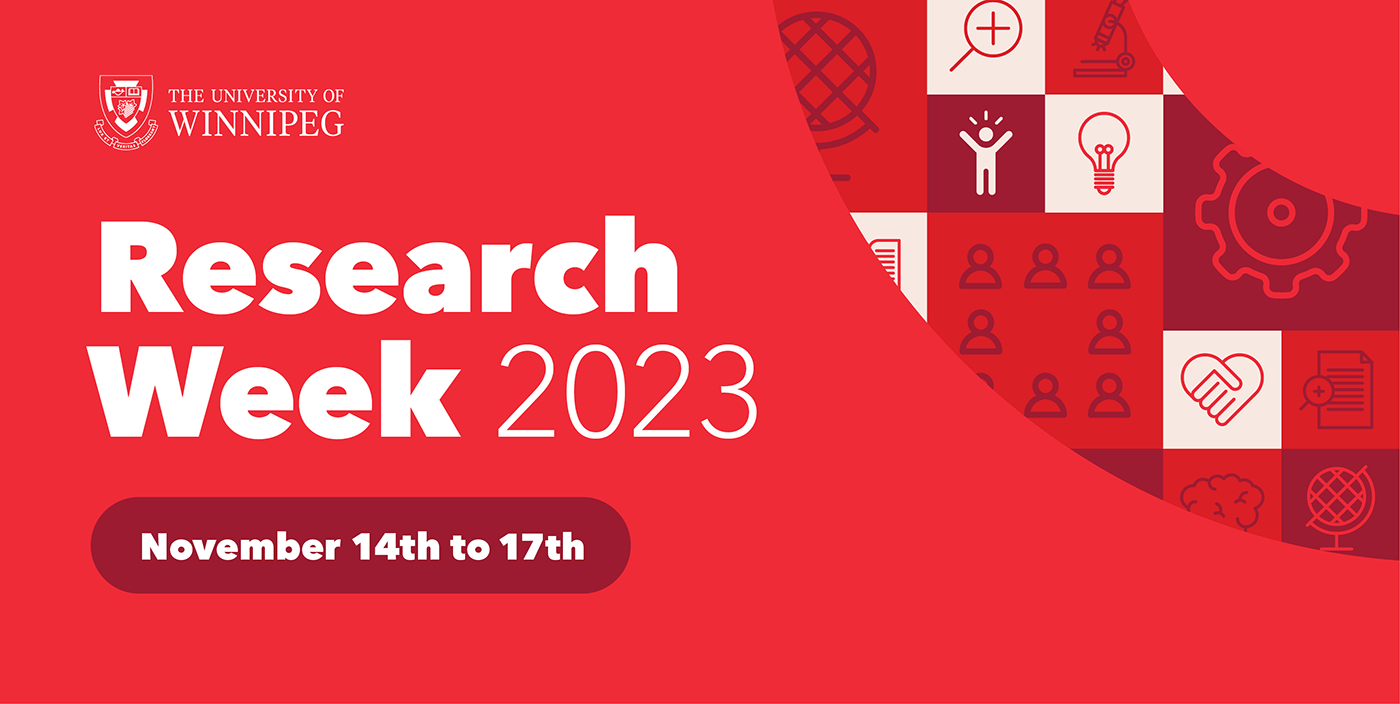 Are you ready to embark on a transformative journey that will enhance your research prowess, expand your network, and enrich your perspective? Look no further! We've got the perfect opportunity for you!
What: 4 days of workshops, conversations, and fun
Why: To equip you with the tools, knowledge, and skills for research success in an ever-changing landscape
Who: Open to students, staff, faculty, and our community of curious minds
Where: 2M70 (unless otherwise stated)
Cost: Free
Here's Why You Can't Miss It!
Expand Your Horizons: Our workshops and conversations are designed to boost your research acumen and keep you ahead of the curve in an ever-evolving research environment.
Network and Connect: Forge connections with fellow students,
staff, faculty, and community members. Share ideas, experiences, and build lasting relationships.
Coffee and Donuts: The perfect fuel to keep your energy and enthusiasm high 
Don't miss out on this fantastic opportunity to supercharge your research journey. 
Registration is appreciated but not required. Register here!
Tuesday, November 14
| Time | Event |
| --- | --- |
| 11:30-12:45 | Research Week Kickoff: Speed Networking Extravaganza |
| 1:00-2:15 | Unlocking the Power of Public Media: Skills for Researchers |
| 2:30-3:45 | Community-Based Research Across Disciplines |
| 4:00-5:15 | Indigenous Leaders in Science Reception |
Wednesday, November 15
| Time | Event |
| --- | --- |
| 11:30-12:20 | Battling Imposter Syndrome and Fostering Wellbeing in Academia |
| 12:30-1:20 | Applying TCPS Principles to Research Practice: Consent, Confidentiality, and Community Engagement in Ethics |
| 1:30-2:20 | Mastering Ethical Ethics Applications: A Hands-On Workshop |
| 2:30-3:35 | Doing Research in Prisons - Challenges, Dilemmas, Compromises, and Considerations |
| 4:00-5:15 | Student Research Opportunities |
| 6:30  | THFM Student Cinefest @ UW Research Week 2023 (EG Hall) |
 Thursday, November 16
| Time | Event |
| --- | --- |
| 11:30-12:45 | Exploring DORA: Research Assessment & Evaluation, Time for Change? |
| 1:00-2:15 | Path Forward: Tri-Agencies Open Access Policy Consultation Session |
| 2:30-3:45 | Navigating Research Security: Protecting Knowledge in a Changing World |
| 4:00-5:15 | Demystifying the New Data Policy: An Exclusive AMA with Fred Schumacher |
| 6:30 | THFM Student Cinefest @ UW Research Week 2023 (EG Hall) |
Friday, November 17
| Time | Event |
| --- | --- |
| 11:30-12:20 | Mastering Plain Language Communication |
| 12:30-1:20 | Freaky Friday: Flipped 3MT |
| 1:30-3:45 | Cripping Climate Adaption: Screening, Panel Discussion, Conversation (Convocation Hall and Zoom) Register here |
| 6:30 | THFM Student Cinefest @ UW Research Week 2023 (EG Hall) |