Human Ethics
Important Notices:
Multi-Jurisdictional WebGrants application:

There is now a WebGrants form for researchers who are submitting Multi-Jurisdictional (formerly Multi-Site) Human Ethics Applications. The form can be found in WebGrants within the Funding Opportunities section and is labeled "Multi-Jurisdictional Human Ethics Application (Protocols previously approved by other TCPS2 institution)."

Please note

: This application is only to be used for human ethics protocols that are minimal risk and have been previously approved by other TCPS2 institutions. If you have any questions please contact ethics@uwinnipeg.ca .
Researchers that are involved in human-based experiments and have protocols approved by UHREB, please be advised that there is now a form in WebGrants to submit information regarding unanticipated events. If any unanticipated event occurs in your approved protocol, please submit the form as soon as possible and stop any ongoing research. The form can be found in WebGrants under Status Reports - "Unanticipated Event Form." The WebGrants unanticipated event form is for graduate student and faculty use. If you are an undergraduate student or a course-based researcher, please fill out the PDF form located on our website. The form is located under "DEC Application Forms" and should be submitted to the relavant DEC Chair.
UHREB has set its 2023-2024 meeting schedule: Please keep these dates in mind if you plan to submit an ethics proposal that includes greater than minimal risks to human participants, as it will require approval at a board meeting. R

esearchers submitting greater than minimal risk applications should submit 3 weeks prior to the meeting date they wish to seek approval at.




September 12: 12:30-1:30pm
October 20: 9:30-10:30am
December 7th: 1:30-2:30pm
January 10th: 11:30-12:30pm
February 26th: 10:30-11:30 am
April 9: 1:00-2:00 pm

The Tri-Council has made a small update to the TCPS 2 (2022). The general announcement can be found here: https://ethics.gc.ca/eng/tcps2-eptc2_2022_introducing-presentation.html along with a highlight of the changes here: Highlights of changes: Summary of revisions in TCPS 2 (2022) (ethics.gc.ca).
Indigenous Research Ethics Self-Assessment: If your research may impact Indigenous peoples, you must complete Section 4.0 (Research Involving the First Nations, Inuit, and Métis Peoples of Canada) of the human ethics application. If you are unsure whether your research will require the completion of Section 4.0, please see the new Indigenous Research Ethics section in Resources.
Contact:
Human Ethics Process: A Flowchart
Researchers should expect a minimum of 6 weeks to review and approve a minimal risk application. Please see below for an overview of the process.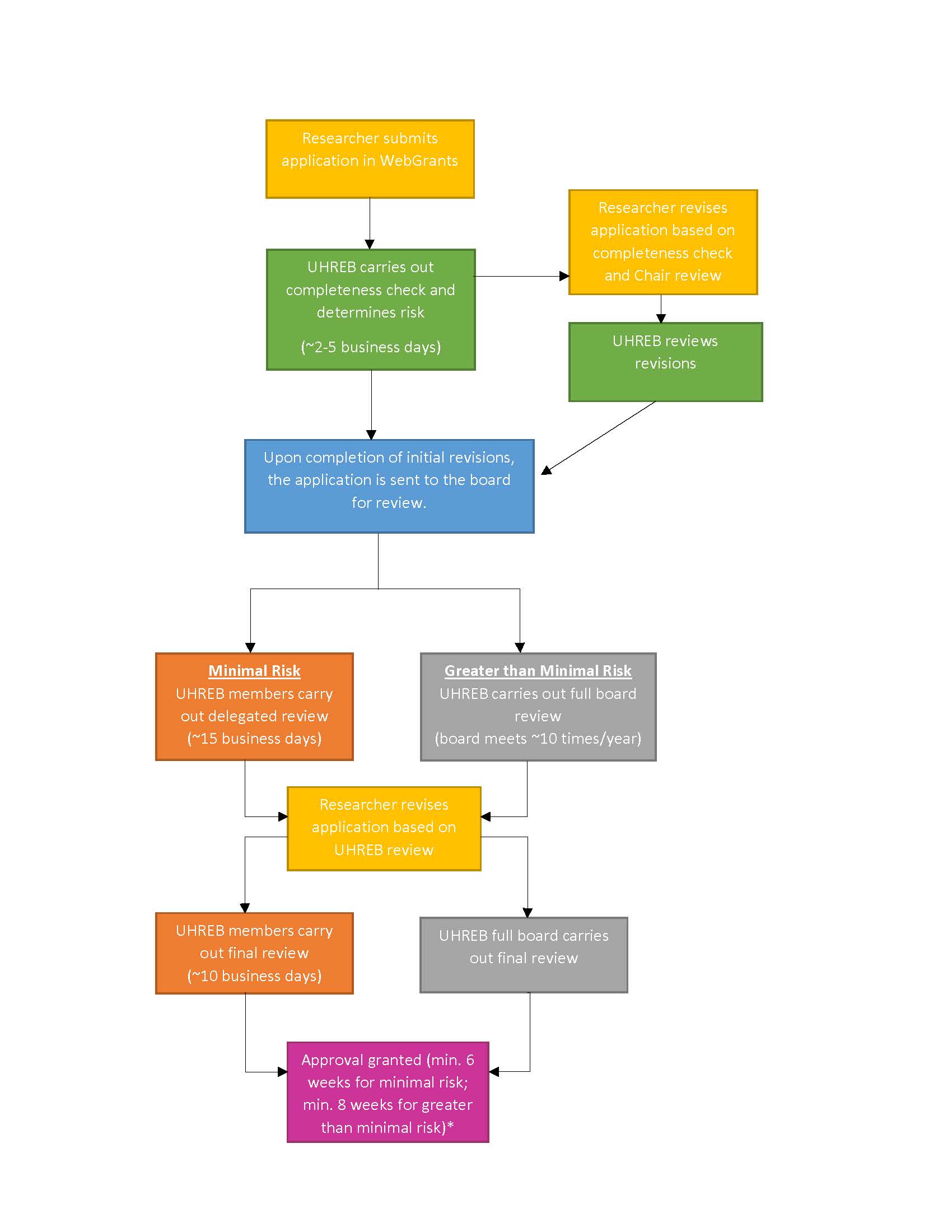 Click flowchart to view a larger version.
*Please note*
The timeline noted for a min. 6-week approval is based on applications that require little to no revisions and are confirmed as minimal risk. UHREB cannot control the time required for researchers to revise their applications satisfactorily, and applications that require multiple rounds of revisions will lead to a longer time to receive approval. Because of the substantial increase in human ethics applications over the last few years, UHREB no longer expedites applications for approval.
Delays may also occur if applications are more complex, and include, for example, multijurisdictional review, international research, community engagement without previous contact, or during busy times when UHREB receives a large influx of applications. Please plan ahead and leave enough time for potential delays.