Human Ethics
Important Notices:
Website: We've updated the Human Ethics website content! Feedback and questions can be sent to ethics@uwinnipeg.ca.
COVID-19 Protocol Requirements: For more information on what is required to include in your human ethics protocol in relation to COVID-19, please visit the Human Ethics FAQs.
Health Researchers: RITHIM is a provincial initiative to improve time-to-conduct for health research in Manitoba by 

harmonizing ethics, privacy and institutional impact review processes. 

RITHIM is currently operating in a transitional phase until later in 2022, when the launch of the new electronic system will harmonize the application process and streamline reviews. Health researchers can stay up-to-date on RITHIM-related changes by checking their Updates page.
Contact:
Human Ethics Process: A Flowchart
Researchers should expect a minimum of 6 weeks to review and approve a minimal risk application. Please see below for an overview of the process.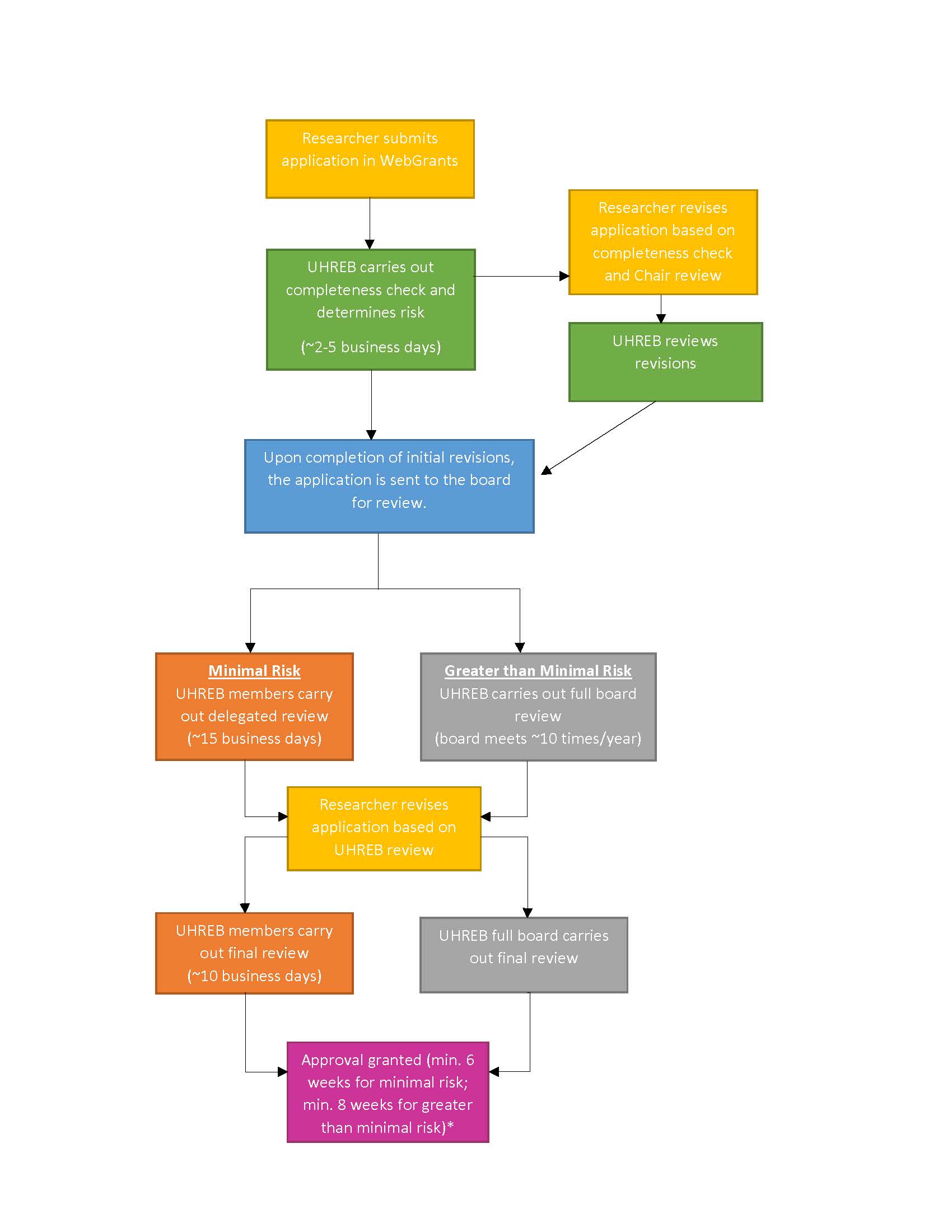 Click flowchart to view a larger version.
*Please note*
The timeline noted for a min. 6-week approval is based on applications that require little to no revisions and are confirmed as minimal risk. UHREB cannot control the time required for researchers to revise their applications satisfactorily, and applications that require multiple rounds of revisions will lead to a longer time to receive approval. Because of the substantial increase in human ethics applications over the last few years, UHREB no longer expedites applications for approval.
Delays may also occur if applications are more complex, and include, for example, multijurisdictional review, international research, community engagement without previous contact, or during busy times when UHREB receives a large influx of applications. Please plan ahead and leave enough time for potential delays.