Clubs and Leagues
Recreation Services
---
The department of Recreation Services hosts a variety of recreational clubs and leagues available for all skill levels. Whether you're looking to have fun by playing an organized sport, get physically active or meet new people, you're sure to find something that will help reach your goals!   
Available to students only:
Daily drop-in intramural activities in the Axworthy Health and RecPlex including soccer, basketball, ultimate, table tennis, racquetball and squash from September to April.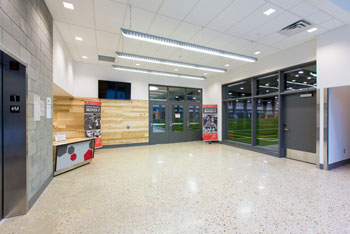 Available to students, staff & faculty only:
The Recreation Services Walking Club promotes health and wellness through regular physical activity. Walking can improve your cardiovascular health, decrease stress, boost energy levels, and contribute to lifelong health.We host individual and team challenges to help motivate you. Read our walking FAQ here.

Available to Bill Wedlake Fitness Centre Members or day pass holders only:
The Pickleball Club meets once a week to play and learn the sport of pickleball. No experience is required and all equipment is provided. Check out our schedule here.
Racquetball Manitoba and Squash Manitoba host leagues, tournaments, and ladders at the Duckworth Centre courts throughout the year. To participate in these events, you must have BOTH a Bill Wedlake Fitness Centre membership AND a membership to the corresponding Provincial Sport Organization. For more information on Court Sport Leagues click here.

Available to the public:
The University of Winnipeg hosts the Winnipeg Basketball League, the city's largest adult basketball league. With men's and women's divisions ranging from recreational to elite, the league welcomes players of all experience levels and backgrounds for the best per-game value in the city. The league offers the nicest facilities in Manitoba, online rosters and statistics, accommodation of schedule requests, player of the week and championship prizes from our great sponsors, and game video and highlights posted to our website!
The Soccerland League is the largest adult soccer league in Winnipeg and is open to all skills levels and anyone over the age of 18 years old who wants to play soccer. The league runs divisions in the Axowrthy Health and RecPlex for both men and coed teams throughout the year.