Parking Services
---
Parking Coordinator (for Faculty, Staff, and Students):
C. Ducharme,
phone: 204.786.9223
office: 0B07A
email: ch.ducharme@uwinnipeg.ca 

Casual (Short-Term) Parking:
Short-term parking on campus is available in several locations, including:
The new RecPlex has 100 indoor spots available for casual daily parking. Cost is $3 per hour during the day and a flat $4 for evenings and weekends. (You can access the parkade from Young Street).
439 Young Street (behind Wii Chii Waa Ka Nak—the blue building on Ellice Avenue at Young Street)
Lot behind 520 Portage Avenue— (home of Global College, the United Centre for Theological
Studies, and Menno Simons College)
Metered parking on the street and at nearby lots and parkades
For more parking options, please click below to view the UWinnipeg campus-area parking map: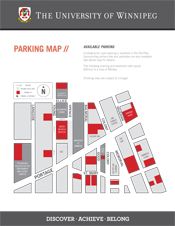 Map of available parking
close to The University of Winnipeg
Long-Term Parking – Faculty, Staff, and Students:
Long-term parking (September 1 to – August 31) is available to University of Winnipeg faculty, staff, and students upon request. To request a space, you must complete and sign a parking application each year. Applications are available from Parking Services (located in Printing Services), Human Resources, and in PDF format (see navigation bar above). Costs are listed on the parking form.