2016 Student paper competition
Mon. Mar. 14, 2016
The Institute of Urban Studies is now accepting submissions for the 2016 Student Paper Competition.
The IUS calls for papers from University of Winnipeg students on any topic related to urban studies. The IUS will award the best paper, judged by qualified referees, with a $250 prize and publication in the IUS Student Paper Series. The winner will also recieve a $250 prize. Please send submission to Michelle Swanson.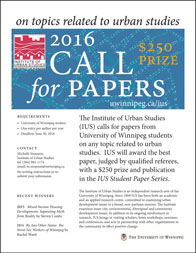 Recent Winners Include:
Steven Coutts: Mixed-income Housing Developments: Separating Myth from Reality. Paper (PDF)
Rachel Ward: By Any Other Name: The Street Sex Workers or Winnipeg. Paper (PDF)
To view all winners of the student paper competition please refer to the IUS Student Paper Series archive in the project archive by topic page on our website.