Aakoziiwigamig: An Ojibwe Radio Drama
The University of Winnipeg (Wii Chiiwaakanak Learning Centre, Indigenous Engagement, and the Oral History Centre), the University of Manitoba, Indigenous Languages of Manitoba, Native Communications Inc. Radio (NCI) and Mazinaate Publishing have collaborated on an Indigenous Language radio show that premiered on January 13, 2021. The objective of the radio program is to create an Ojibway speaking community outside of the classroom.  
Wii Chiiwaakanak Learning Centre and Indigenous Languages of Manitoba saw this as an exciting opportunity to build on their language outreach in a time of the pandemic and to be part of something that had not been done before.
The program is aired every second Wednesday at 12:30 pm on NCI Radio FM and will continue until June, 2021.

---
Episodes:
Episode 1 Overview – Episode 1 Script [PDF]
ANNA thinks she has COVID-19 and sister-in-law TANYA drive her to the hospital. Dr. MARK WAAGOSH tells them to self-isolate for two weeks. Meanwhile, TALL MAN JORDAN goes on a rampage in the waiting room because he's been waiting for over five hours. Police are called. He is finally seen by MARK. Nurse CAROL recognizes him as someone who stole food from her apartment. Then, HELEN comes into the waiting room, pretending to be a hooker. She makes a beeline for SECURITY MAN JOHN. She seems to think they know each other. JOHN denies have met her. JOHN'S fiancée, TANYA, sees this. JOHN tells TANYA to call him on his cell when she and Anna have reached their car safely. On their way home, ANNA calls her sister EVE to wish her happy birthday, but her pregnant sister EVE's water broke and she can't reach her husband ROB.
Episode 1 Language Lesson:
Episode 2 Overview – Episode 2 Script [PDF]
EVE is calling husband ROB but he doesn't answer his cell because he's in a bar trying to pick up the WAITRESS LANA. EVE drives to the hospital herself that night and collides with a semi that was entering her lane. Another DRIVER DEB stops and calls 911. She is taken to the hospital by ambulance. The hospital staff, Desk Clerk DARYL finally reaches ROB on his cell. He rushes to the hospital. Dr. CAMERON STONE is the one who examines her. ROB's son was born minutes before he got there and the baby was whisked away to be washed and bundled. ROB sees his wife and is happy she's okay. Then he walks over to where the newborns are. His son is not there. No one seems to know where the baby went. He's told to go and wait in the waiting room. While there, a woman tells him what she observed while she was sitting there. She saw the commotion caused by the TALL MAN and a woman walking out with a bundle that could have been a baby. And then there was the entrance of the hooker from the street. She thinks that the two stole the baby. ROB calls the police. He doesn't trust the hospital staff to do it.
GII-DAGOSHIN ANNA AAKOZIIWIGAMIGONG, ODAANGWEN WIIJIIWIGOD JINANAANDO-GIKENIMIND MAAGIZHAA JI-AYAAGWEN GOOBID AAKOZIWIN. MEGWAA IMAA ENAMADABIWAAD BEZHIG GICHI-ININI GII-NISHKI-BII'O. JORDAN IZHINIKAAZO. ANNA DASH O-GII-WAABAMIGOON MASHKIKIIWININIWAN MARK GAA-IZHINIKAAZONID. GII-NANAANDO-GIKENJIGAADENI OMISKWIIM, JIAAKOZIGWEN. GII-ANI-ZAAGA'AMOWAAD DASH MIINAWAA GII-MIIGAAJIGE AWE JORDAN. GAA-NAAGAJICHIGED JOHN GAA-IZHINIKAAZOD O-GII-ANDOMAAN ZHIMAAGANISHAN. GII-BIZAANI-AYAA DASH AWE ININI. MASHKIKIIWININII-KWE CAROL O-GII-NISIDAWINAWAAN INI JORDANAN, IZHIDAAWAN IINZAN GEWIIN GAA-IZHIDAAD GICHI-WAAKAA'IGANING. WENJI-BIINDIGED DASH IKWE GAAADAAWAANIDIZOD IZHIKWANAYE. O-GII-ANAAMIMAAN JOHNAN E-GIIDIBA'AMAAGOSIG ZHOONIYAAN. 40.00. GAAWIIN NIIN AWE, IKIDO JOHN. O-GIIZAAGIJI-GAAKAANDINAAN DASH. WIINAWAA DASH ANNA GAYE TANYA GII-ANIGIIWEWAG. TANYA WII-WIIDIGEMAAN JOHNAN. ODAZHIMAAWAAN JOHNAN EANI-GIIWEWAAD. ANNA DASH OGANOONAAN OSHIIMEYAN EVE GAAIZHINIKAAZONID, EDIBISHKAMINID. MEGWAA IINZAN MAADAAPINE EVE. WIIONIIJAANISI.
Episode 2 Language Lesson:
Episode 3 Overview – Episode 3 Script [PDF]
DR. WENDY WAAGOSH and Nurse AMANDA are chatting outside when they're called in because of a new patient. Elderly ERNIE KENNY has a severe asthma attack. But he is also being difficult because he believes someone did that to him, bad medicine. Nurse CAROL calms him down. Interns SAM COOK and WILSON WOOD are there. ERNIE recognizes SAM as a former language student but thinks that WILSON is the one who put the hex on him. In the meantime, JORDAN and HELEN have the baby at their home. They are happy because they wanted a baby for a long time. They're going to call him Norman but the BABY speaks up in an adult voice. He doesn't want to be named Norman. The two abductors hurry back to the hospital and drop off the TALKING BABY in a crib, and run off. The two interns find AMANDA attractive. CAMERON and WENDY are discussing this case when CAMERON asks WENDY if she's married. She says yes, but CAMERON says he's not going to give up his sights on her. She laughs. He kisses her suddenly in the hallway and her husband MARK catches sight of this. He turns the other way quickly. WENDY and CAMERON go see EVE in her room. ROB is there too. AMANDA comes in to announce that the baby has been found and is safe. The reason the baby was returned to the hospital was that the abductors found that the newborn baby could talk like an adult, with the voice of an elderly man. They were frightened by it and returned it as soon as they could.
ODAANAANG GAA-GII-DWAATEG, WENDY WAAGOSH GAYE AMANDA DAZHI-GAAGIIGIDOWAG AGWAJIING GIIWIINDAMAWINDWAA EDAGOSHING AKIWENZI ERNIE E-IZHINIKAAZOD. OSOSODAMWAAPINE ERNIE. ASTHMA ODAYAAN. AWIYAN DASH ODANAAMENIMAAN E-GII-DOODAAGOD, ANISHINAABE MASHKIKI DAABISHKOO. SAM MASHKIKIIWININIINS IMAA O-GII-NISIDAWINAWAAN INI AKIWENZIWAN, E-GII-GIKINO'AMAAGOD ANISHINAABEMOWIN. MINWENDAM ERNIE EWAABAMAAD SAM-AN. WILSON MIINAWAA BEZHIG MASHKIKIIWININIINS GII-BIINDIGE. AMII INI ERNIE ANISHAA GAA-ANAAMENIMAAD GEGOO E-GII-DOODAAGOD. AAPIJI DASH ANAMI'AAWAADIZI WILSON. GAAWIIN IWE DAA-IZHICHIGESII. WEDI DASH WIIN IGI NIIZH ANISHINAABEG GAA-GII-GIMOODIWAAD ABINOOJIIYENSAN AYAAWAG ENDAAWAAD. AAPIJI MINWENDAMOOG E-AYAAWAAWAAD ABINOOJIIYENSAN. GAAWIIN WIINAWAA OGASHKITOOSIINAAWAA JI-ONIIJAANISIWAAD. MII GAA-GII-ONJI-GIMOODIWAAD. OGOSHKOWINIGOWAAN DASH E-MAAJII-GAAGIIGIDONID INI ABINOOJIIYENSAN. DAABISHKOO GICHI-AYAA INITAAGOZI. GAGWAANISAGENDAMOOG. NDAWAA ZHEMAAK AAKOZIIWIGAMIGONG OGIIWEWINAAWAAN. O-GIIMOOJI-ASAAWAAN NIBEWINENSING. GAA-IZHIZAAGIJIBATOOWAAD DASH. CAMERON OSHKI MASHKIKIIWININI AAPIJI OMISAWENIMAAN WENDY-AN. WIIDIGE DASH WENDY. GAAWIIN WIIN OMISAWENIMAASIIN CAMERON-AN. CAMERON ODOOJIIMAAN INI IKWEWAN. DASH WENDY. GAAWIIN WIIN OMISAWENIMAASIIN CAMERON-AN. CAMERON ODOOJIIMAAN INI IKWEWAN. GII-GAACHIDINIWE DASH WENDY ONAABEMAN MARK WAAGOSH. GAAWIIN GEGOO GII-IKIDOSII. GII-MICHIMAAJII'ADOO. EVE ZHIGO ROB DASH WIIN AYAAWAG GAA-IZHI-NIBAAD EVE. BIINDIGE AMANDA EDIBAAJIMOD E-GII-BIGIIWEWININD IINZAN ABINOOJIIYENS. AMII OWE GAA-INAKAMIGAK ODAANAANG.
Episode 3 Language Lesson:
Episode 4 Overview – Episode 4 Script [PDF]
CAROL has been talking to EVE about her possible concussion. The BABY is sleeping by her bed. Nurse AMANDA takes CAROL outside the room. She tells her that EVE has bruises on her arms and back. It looks like domestic violence. WILSON invites AMANDA to go for coffee with him. They leave. CAROL calls BRENDA the social worker to come and interview EVE. WILSON declares his love to AMANDA but she's saved by the bell by SAM's arrival. She takes off. BRENDA talks to EVE who admits that ROB has been beating her. BRENDA tells her she'll help her find an apartment. Then a fire alarm goes off. A FIREMAN comes to tell her that all is good. They put out the small fire. ROB arrives in her room just then. They talk about what his name should be but THE TALKING BABY has his own ideas about his name. EVE is frightened by her baby but she holds him and tries to bond with him. THE TALKING BABY tells her that he was given the gift of speech and for that, he will physically remain a baby a bit longer than usual. SAM and WILSON come into the room to talk to the couple but the BABY keeps interrupting. The BABY discloses that his dad is beating his mom and wants it stopped. AMANDA pops in to tell SAM and WILSON they're needed downstairs because the media crews are here. Very quickly, the media cameramen are in EVE's room looking for the TALKING BABY. They are jostling with each other aggressively. CAROL sends them out. But the BABY speaks to the NCI man and arranges to meet him the next day. Then there's another VOICE telling everyone that there is another fire in the building. ERNIE is the one who set the first fire and he's in the act of setting another fire in the basement. The news camera men run down to catch that story instead.
CAROL AYAA IMAA EVE GA-IZHI-ZHINGISHING. ABINOOJIIYENS NIBAA IMAA BESHO. AMANDA WIIGANOONAAN CAROL-AN AGWAJIING IMAA. ONANDAWENIMAAN JI-DAZHINDAMOWAAD EMIIGAANIGOD ONAABEMAN EVE. NAAGACH DASH WILSON OWIIZHAAMAAN AMANDA-WAN JI-ANDO-MINIKWEWAAD COFFEE AGEAJIING. WILSON OWIINDAMAWAAN AMANDA-WAN EZAAGI'AAD. AAZHA MIINAWAA NOONDAAGWAN EZAKIDEG NGOJI IMAA AAKOZIIWIGAMIGONG. DAGOSHIN AATAWE'IWEWININI, GAAWIIN ZAKIDESINOON. GOSHKOZI ABINOOJIIYENS. EZHI-MAAJII-GAAGIIGIDOD. EVE OZEGI'IGOON ONIIJAANISAN E-GAAGIIGIDONID. AAPIJI NITAAWE AWE ABINOOJIYENS. DAGOSHINOOG GAA-DIBAAJIMOWAAD GAA-MAZINAATESEG. GAGWEAADINAMAADIWAG AWENEN GE-GANOONAAD ABINOOJIIYENSAN. AAZHA MIINAWAA ZAKIDE. GANABACH ERNIE GAA-GII-DOODANG INENDAMOOG.
Episode 4 Language Lesson:
Episode 5 Overview – Episode 5 Script [PDF]
The NCI man comes back to talk to THE TALKING BABY. The Firefighters have put the fire out and they've left. The police are there to charge ERNIE because it appears that he is the culprit. MARK wants to know if WENDY and CAMERON are having an affair. WENDY denies it. BRENDA tells MARK and AMANDA that EVE will be leaving ROB. The POLICE talk to ERNIE who denies his role in the arson. Then ERNIE has a severe asthma attack. SAM comes by and he and CAROL get him some oxygen and into EVE's room. AMANDA is looking after EVE. But now AMANDA is making her play for MARK who is ERNIE's doctor. MARK tells her to not feel that way. Soon ERNIE is feeling better and he says hello to EVE. THE TALKING BABY greets him and begins a conversation with him. ANNA comes to visit her sister EVE. She is enthralled with the baby. EVE tells her about her pending separation with ROB. She asks if ANNA could look after the BABY while she goes away indefinitely. She can't handle a talking baby and a violent husband. ANNA says yes, of course she will take the BABY and she tells EVE that she won 2 million dollars in the lottery. She and the baby will be fine.
AAZHA GII-AATAWE'IGEWAG IGI GAA-INANOKIIWAAD. GII-MAAJAAWAG. ZHIMAAGANISHAG IMAA AYAAWAG. WII-DIBAAKONAAWAAN ERNIWAN. MARK WAAGOSH ONOONDE-GIKENDAAN GIISHPIN GIIMOOJICHIGEWAAD WENDY ZHIGO CAMERON, OSHKI-MASHKIKIIWININI. BRENDA OWIINDAMAWAAN MARK EVE JI-NAGANAAD ONAABEMAN. ERNIE GICHIOSOSODAM. GEGAA NIBO. SAM OBI-NAADAMAWAAN. AMANDA OSOSODAM. GEGAA NIBO. SAM OBI-NAADAMAWAAN. AMANDA OWIINDAMAWAAN MARK-AN EZAAGI'AAD. GAAWIIN DASH NAASAAB INENDAZII MARK. ERNIE MINOMANJI'O. OMAWADISAAN EVE-AN. OMAAJII-GAGANOONAAN ABINOOJIIYENSAN. ANNA O-BI-MAWADISAAN OSHIIMEYAN EVE-AN. EVEOGAGWEJIMAAN JI-ODAAPINAAD ABINOOJIIYENSAN ZAAGA'ANG AAKOZIIWIGAMIGONG, E-WII-MAAJAAD. OZAAM OGOSAAN ONAABEMAN. MINWENDAM AANA. OZHAWENIMAAN ABINOOJIIYENSAN. DAGO GAYE GII-GICHIBAKINAAGE NIIBIWA ZHOONIYAAN.
Episode 5 Language Lesson:
Episode 6 Overview – Episode 6 Script [PDF]
WENDY and her husband MARK grab a quick lunch. She's worried about him because he's been tired since last week. He sleeps as soon as he gets home. TANYA comes in to pick up her fiancé JOHN for lunch. They talk about their coming wedding happily. SAM and WILSON are on their way to ERNIE's room. ERNIE insists he did not start the fires. Then who did? ANNA is still there glowing over her good news. CAMERON happens to hear her talking about it. She talks about what she's going to do with her money. It will include the BABY. ERNIE remembers he used to torture baby birds when he was a boy. Maybe that is the cause of his trouble. He tells the BABY. They talk about it. Then AMANDA comes to tell them that MARK has been admitted into the hospital for COVID. He has a high fever and is in isolation. WENDY is upset. Everyone is upset.
WENDY ZHIGO MARK WIISINIIWIGAMIGONG WIISINIWAG. APANE AYEKOZI MARK. GAAWIIN MINOMANJI'OSII. BI-BIINDIGE TANYA, O-BI-WAABAMAAN JOHN-AN IMAA. ODAZHINDAANAAWAA GAA-WII-WIIDIGEWAAD. SAM ZHIGO WILSON ONANDO-MAWADISAAWAAN ERNIE-WAN. GAAWIIN NIIN NGII-ZAKA'AAWESII, IKIDO ERNIE. AWENEN DASH? GIIYAABI ANNA IMAA AYAA. JIIKENDAM GII-BAKINAAGED ZHOONIYAAN. EVE JIIKENDAM GEWIIN. CAMERON BIINDIGE. ERNIE OMIKWENDAAN GII-NITAAGAGWAADAGI'AAPAN BINESHIIYENSA' GII-GWIIWIZENSIWID. MAAGIZHAA ONJINE ODIGOON ABINOOJIIYENSAN. MARK GANABACH ODAYAAN IWE GOOVID. ZHEMAAK ODASAAWAAN NIBEWINING IMAA AAKOZIIWIGAMIGONG. AAPIJI OJAANIMENDAM WENDY. GIIWE NDAWAA. GAKINA GO OJENIMENDAMOOG.
Episode 6 Language Lesson:
Episode 7 Overview – Episode 7 Script [PDF]
MARK is in ICU and rather quickly succumbs to Covid. WENDY is unable to attend to him or his funeral. Everyone at the hospital is in shock over the news even though they knew he was sick. The BABY and ERNIE are continuing to talk to each other. ERNIE has recovered from his asthma due to remembering his childhood experience. He is not being released because he has been taking extra sleeping pills that ROB has been sneaking in for him. He fell at night and had a concussion. So he's being kept in the hospital. The BABY is happy about that. EVE is discharged and has had a no contact order on ROB. The BABY is still in the hospital until the paperwork is finished and ANNA can take him. ROB is back to going to the Mookobii, visiting the WAITRESS who is still giving him the cold shoulder. He talks her into applying for a job at the hospital as a Desk Clerk. She agrees to send in her application. He is applying for a SECURITY MAN job too.
ODAANAANG GAA-GII-IZHISEG, MARK MASHKIKIIWININI GII-NIBO GIIGAACHIDINANG GOOBID AAKOZIWIN. GAKINA AWIYAG AAPIJI MAANENDAMOOG IMAA GAA-AYAAWAAD. ERNIE MIINAWAA IMAA AYAA AAKOZIIWIGAMIGONG. GIIBANGISHIN GII-DIBIKANINIG OSHTIGWAANING GII-IZHISHIN. MINWENDAM ABINOOJIIYENS. GII-ZAAGA'AM AAZHA EVE. ANNA O-DA-ODAAPINAAN ABINOOJIIYENSAN. ROB GII-IZHAA MINIKWEWIGAMIGONG. OWIINDAMAWAAN IKWEWAN GAA-ANOKIINID IMAA E-WII-GAGWE-ANOKIID AAKOZIIWIGAMIGONG. GEGIIN GAGWE-ANOKIIN IMAA ODINAAN.
Episode 7 Language Lesson:
Episode 8 Overview – Episode 8 Script [PDF]
ROB is being trained for JOHN's position while JOHN is on holiday. A new doctor named DON ESIBAN is hired. He is very friendly and highly accomplished as a doctor but he is a secret drinker. JOHN and TANYA decide to get married on the weekend at a law office and plan their celebration to happen at CAROL's big house and back yard. They have all been tested and are good. Most of the staff are there at the party. DON ESIBAN goes after CAROL. CAMERON and AMANDA chat at the party. WILSON is jealous and fights CAMERON but SAM talks him down. WILSON accuses CAMERON of setting the fires at the hospital. People stare at CAMERON wondering if that's true. CAMERON leaves the party suddenly.
Episode 8 Language Lesson:
Episode 9 Overview – Episode 9 Script [PDF]
The day after the wedding party, CAROL and JOHN are talking about CAMERON and whether he's the one who set the fires. It's possible. But why? AMANDA overhears them. CAMERON is her new friend, possibly more. She is angry at WILSON for his accusation at the party. She ignores him. WILSON is remorseful for his behaviour at the party. People tease Dr. ESIBAN about his headache. JOHN is getting ready to leave for his honeymoon for 2 weeks. ROB has been hired to replace him. ROB is happy to be there, and his son is still there, while paperwork for his adoption is happening. DR. ESIBAN goes outside on his break. He's drinking his Timmy's but it's spiked. He goes back in. ROB meets DR. ESIBAN and they hit it off. BABY and ERNIE are having a nice chat. And then JACKIE NORTH, sister of WAITRESS ZELDA arrives to work as the new Desk Clerk. She is settling into her new desk when the Policeman arrives. He has been called to reopen the arson case and wants to interview DR. CAMERON who is shocked to be called to the front desk.
GII-ISHKWAA JIIGIKAMIGIZIWAAD, E-ANI-WAABANG, CAROL, JOHN DASH ODAZHIMAAWAAN CAMERON-AN, GANAGE DEBWE GAA—ZAKA'IGEGWEN. AMANDA ONOONDAWAA'. ONISHKI'IGOON WILSONAN E-GII-ANAAMIMAAD CAMERONAN. DR ESIBAN GAYE OMIIKIZOMAAWAAN E-GII-BANGISHING GII-GICHI-NIIMID. OGANOONAAN ROB AGWAJIING DR ESIBANAN EGIIMOOJIMINIWENID. ABINOOJIIYENS GAYE ERNIE GAAGIIGIDOWAG. JACKIE DAGOSHIN JI-MAADANOKIID. ZHIMAAGANISH BIINDIGE, CAMERONAN E-WII-GANOONAAD. JORDAN GAYE HELEN BIINDIGEWAG. JORDAN ZHEMAAK NIISAANDAWE. ZAKA'IGE. ZHEMAAK ZHIMAAGANISH WEDI GEWIIN IPATOO. GAAWIIN IINZAN CAMERON GAA-GII-DOODANG.
Episode 9 Language Lesson:
Episode 10 Overview – Episode 10 Script [PDF]
HELEN is being examined by DR ESIBAN. ROB calls the FIREMEN as there is a fire in the basement. JORDAN is running up the stairs. ROB stops him and takes him to the main floor. POLICEMAN runs down. The FIREMEN arrive and put out the small fire. POLICEMAN runs back up the stairs. He helps ROB handcuff Jordan. He steps back and falls backwards and twists his ankle. AMANDA, SAM and WILSON help him up. He is taken to Emerg on a stretcher. WILSON examines the POLICEMAN. POLICEMAN phones for backup and POLICE 2 takes JORDAN away, CAMERON is no longer a suspect. ROB walks outside for a smoke. He finds DR. ESIBAN there talking to CAROL. ERNIE is packing suitcases to get ready for a trip to Las Vegas with ANNA and the BABY. He gets a call from ROB who tells him the news. CAMERON has been cleared of suspicion.
HELEN OWAABAMIGOON DR ESIBANAN. ROB ONANDOMAA' GAA-AATAWE'IGENID JI-BIIZHAANID. ZHIMAAGANISH NIISAANDAWEBATOO. JORDAN ETA BI-AKWAANDAWEBATOO. ROB OGIBITINAAN. MICHISAG ODAPAGINAAN. ODAKOBINAAWAAN JORDANAN. E-AZHE-DAKOKIID ZHIMAAGANISH GAA-IZHI-AAZHIGIJISED, AMII APANE GAA-IZHI-DIITIITIBAGOOJING, WEDI ANAAMIYA'II GII-MADE-BIMISHIN. AMANDA GAYE SAM MIINAWAA WILSON GII-BAGAMIBATOOWAG. O-GII-IZHIWINAAWAAN DASH GAA-IZHI-WAABAMINDWAA GAA-WIISAGENDAMOWAAD. MAAGIZHAA GII-BOOKODOONDANESHIN ZHIMAAGANISH. JORDAN DASH GII-BI-NAANZIKAWAA. GAA-ISHKWAAKAMIGAK ROB ZAAGA'AM JI-ZAGASWAAD. OWAABAMAA' CAROLAN GAYE DR ESIBANAN E-MADE-GAAGIIGIDONID AGWAJIING. GANABACH ZAAGI'IDIWAG. ERNIE GAYE ANNA OZHIITAAWAG JI-MAAJAAWAAD, ABINOOJIIIYENSAN JI-WIIJIIWAAWAAD.
Episode 10 Language Lesson:
Episode 11 Overview – Episode 11 Script [PDF]
POLICEMAN is in the hospital now for his broken ankle. CAROL and DON ESIBAN are at her home cooking a meal together. WENDY WAAGOSH is happy to be back at work. She hangs out with the boys SAM and WILSON. ANNA and ERNIE and BABY are off to Las Vegas. A new patient is brought in by ambulance. He had fallen off the ladder in his backyard. DR ESIBAN is attending to him and patient smells a whiff of alcohol. CAROL doesn't believe it of him. Says it's the patient. TANYA and JOHN are back from their holiday. John is in the cafeteria, sitting with AMANDA. TANYA drops by. She sees them laughing and having fun. TANYA draws a wrong conclusion. She insults AMANDA. She heads out of the room. Outside, DON and ROB are visiting. DON says he would like to stop drinking. DON is called in by AMANDA for an emergency. A patient was brought in just now. She's bleeding from her head and is unconscious. She had been in a car accident. It is TANYA. JOHN is called to come and sign admission papers.
ZHIMAAGANISH AAKOZIIWIGAMIGONG BIMISHIN E-GII-BOOKODOONDANESHING. CAROL ZHIGO DON GIIZISEKWEWAG CAROL ENDAAD. MINWENDAM MIINAWAA E-ANOKIID AAKOZIIWIGAMIGONG WENDY. ANNA ZHIGO ERNIE ZHIGO ABINOOJIIYENS LAS VEGAS IZHAAWAG. OZHOONIYAAMI AANIISH ANNA. AWIYA GII-BIINDIGANAA AAKOZIIWIGAMIGONG. OGIDABAK GII-ONDAGOOJIN. DON OWAABAMAAN, AWE DASH GAA-GII-WIISAGISHING OMINAANDAAN MINIKWEWIN BESHO E-BI-IZHITAANID MASHKIKII-WININIWAN. OWIINDAMAWAAN EMINAANDANG ISHKODEWAABO. GAAWIIN DEBWETANZII CAROL. TANYA ZHIGO JOHN GII-BIGIIWEWAG. JOHN OWIIDABIMAAN AMANDAWAN WIISINIIWIGAMIGOONSING. BAAPIWAG. ONJI-BIINDIGE TANYA. ZHEMAAK ONDENDAM. APANE ZAAGIJISE. AGWAJIING DON ZHIGO ROB DAZHI-MAWADISIDIWAG. ROBAN OWIINDAMAWAAN DON E-WII-BOONIMIKWED. DON DASH ANDOMAA WEWIIB JI-BIIZHAAD. TANYA IINZAN GAA-BITAAGOSHKAAGED EBIMIBIZOPAN. GAAWIIN GOSHKOZISII IMAA EBIMISHING. JOHN O-BI-OZHIBII'AAN OWIINZOWIN MAZINA'IGANING.
Episode 11 Language Lesson:
Episode 12 Overview – Episode 12 Script [PDF]
BABY, ANNA and ERNIE are in Las Vegas. ANNA has found a man to spend time. BABY and ERNIE are having a good time themselves. Drs ESIBAN, CAROL, AMANDA and SAM are operating on TANYA but she is not getting better. JOHN is in the waiting room with WILSON. WENDY is checking up on the POLICEMAN. CAMERON is making the rounds with her. Then they go sit outside. She talks about MARK, and JOHN and TANYA. ROB comes outside. DON ESIBAN shows up. He and ROB visit. They talk about DON's plan to stop drinking. WILSON tells AMANDA he is writing a novel. SAM says he's learning to play the fiddle. AMANDA is impressed with them. DON is called back in. TANYA has been pronounced dead. Her body is taken to the morgue. JOHN is devastated. SAM, WILSON and AMANDA don't know what to say to him. The three accompany JOHN to the morgue to see TANYA's body but it's not there. They run upstairs and call DON and CAROL. They search the hospital. There is no sign of her. Did someone steal the body or did she come to and sneak out? DON runs out. He tells ROB to meet him at the Mookobii in half an hour. DON is into his second beer when ROB walks in. Will he stop or will he go back to his dependence on alcohol? What about CAROL?
ABINOOJIIYENS ZHIGO ANNA ZHIGO ERNIE LAS VEGAS AYAAWAG. ININIWAN O-GII-MIKAWAAN ANNA GAA-BABAAWIIJIIWAAD. ABINOOJIIYENS ZHIGO ERNIE GEWIINAWAA JIIGIKAMIGIZIWAG EBABAAMADAAWEWAAD. DON ZHIGO CAROL ZHIGO AMANDA GAYE SAM O-GII-BAAKIZHWAAWAAN TANYA OSHTIGWAANING. JOHN IMAA GAA-IZHI-BII'OWAAD AWIYAG OWIIDABIMIGOON WILSONAN. WENDY DASH WIIN OWAABAMAAN ZHIMAAGANISHAN. CAMERON GAYE IMAA AYAA. AGWAJIING AJINA IZHAAWAG. ROB GAYE BI-ZAAGA'AM. DON OWIIDABIMAAN. ODAZHINDAANAAWAA GAA-WII-BOONITOOD MINIKWEWIN DON. WIISINIIWIGAMIGOONSING WILSON OWIINDAMAWAAN AMANDAWAN E-OZHIBII'ANG MAZINA'IGAN. GEWIIN SAM OWIINDAMAWAA' NAANAAZHAABIIGA'IGAN E-GASHKTOOD AAZHA. DON ANDOMAA JI-BIINDIGED. NDAWAACH O-GII-NISAABIIGINAAWAAN TANYA, E-ISHKWAA-BIMAADIZID. NIISIYA'IING DASH O-GII-IZHIWINAAWAAN, GAA-IZHI-ASINDWAA GAA-NIBOWAAD. JOHN AAPIJI GICHI-MAANENDAM. SAM ZHIGO WILSON GAYE AMANDA OWIIDABIMAAWAAN E-GWENAWI-INAAWAAD. AABIDING GIIYAABI OWII-WAABAMAAN OWIIWAN JOHN. GAA-IZHI-NISIWAAD NIISAANDAWEWAG. GII-DAGOSHINOWAAD WEDI, GAAWIIN TANYAWAN OMIKAWAASIWAAWAAN. AANI-GAGWEDWE SAM GAAWIIN DASH O-GIKENDANZIIN AANDI GAA-IZHISENID AWE GAA-ANOKIID IMAA. O-GII-WIINDAMAWAAWAA' GAKINA IMAA GAA-ANOKIINID. MIZIWE AAKOZIIWIGAMIGONG GII-AYINAABIWAG. GAAWIIN NGOJI TANYA JI-AYAAD. AANIIN GAA-IZHISED? APANE ZAAGIJIBATOO DON. OWIINDAMAWAAN ROBAN JI-MEGWAASHKAAGOD MINIKWEWIGAMIGONG ISHKWAATAAD ROB. AAZHA GII-MAAJII-MINIKWE DON APII GII-DAGOSHING IMAA ROB. AMII NA MIINAWAA JI-MAAJII-MINIKWED DON, GAAWIIN O-DA-BOONITOOSIIN? AANIIN GE-INENDANG CAROL GIKENDANG AANIIN ENAADIZINID NGWANA INI OWIIJIIWAAGANAN?
Episode 12 Language Lesson:
Writer: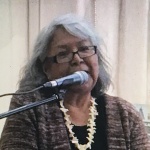 Pat Ningewance, Mazinaate Publishing Partnership

Pat Ningewance Nadeau – Waabibizhikiikwe, Bear Clan from Lac Seul – is a mother and grandmother. She is also an Ojibwe language teacher, translator and owner of Mazinaate, a native language publishing company. She is Assistant Professor at the University of Manitoba and VP of the Indigenous Language Institute board of directors. She likes writing short scripts and stories for language learners.

Development Team:


Melanie Kennedy, Director, Indigenous Languages of Manitoba




Angeline Nelson, Director, Wii Chiiwaakanak Learning Centre, University of Winnipeg


Pat Ningewance, Assistant Professor, University of Manitoba & Owner of Mazinaate Publishing Partnership
Ida Sutherland, Director of Sales & Community Relations, Native Communications Network (NCI Radio)
Dr. Lorena Fontaine, Indigenous Academic Lead, University of Winnipeg
Brett Lougheed, Director, Oral History Centre, University of Winnipeg
Kent Davies, Audio Technician, Oral History Centre, University of Winnipeg
James Stiff, Audio Producer, Native Communications Network (NCI Radio)
Linda Anderson, Administrative Assistant, Indigenous Languages of Manitoba
Ramona Hallett, Coordinator Indigenous Academic Lead, University of Winnipeg