Aakoziiwigamig: An Ojibwe Radio Drama
The University of Winnipeg (Wii Chiiwaakanak Learning Centre, Indigenous Engagement, and the Oral History Centre), the University of Manitoba, Indigenous Languages of Manitoba, Native Communications Inc. Radio (NCI) and Mazinaate Publishing have collaborated on an Indigenous Language radio show that premiered on January 13, 2021. The objective of the radio program is to create an Ojibway speaking community outside of the classroom.  
Wii Chiiwaakanak Learning Centre and Indigenous Languages of Manitoba saw this as an exciting opportunity to build on their language outreach in a time of the pandemic and to be part of something that had not been done before.
The program is aired every second Wednesday at 12:30 pm on NCI Radio FM and will continue until June, 2021.

Episodes
Writer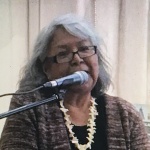 Pat Ningewance, Mazinaate Publishing Partnership
(Waabibizhikiikwe) Pat Ningewance is Ojibwe from Lac Seul, of the Bear clan, and is the writer for this Hospital Drama series. She is Assistant Professor at the University of Manitoba and owner of Mazinaate Inc., a native language book publishing company. She likes writing in the language and having fun with its variety. There is much talent in Manitoba, we have to tap it for the enjoyment and language learning of future generations.
Cast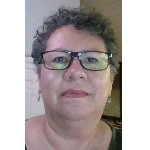 My name is Carol Beaulieu and I grew up close to a small town in southern Manitoba called Treherne. My mother and father were residential school survivors and because my father had been enfranchised (treaty rights taken away); myself and my siblings did not attend residential school. Anishinaabemowin was my first language, my parents always spoke Anishinaabemowin at home. When my last parent passed on when I was 14 yrs. old, I went into foster care. From that point on, I did not have daily contact with someone who spoke Anishinaabemowin so it remained dormant within until about 15 yrs. later. I feel that language revitalization is very important because it is our final connection to who we are as Indigenous people and whatever nation you belong. I remember, as a child listening to the radio dramas on CBC radio and it was riveting for me. I think it is an excellent teaching tool as it demonstrates the diversity and the commonality of the speakers and the language itself. The idea of hearing Anishinaabemowin and making it more accessible needs to come to fruition. Being part of this project was positive and I would do it again in a heartbeat.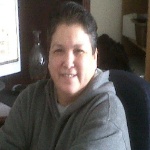 Boozhoo, Aaniin, Bimaashii Migizi Ikwe Niin, WaanibiigaawNindoonjii, Makwa Nindodem. My name is Gloria Barker from Hollow Water First Nation, from the bear clan. Anishinaabemowin is my first language and have been taught it since I was inside my mother's womb. I grew up in my household of 6 siblings being the youngest speaking only in our mother tongue. Language revitalization is my passion and is what I feel I was put on this earth to do and keep alive. That is how much I value our language of Anishinaabemowin. I have taken many teaching jobs as well as teaching language classes alongside my sister. I teach at Riverbend Community school with the Ojibwe bilingual program. It is the most rewarding experience for me to see our young children grow and be proud of who they are and learning to read, write and speak Anishinaabemowin.
I think this is a great way to revitalize and listen to this show on NCI for both language and non-speakers to enjoy listening to this radio drama show and laugh and hear the enjoyment of Anishinaabemowin.
Miigwech!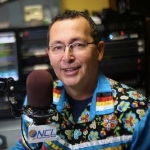 Dennis Chartrand, originally from Duck Bay, Manitoba, living in Winnipeg. I commit myself to step through fearing the loss of our great language and instead follow my passion and joy in finding ways to share Anishinaabemowin. Through hosting Da Minos Music Lodge on NCI, entertaining as Choom, working language projects with organizations, teaching, ceremony, and visits with speakers and learners I've learned we can heal our language impacts simply by engaging in Anishinaabemowin anyway we can, and have fun doing it! "Aakoziiwigamig" I believe touches on many characteristics of Ojibwe language and culture as in storytelling, telling a story in the most descriptive way, humour, relationship, and learning. It has helped me in broadening my language use and awareness. It will also help those who are dedicated to their language development by listening to the Episodes and following along with the script. Miigwech!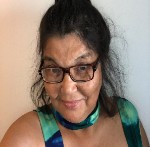 Wanda Barker grew up in Hollow Water First Nation speaking Anishinaabemowin/Saulteaux as her first language. She cherishes having the experience of hearing this language spoken by everyone in the whole community, "immersion at its fullest". Looking back, she realizes "how enriching, how vibrant and how unique it was to only speak only our ancestral language, not to mention the fun and humor". I knew how much of a gift it was to be born with the language but then I also realized that it was also a responsibility. I knew I had to teach it. As a teacher I also saw that the language was mostly as a subject in many schools. I see the need for more language nests, immersion or bilingual programs in schools and communities to utilize the fluent speakers.
I am really excited to be part of the NCI radio drama which is a great way to promote the Anishinaabemowin language to many listeners. I enjoy working with other fluent speakers as the language is more captivating and humorous than if it was said in English. It is a good tool for language learners to hear the language. It is a good tool for fluent speakers to be entertained and also hear the language.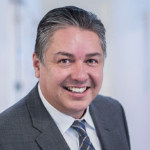 Boozhoo, hi my name is Corey Ralph Whitford, Anishinaabe Inini niindawaa,…from Sandy Bay, and Long Plain, I play the part of Rob Patrick and I do it to reflect our lives as a people of our times. All of our past times! It is a blessing, I was spoken to in our Anishinaabemowin ever since I could remember,so I use it every day because I was taught that it brings the blessings of the truth when you speak Anishinaabemowin,…With so much gratitude to give, I enjoyed the radio drama and even incorporated the scripts into my classroom at the end of this year, the magic is in the collaborative efforts - all for one and one for all. It's a collective accomplishment! I must say, with gratitude that it has been an honor to work alongside so many great Anishinaabemowin speakers that is what I take from this experience. To be a speaker in my early-days, it was a necessity in my generation where I come from.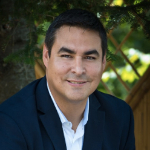 Waabishki-makwa. Brian McInnes is a professional educator dedicated to diversity education, language revitalization, and organizational leadership. A member of the Wasauksing First Nation, Brian has a deep interest in the preservation of Indigenous cultures and languages and is an accomplished speaker, presenter, and writer in English and Ojibwe. Brian is a tenured professor in the School of Human Ecology at the University of Wisconsin Madison. I played Dr. Don Esiban. It was an absolute delight to participate in this project. Aakoziiwigamig highlights the creativity and adaptability of Ojibwemowin in contemporary and relatable contexts. The project represented a true linguistic and cultural innovation that deserves expansion into other media forums. This is a must for Anishinaabemowin language programs everywhere. A televised version of the show would be a natural extension.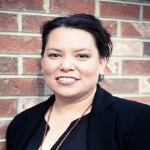 Dawnis Kennedy is a member of the marten clan and Anishinaabekwe from Roseau River Anishinaabe First Nation in Manitoba. Ms. Kennedy is a scholar of western and Anishinaabe law and has received numerous awards for both her scholarship and her community work. As the Cultural Connection coordinator at the Manitoba Indigenous Cultural Education Centre, she works for cultural revitalization and community education across age groups, sectors and communities. As a language learner, Dawnis greatly values the language speakers, teachers and fellow learners in her life. She seeks to learn the language with humour and goodwill, and she works to share what she learns and to support other learners as well. Being involved in Aakoziiwigamig was a valuable opportunity. It is always wonderful to hear language speakers from different communities and dialects working together on projects. Every opportunity for language carriers, speakers and learners to converse in the language contributes to the strength of the language for us all.
As a learner, Aakoziiwigamig was a safe and supportive opportunity to challenge myself, to work past my shyness and my fear of making mistakes. Being able to hear fluent speakers engage in conversation and follow along with the script is incredible. Such resources will help us all become successful Ojibwe eavesdroppers and support our efforts to become speakers.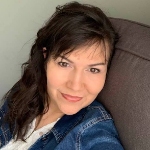 Boozhoo Virginia Pateman nindizhinikaaz! Bizhew ndoodem! Wabaseemoong ndoonjii!. My name is Virginia Pateman, I am from the Lynx Clan and from Whitedog Ontario. I grew up speaking Ojibwe as my first language. I now live in Winnipeg, I moved to further my education. I am now married; I am a mother to three daughters! I did not learn to speak English until I was in grade school. Until I moved away for post-secondary, I only spoke English in school. Language revitalization is important to me because it is a big part of identity. Language connects us to our land, our culture, our community and with our ancestors. I now live in Winnipeg, and since I am away from my community, my family, and friends, I have no one in the city to converse in Ojibwe with but this radio drama have given me that opportunity.
I have realized I have lost so much of the language and because of this radio drama, it has resurfaced and I am incredibly happy for that. I believe it will be a great teaching tool for all levels of speakers, as a fluent speaker, I believe I have become a better writer and reader because of this because I was always reading along! There are also some great teachers/speakers involved in this and they are always available to help those who are struggling to speak or read!
The rehearsal and recording of the episodes were so much fun and I have always looked forward to it every week. I have met some awesome people and great friends. Overall, it has been a memorable experience and I feel very honored that I have been asked to participant. Miigwech!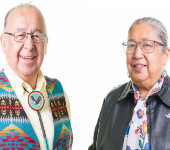 Barbara Nepinak, a member of Pine Creek First Nation is retired after serving 35 years of federal public service. Barbara is active in the Urban and surrounding areas serving on Advisory Councils and Boards as Elder and Cultural Advisor...Presently, serves on the Standing Indigenous Advisory Council to the Canadian Human Rights Museum, Board member of The Forks Foundation Board and National Board member for the Cultural Human Resources Council in Ottawa as well as providing Elder teachings in the 7Oaks School division.
Clarence Nepinak a member of Pine Creek First Nation is retired from the prov/federal service of 27 yrs. continues to serve on national and local Boards and committees. Board member of the St. James Historical Museum, national Board member for Healthy Aboriginal Network in Vancouver. Clarence is also a member of the Standing Indigenous Advisory Committee for the Canadian Human Rights Museum.
Clarence and Barbara are also Spiritual /Cultural Advisors for Staff for APTN - Aboriginal Peoples Television Network. They are also Elders for the First Peoples Investment Inc. which provides training and developments opportunities for First Nations and Metis organizations. Both Barb & Clarence have been recognized as Traditional Wisdom Keepers by the Circle of Educators of Manitoba. Both received the Queens Golden Jubilee Awards. Clarence is also a recipient of the Silver Jubilee award. Both have been involved with various schools in the Artist in the School program with cultural teachings. Barb and Clarence have also provided Ojibwe language services for the 2010 Vancouver Olympics for APTN Broadcasters. They are referred to as Cultural Ambassadors by various Leadership representing Canada and First Nations.
My name is Chris King, I am from Kiiashki Zaagiing (Gull Bay, on). I grew up with my language. It's important because the spirit is connected to the language. Yes, it's a great teaching tool. It gives the listeners different dialects to listen to. It draws them in and gives listeners a connection to their community. I enjoy being in the group because it allows me to share my language as I am limited in my current surroundings.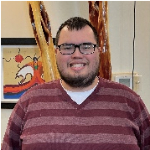 Boozhoo, aaniin. My name is Westin Sutherland, and I am from the Peguis First Nation. I began learning the language in 2015, but I did however grow up hearing words and phrases from my family. My grandmother was the first person I started learning the language from at home, and then I began taking different classes from around Winnipeg. I believe the language is very important, as it's something we can be proud of, and be ourselves with, with our ideas and especially humour.
This drama was a great experience for me to practice my language, and have fun with my elders and educators. I played the character of Dr. Wilson. I think it'll be great for learners to listen to and learn from, and it's great even for already fluent speakers, because we need entertainment for those who are already fluent.
I am wonderfully grateful for taking apart in the drama, and hope to be apart of many more for years to come!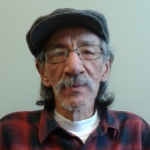 Roger Roulette is from a village near MacGregor, MB. He has been involved with teaching Native Languages (MANL) since 1988. He has done documentaries for CBC radio, Oral histories for Manitoba Museum and Manitoba Indian Cultural Education Centre (MICEC). Mr. Roulette transcribes, translates, write books and grammars. He also taught Ojibwe at the University of Manitoba. For 13 years. Roger Roulette is currently working with Indigenous Languages of Manitoba, MICEC and the Manitoba Museum on various projects.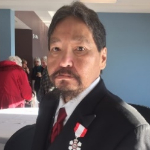 Originally from Lac Seul First Nation, Angeconeb left his family and community at age 7 to attend Pelican Falls Indian Residential School from 1963 to 1969. He completed secondary school in Sioux Lookout and graduated from the University of Western Ontario with a diploma in journalism in 1982.
Angeconeb promoted traditional language and culture in a variety of roles with Wawatay Native Communications Society. He developed Wawatay Radio Network coverage for northern and remote First Nations and was a founding editor of Wawatay News. He has also worked for CBC Radio Bay and served as executive director of the Independent First Nations Alliance.
Angeconeb became the first Aboriginal person to be elected councillor in the Town of Sioux Lookout in 1985. He is a founding member of the Sioux Lookout Anti-Racism Committee and has served on the Aboriginal Healing Foundation's board of directors since 1998. He received the Queen's Golden Jubilee Award in 2002 and the Queen's Diamond Jubilee Award in 2012 for his contributions to the community.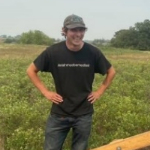 Noah Malazdrewicz is an Anishinaabemowin learner, who has lived in Brandon, Selkirk and Winnipeg. He enjoys studying archaeology at the University of Manitoba and is honoured to be part of the team at the Manitoba Indigenous Cultural Education Centre. Noah really looks up to his indigenous language teachers and fellow learners, and all the beautiful relationships which have blossomed throughout these early years of his language learning journey, and he is looking forward to a future where children can be heard speaking indigenous languages throughout Winnipeg and elsewhere!
Development Team
Melanie Kennedy, Director, Indigenous Languages of Manitoba
Angeline Nelson, Director, Wii Chiiwaakanak Learning Centre, University of Winnipeg
Pat Ningewance, Assistant Professor, University of Manitoba & Owner of Mazinaate Publishing Partnership
Ida Sutherland, Director of Sales & Community Relations, Native Communications Network (NCI Radio)
Dr. Lorena Fontaine, Indigenous Academic Lead, University of Winnipeg
Brett Lougheed, Director, Oral History Centre, University of Winnipeg
Kent Davies, Audio Technician, Oral History Centre, University of Winnipeg
James Stiff, Audio Producer, Native Communications Network (NCI Radio)
Linda Anderson, Administrative Assistant, Indigenous Languages of Manitoba
Ramona Hallett, Coordinator Indigenous Academic Lead, University of Winnipeg