Aakoziiwigamig: An Ojibwe Radio Drama
Indigenous UWinnipeg
---
The University of Winnipeg (Wii Chiiwaakanak Learning Centre, Indigenous Engagement, and the Oral History Centre), the University of Manitoba, Indigenous Languages of Manitoba, Native Communications Inc. Radio (NCI) and Mazinaate Publishing have collaborated on an Indigenous Language radio show that premiered on January 13, 2021. The objective of the radio program is to create an Ojibway speaking community outside of the classroom.  
Wii Chiiwaakanak Learning Centre and Indigenous Languages of Manitoba saw this as an exciting opportunity to build on their language outreach in a time of the pandemic and to be part of something that had not been done before.
The program is aired every second Wednesday at 12:30 pm on NCI Radio FM and will continue until June, 2021.

---
Episodes:
Episode 1 Overview – Episode 1 Script [PDF]
ANNA (Barb) thinks she has COVID-19 and sister-in-law TANYA (Tiffany) drive her to the hospital. Dr. MARK WAAGOSH (EJ) tells them to self-isolate for two weeks. Meanwhile, TALL MAN JORDAN (Dennis C) goes on a rampage in the waiting room because he's been waiting for over five hours. Police are called. He is finally seen by MARK (EJ). Nurse CAROL (Wanda) recognizes him as someone who stole food from her apartment. Then, HELEN (Carol B) comes into the waiting room, pretending to be a hooker. She makes a beeline for SECURITY MAN JOHN (Frankie). She seems to think they know each other. JOHN (Frankie) denies have met her. JOHN'S fiancée, TANYA (Tiffany), sees this. JOHN tells TANYA (Tiffany) to call him on his cell when she and Anna have reached their car safely. On their way home, ANNA (Barb) calls her sister EVE (Anna) to wish her happy birthday, but her pregnant sister EVE's water broke and she can't reach her husband ROB (Cory Whitford).
Episode 2 Overview – Episode 2 Script [PDF]
EVE is calling husband ROB but he doesn't answer his cell because he's in a bar trying to pick up the WAITRESS LANA. EVE drives to the hospital herself that night and collides with a semi that was entering her lane. Another DRIVER DEB stops and calls 911. She is taken to the hospital by ambulance. The hospital staff, Desk Clerk DARYL finally reaches ROB on his cell. He rushes to the hospital. Dr. CAMERON STONE is the one who examines her. ROB's son was born minutes before he got there and the baby was whisked away to be washed and bundled. ROB sees his wife and is happy she's okay. Then he walks over to where the newborns are. His son is not there. No one seems to know where the baby went. He's told to go and wait in the waiting room. While there, a woman tells him what she observed while she was sitting there. She saw the commotion caused by the TALL MAN and a woman walking out with a bundle that could have been a baby. And then there was the entrance of the hooker from the street. She thinks that the two stole the baby. ROB calls the police. He doesn't trust the hospital staff to do it.
Episode 3 Overview – Episode 3 Script [PDF]
DR. WENDY WAAGOSH and Nurse AMANDA are chatting outside when they're called in because of a new patient. Elderly ERNIE KENNY has a severe asthma attack. But he is also being difficult because he believes someone did that to him, bad medicine. Nurse CAROL calms him down. Interns SAM COOK and WILSON WOOD are there. ERNIE recognizes SAM as a former language student but thinks that WILSON is the one who put the hex on him. In the meantime, JORDAN and HELEN have the baby at their home. They are happy because they wanted a baby for a long time. They're going to call him Norman but the BABY speaks up in an adult voice. He doesn't want to be named Norman. The two abductors hurry back to the hospital and drop off the TALKING BABY in a crib, and run off. The two interns find AMANDA attractive. CAMERON and WENDY are discussing this case when CAMERON asks WENDY if she's married. She says yes, but CAMERON says he's not going to give up his sights on her. She laughs. He kisses her suddenly in the hallway and her husband MARK catches sight of this. He turns the other way quickly. WENDY and CAMERON go see EVE in her room. ROB is there too. AMANDA comes in to announce that the baby has been found and is safe. The reason the baby was returned to the hospital was that the abductors found that the newborn baby could talk like an adult, with the voice of an elderly man. They were frightened by it and returned it as soon as they could.
Episode 4 Overview – Episode 4 Script [PDF]
CAROL has been talking to EVE about her possible concussion. The BABY is sleeping by her bed. Nurse AMANDA takes CAROL outside the room. She tells her that EVE has bruises on her arms and back. It looks like domestic violence. WILSON invites AMANDA to go for coffee with him. They leave. CAROL calls BRENDA the social worker to come and interview EVE. WILSON declares his love to AMANDA but she's saved by the bell by SAM's arrival. She takes off. BRENDA talks to EVE who admits that ROB has been beating her. BRENDA tells her she'll help her find an apartment. Then a fire alarm goes off. A FIREMAN comes to tell her that all is good. They put out the small fire. ROB arrives in her room just then. They talk about what his name should be but THE TALKING BABY has his own ideas about his name. EVE is frightened by her baby but she holds him and tries to bond with him. THE TALKING BABY tells her that he was given the gift of speech and for that, he will physically remain a baby a bit longer than usual. SAM and WILSON come into the room to talk to the couple but the BABY keeps interrupting. The BABY discloses that his dad is beating his mom and wants it stopped. AMANDA pops in to tell SAM and WILSON they're needed downstairs because the media crews are here. Very quickly, the media cameramen are in EVE's room looking for the TALKING BABY. They are jostling with each other aggressively. CAROL sends them out. But the BABY speaks to the NCI man and arranges to meet him the next day. Then there's another VOICE telling everyone that there is another fire in the building. ERNIE is the one who set the first fire and he's in the act of setting another fire in the basement. The news camera men run down to catch that story instead.
Episode 5 Overview – Episode 5 Script [PDF]
The NCI man comes back to talk to THE TALKING BABY. The Firefighters have put the fire out and they've left. The police are there to charge ERNIE because it appears that he is the culprit. MARK wants to know if WENDY and CAMERON are having an affair. WENDY denies it. BRENDA tells MARK and AMANDA that EVE will be leaving ROB. The POLICE talk to ERNIE who denies his role in the arson. Then ERNIE has a severe asthma attack. SAM comes by and he and CAROL get him some oxygen and into EVE's room. AMANDA is looking after EVE. But now AMANDA is making her play for MARK who is ERNIE's doctor. MARK tells her to not feel that way. Soon ERNIE is feeling better and he says hello to EVE. THE TALKING BABY greets him and begins a conversation with him. ANNA comes to visit her sister EVE. She is enthralled with the baby. EVE tells her about her pending separation with ROB. She asks if ANNA could look after the BABY while she goes away indefinitely. She can't handle a talking baby and a violent husband. ANNA says yes, of course she will take the BABY and she tells EVE that she won 2 million dollars in the lottery. She and the baby will be fine.
Episode 6 Overview – Episode 6 Script [PDF]
WENDY and her husband MARK grab a quick lunch. She's worried about him because he's been tired since last week. He sleeps as soon as he gets home. TANYA comes in to pick up her fiancé JOHN for lunch. They talk about their coming wedding happily. SAM and WILSON are on their way to ERNIE's room. ERNIE insists he did not start the fires. Then who did? ANNA is still there glowing over her good news. CAMERON happens to hear her talking about it. She talks about what she's going to do with her money. It will include the BABY. ERNIE remembers he used to torture baby birds when he was a boy. Maybe that is the cause of his trouble. He tells the BABY. They talk about it. Then AMANDA comes to tell them that MARK has been admitted into the hospital for COVID. He has a high fever and is in isolation. WENDY is upset. Everyone is upset.
Episode 7 Overview – Episode 7 Script [PDF]
MARK is in ICU and rather quickly succumbs to Covid. WENDY is unable to attend to him or his funeral. Everyone at the hospital is in shock over the news even though they knew he was sick. The BABY and ERNIE are continuing to talk to each other. ERNIE has recovered from his asthma due to remembering his childhood experience. He is not being released because he has been taking extra sleeping pills that ROB has been sneaking in for him. He fell at night and had a concussion. So he's being kept in the hospital. The BABY is happy about that. EVE is discharged and has had a no contact order on ROB. The BABY is still in the hospital until the paperwork is finished and ANNA can take him. ROB is back to going to the Mookobii, visiting the WAITRESS who is still giving him the cold shoulder. He talks her into applying for a job at the hospital as a Desk Clerk. She agrees to send in her application. He is applying for a SECURITY MAN job too.
Episode 8 Overview – Episode 8 Script [PDF]
ROB is being trained for JOHN's position while JOHN is on holiday. A new doctor named DON ESIBAN is hired. He is very friendly and highly accomplished as a doctor but he is a secret drinker. JOHN and TANYA decide to get married on the weekend at a law office and plan their celebration to happen at CAROL's big house and back yard. They have all been tested and are good. Most of the staff are there at the party. DON ESIBAN goes after CAROL. CAMERON and AMANDA chat at the party. WILSON is jealous and fights CAMERON but SAM talks him down. WILSON accuses CAMERON of setting the fires at the hospital. People stare at CAMERON wondering if that's true. CAMERON leaves the party suddenly.
Writer: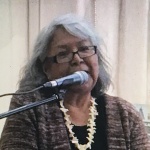 Pat Ningewance, Mazinaate Publishing Partnership
Pat Ningewance Nadeau – Waabibizhikiikwe, Bear Clan from Lac Seul – is a mother and grandmother. She is also an Ojibwe language teacher, translator and owner of Mazinaate, a native language publishing company. She is Assistant Professor at the University of Manitoba and VP of the Indigenous Language Institute board of directors. She likes writing short scripts and stories for language learners.
Development Team:

Melanie Kennedy, Director, Indigenous Languages of Manitoba
Angeline Nelson, Director, Wii Chiiwaakanak Learning Centre, University of Winnipeg
Pat Ningewance, Assistant Professor, University of Manitoba & Owner of Mazinaate Publishing Partnership
Ida Sutherland, Director of Sales & Community Relations, Native Communications Network (NCI Radio)
Dr. Lorena Fontaine, Indigenous Academic Lead, University of Winnipeg
Brett Lougheed, Director, Oral History Centre, University of Winnipeg
Kent Davies, Audio Technician, Oral History Centre, University of Winnipeg
James Stiff, Audio Producer, Native Communications Network (NCI Radio)
Linda Anderson, Administrative Assistant, Indigenous Languages of Manitoba
Ramona Hallett, Coordinator Indigenous Academic Lead, University of Winnipeg