Indigenization at the University of Winnipeg
Indigenization is one of the strategic initiatives taken by the University of Winnipeg. The Office of Indigenous Engagement is, and has been, key in collaborating with administration, faculty, staff, students, and the community to ensure that campus Indigenization has a lasting and profound effect at the institution. 
Click here to learn more about the Strategic Direction.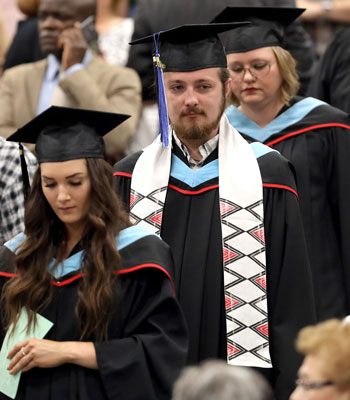 As the result of a student-led effort on campus, an Indigenous Course Requirement (ICR) was unanimously approved by The University of Winnipeg Senate, the body responsible for academic governance. All new and incoming students to the University of Winnipeg must fulifll the ICR. The decision exemplifies the University's leadership in responding to the recommendations made in the final report of the Truth and Reconciliation Commission.
The Office of Indigenous Engagement has also coordinated several campaigns and efforts that highlight the achievements of Indigenous academics and community members, including Indigenous Honorary Doctorate Recipients, The Star Blanket Mural Project, increased Indigenous presence at convocation, the Spring Feast, involvement in UWinnipeg Pride, supporting Indigenous faculty and staff, and the Weweni Indigenous Scholar Speakers Series.  
Since its inception, the Office of Indigenous Engagement has been active in creating space within the university to have important and necessary conversations about Indigenous experiences in Treaty One Territory and beyond, such as Inquiring Minds: Understanding the Call for, Role of and Limitations on an Inquiry into Missing and Murdered Indigenous Women. 
---
For more information about any of our current activities or general questions, please contact us.