Community Learning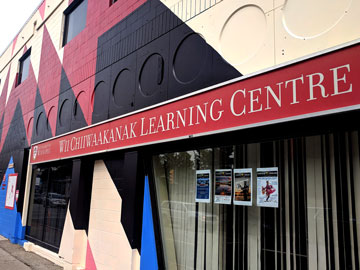 Wii Chiiwaakanak Learning Centre
The University of Winnipeg's Wii Chiiwaakanak Learning Centre is a bridge between The University of Winnipeg and the Indigenous and inner-city communities. The Centre is a partnership that provides educational and capacity-building opportunities rooted in Indigenous language and culture for children, youth, and families. It is designed to reflect community need for an educational gathering place that is inclusive and breaks down the barriers to post-secondary education. The Centre provides free and open access to computers in the RBC Community Learning Commons; meeting space, such as the North West Company Heritage Room; and a number of free educational and cultural after-school and summer programs. More than 1,700 community members use the Centre each month.
The University of Winnipeg's Board of Regents approved a Community Learning Policy [PDF]
For more information about the Wii Chiiwaakanak Centre:
Website
email: wiichii@uwinnipeg.ca
phone: 204.258.2951
fax: 204.783.4992
Facebook | Twitter | Instagram | Youtube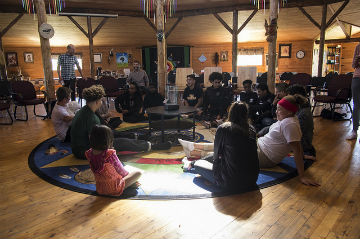 Model School
The University of Winnipeg's Collegiate Model School is a high school within a high school that opened in September 2008. Students who show potential but need some extra supports are referred to the Model School. Approximately 50 high school students attend annually and receive individualized learning plans so that they can reach their full potential. To date, 59 students have graduated high school and 80% have attended post-secondary institutions. All students are enrolled in the University's Opportunity Fund Tuition Credit Account program, where they can earn up to $3,000 in tuition credits. They can use these tuition credits upon completion of Grade 12 to attend The University of Winnipeg.