Student Successes
Urban and Inner City Studies
---
The Department of Urban and Inner City Studies would like to congratulate Chantal Quill and Nicole Lamy on their acceptance into the Indigenous Women in Community Leadership Program at the Coady Institute at St. Francis Xavier University in Antigonish, Nova Scotia. 
This award winning program is an excellent opportunity where the participants will have strong mentorship support in empowering them to further develop their leadership capacities and an opportunity to develop a network of Indigenous women from across Canada working in various sectors in their communities.  Being selected to participate in this program is a great accomplishment as only 25 applicants from across Canada are accepted into the program every year, each receiving a full scholarship. http://coady.stfx.ca/themes/women/IWCL/
Chantal Quill is in her final year completing a double major in Business Administration and Urban and Inner City Studies and will graduate this spring 2016.  Nicole Lamy graduated in 2014 from the University of Winnipeg majoring in Urban and Inner City Studies.  Nicole is currently the northern coordinator for Food Matters Manitoba working on food security issues in the north. 
We look forward to seeing these two extraordinary women contribute further to strengthening and building our communities and growing into their leadership roles!  A big heartfelt congrats again to Chantel and Nicole!!
---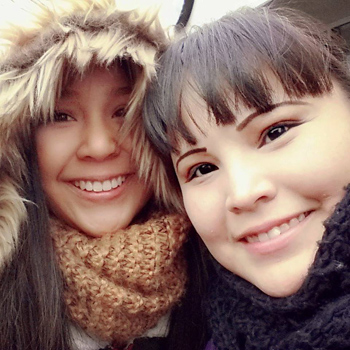 After graduating from UIC Chantel Henderson (right) was accepted into the Concordia University Community Economic Development graduate diploma program in the School of Community and Public Affairs. Chantel has graduated from that program and is now working with the First Nations Human Resources Development Commission of Quebec. 
Chantel has this to say about her experience at UIC: "I learned a lot form the UIC program at the U of W.  I first learned about community organizing, urban planning and the implications of poverty within an urban environment.  I had amazing, understanding, compassionate teachers and professors.  This program gave me the confidence to pursue my dreams of a higher education."  To hear an interview with Chantal about her work in Montreal and with the National Inquiry on Missing and Murdered Indigenous Women and Girls click here soundcloud.
---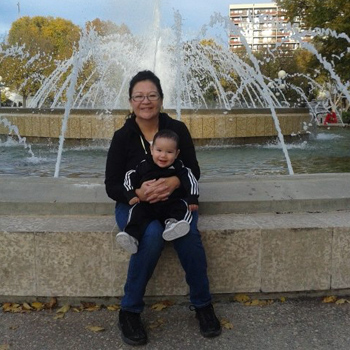 Evelyn Crate completed a Certificate in Urban and Inner City Studies in 2015 after which she started working as a Family Support worker with Island Lakes CFS. She recently held a position as a sponsored Executive with the United Way.
Evelyn has this to say about her experience at UIC: "My experience was awesome. I learned about myself and my culture. I met wonderful people including students, instructors, support staff, people in the community and leaders. This course has opened my eyes to many things and has taught me to be more assertive in my daily life."
---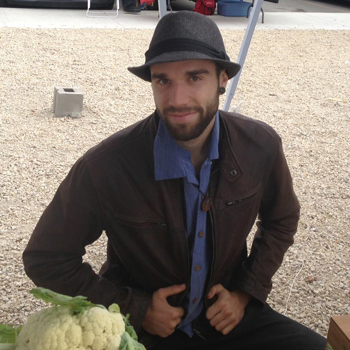 Iain Brynjolson graduted from the U of W in 2014 with a Bachelor of Arts majoring in Urban and Inner City Studies. He was voted the #1 activist on campus by the Uniter in 2013 for his work with food sustainability in the North End. He has been working as the produce manager at Neechi Commons since 2012. Iain also founded Food for Folks, a produce stand in the Folkfest campground and has helped bring farmers markets and community gardens to the North End.
Iain has this to say about his experience at UIC: "I have found the UIC program to be an effective program for approaching practical applications of philosophy. From a classroom setting, to the city in theory, and to the reality unfolding in our lives."
---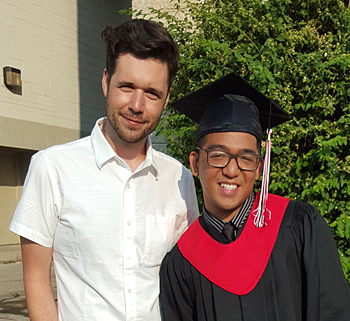 After earning a Bachelor of Business Administration, Tyler Blashko (left) graduated in 2014 with a four-year Honours Bachelor of Arts, majoring in Urban & Inner City Studies. Since 2012, he has worked as a Student Parent Support Worker with Wayfinders, an after school tutoring and mentoring program for high school students in 7 Oaks School Division. He is the President of the Social Planning Council of Winnipeg and also sits on the Board of Governors for Université de St. Boniface.
Tyler has this to say about his experience at UIC: "I feel that UIC offers a unique and challenging university experience. I learned a lot about our various histories, power structures, about myself and how to play a role in positive change within our communities. The experience and knowledge each class contains allows students to learn from each other as well as benefit from the exceptional professors and instructors."