New Directions in Classics VII
The Department of Classics' New Directions in Classics series will host its seventh season beginning in September 2023.
Once again, we would like to thank donors to our University of Winnipeg Foundation "crowd-funding" campaign. If you would like to support the series, please consider visiting the campaign page.
If you'd like more information on New Directions in Classics, please email Dr. Peter J. Miller or find us on Facebook
Watch all of our talks on our YouTube channel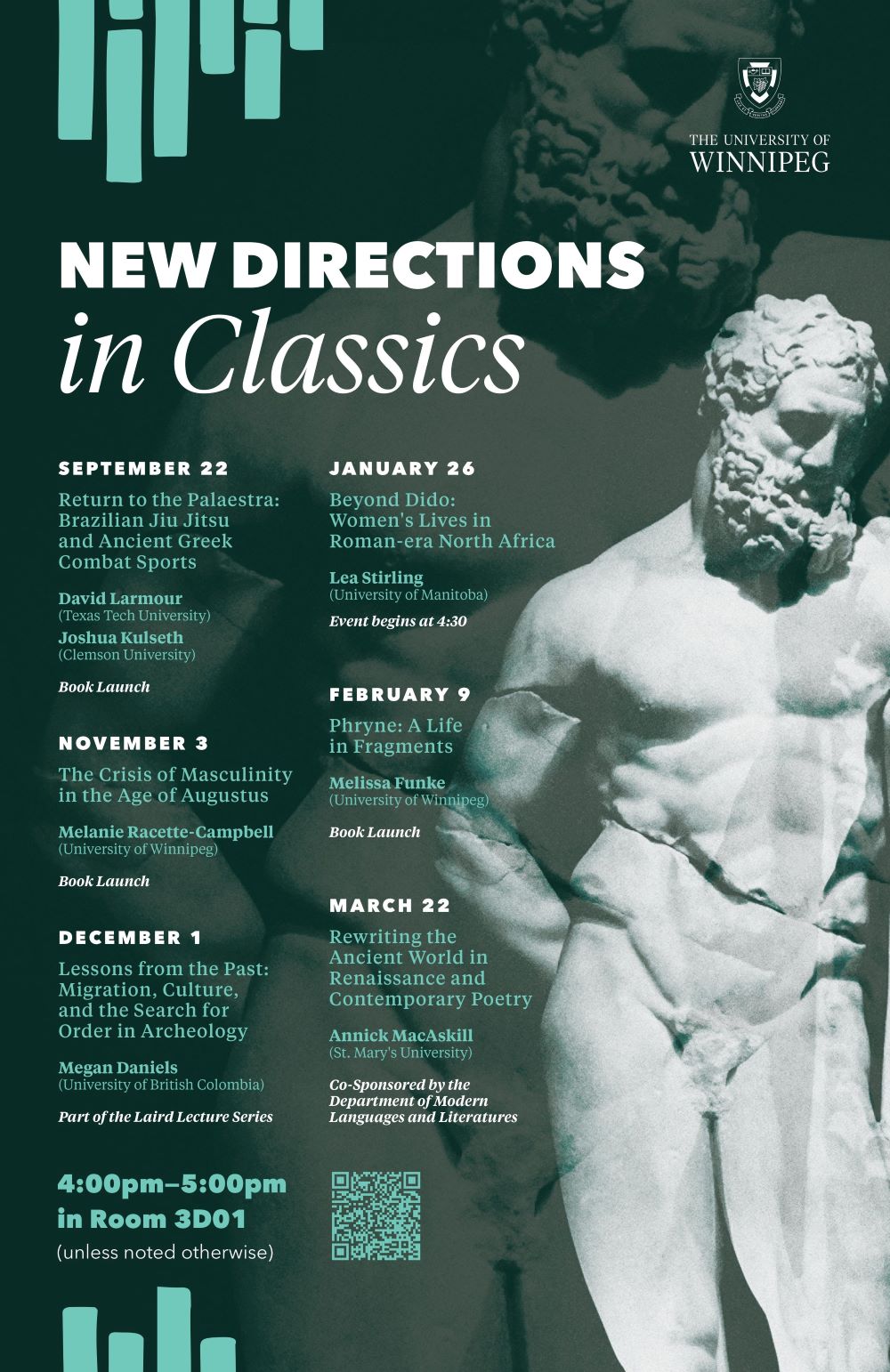 ---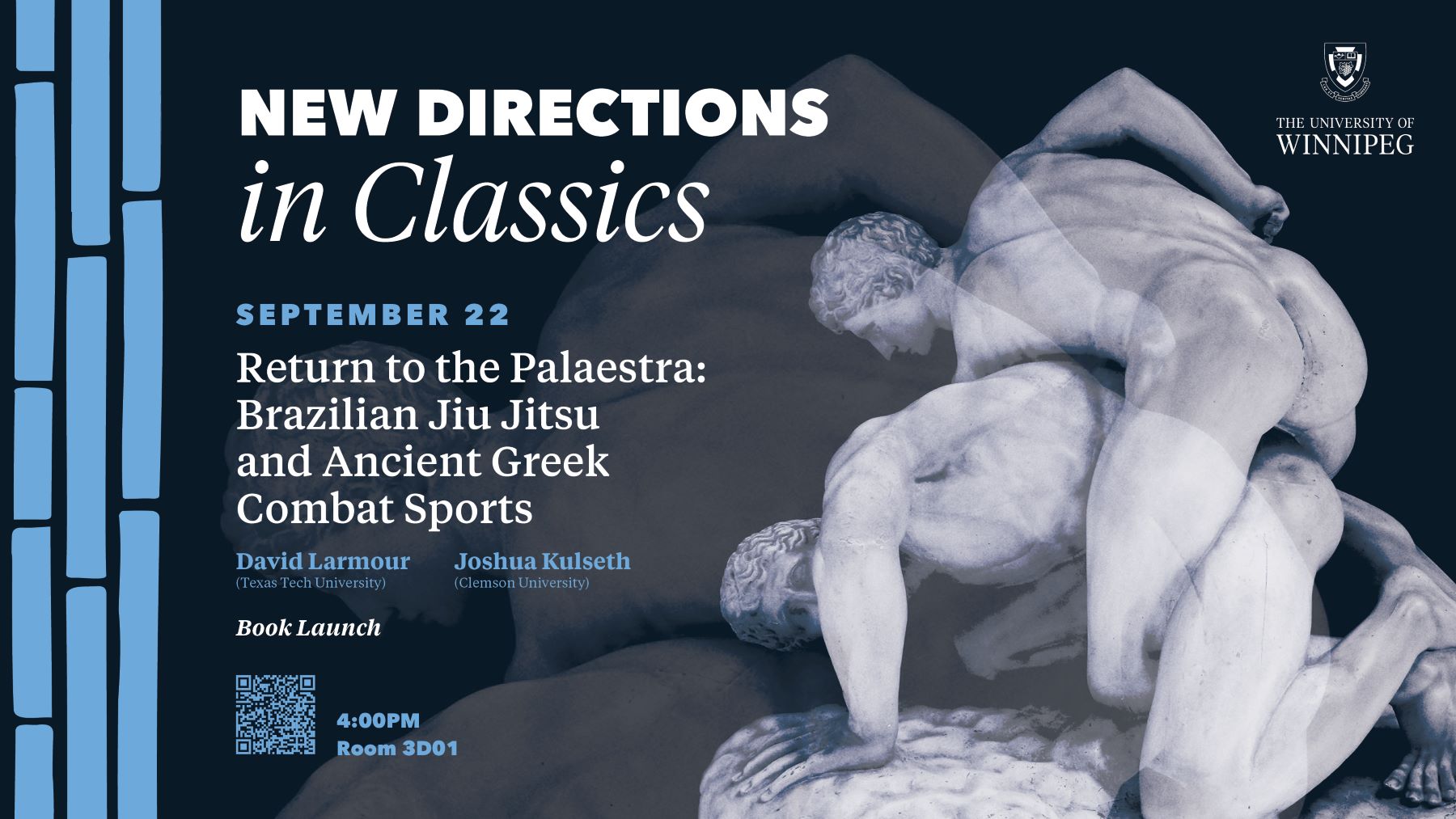 Return to the Palaestra: Brazilian Jiu Jitsu and Ancient Greek Combat Sports
David Larmour (Texas Tech University) and Joshua Kulseth (Clemson University)
September 22, 2023 | 4:00-5:00pm, Room 3D01
Book launch
What has Brazilian Jiu Jitsu to do with the Ancient Greeks? This talk suggests that today's Brazilian Jiu Jitsu gyms, training regimes, and competition circuits offer the closest modern analogy to Ancient Greek wrestlers and pankratiasts in the palaestra. By combining first person experience in modern combat sports with a rich analysis and exploration of ancient Greek literary and artistic sources, this talk draws connections from the ancient past to modern martial arts.
---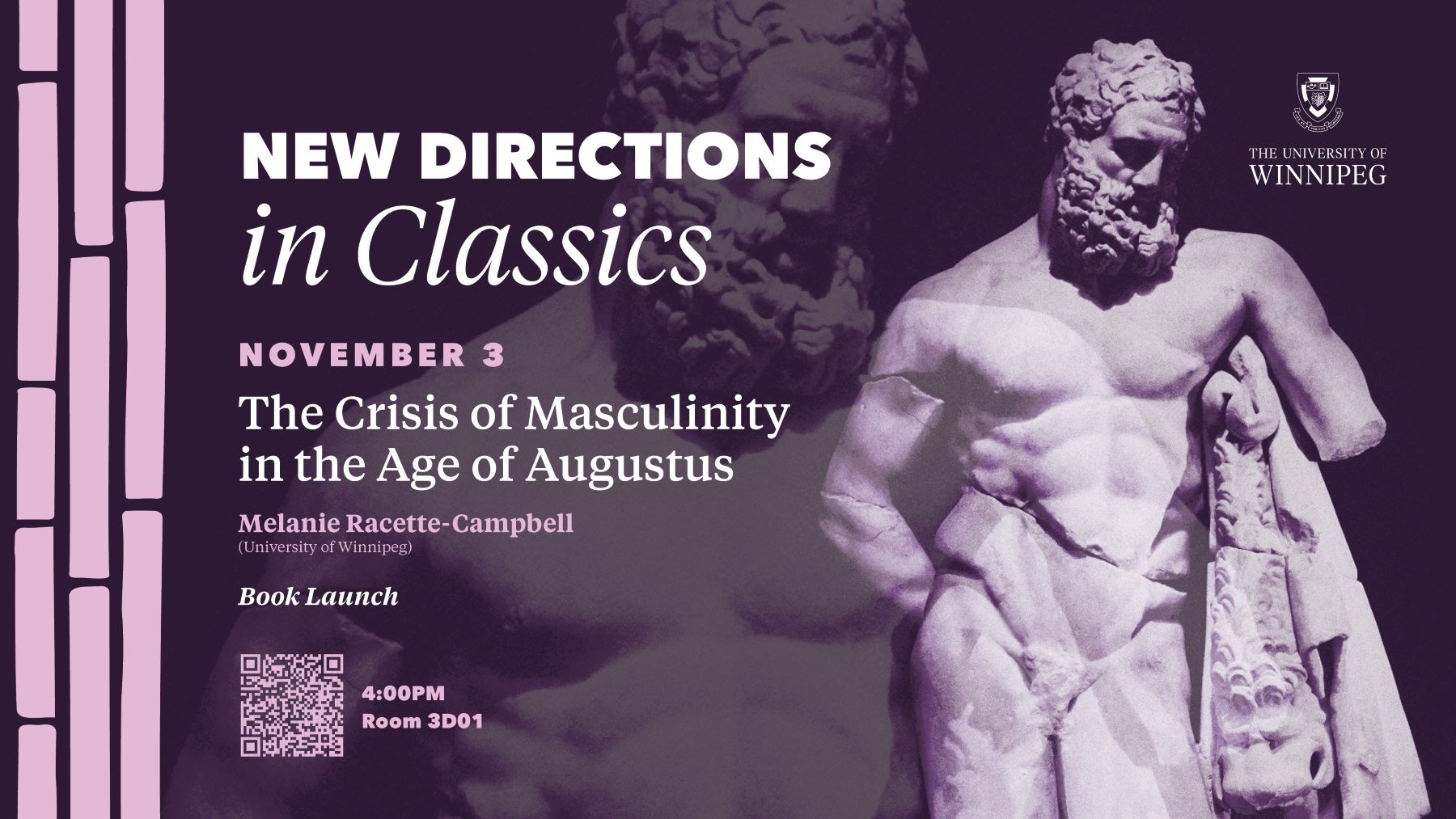 The Crisis of Masculinity in the Age of Augustus
Melanie Racette-Campbell (University of Winnipeg)
November 3, 2023 | 4:00-5:00pm, Room 3D01
Book launch
Masculinity changed dramatically in the last days of the Roman Republic. This talk demonstrates how Roman men adjusted to their new political and social world – and the new gendered reality of the Roman Empire.
---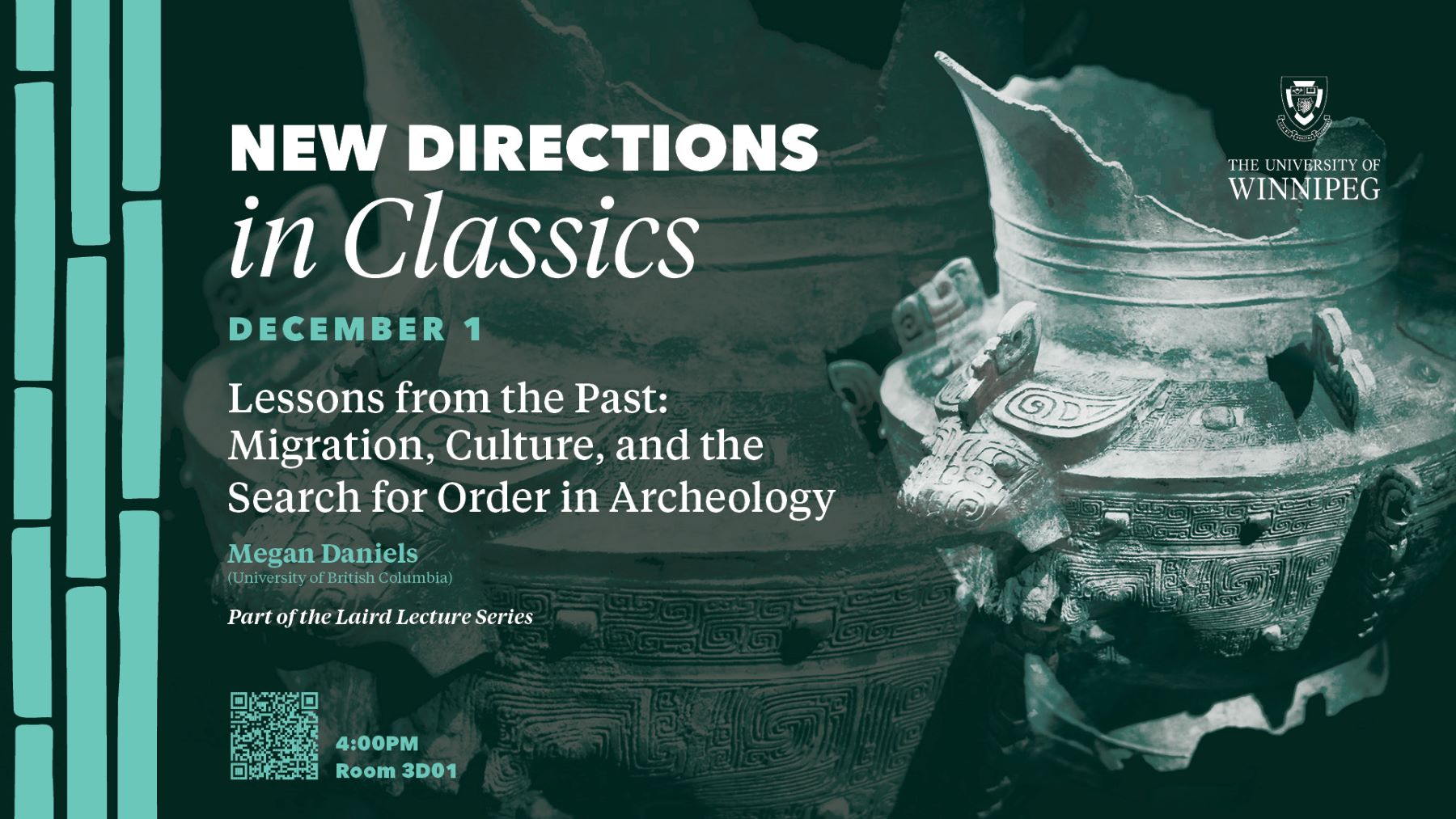 Lessons from the Past: Migration, Culture, and the Search for Order in Archaeology
Megan Daniels (University of British Columbia)
December 1, 2023 | 4:00-5:00pm, Room 3D01
Part of the Laird Lecture Series
Archaeology – the study of the past through its material remains – has been tied together with contemporary political and social concerns since its beginnings in the nineteenth century. From the distant past to new scientific advancements in genomics and isotopes, this talk offers new insights into ancient migration and our modern interpretations of it.
---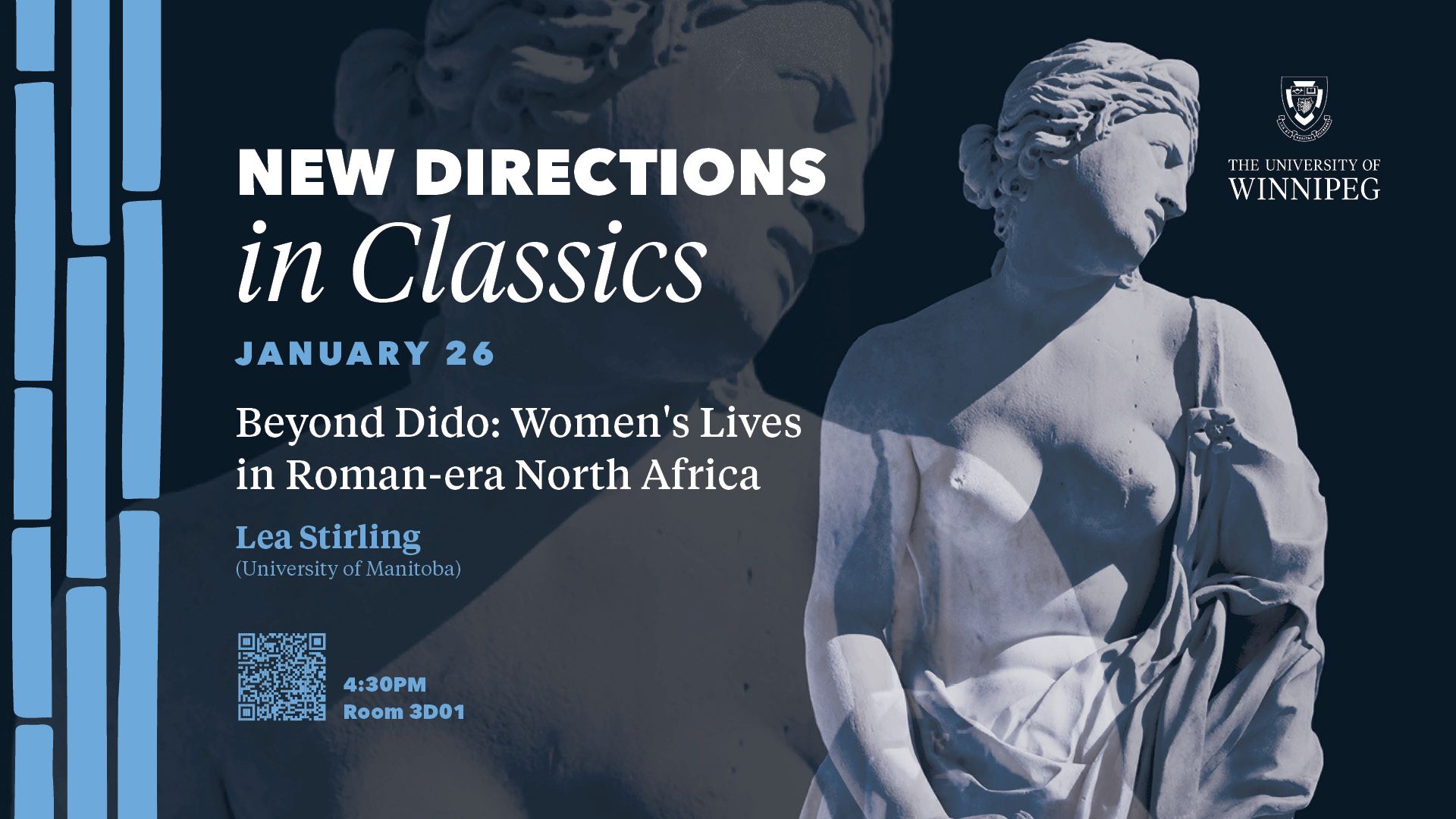 Beyond Dido: Women's Lives in Roman-era North Africa
Lea Stirling (University of Manitoba)
January 26, 2024 | 4:30-5:30pm, Room 3D01
What can we know about the lives of women in Roman-era North Africa? Archaeological research at the town of Leptiminus has uncovered skeletal data, inscriptions, artistic images, and tools probably used by women. Though these forms of evidence are hard to combine, they capture some of the variety that status, wealth, and ethnic background, compounded by the colonial setting, would have created.
---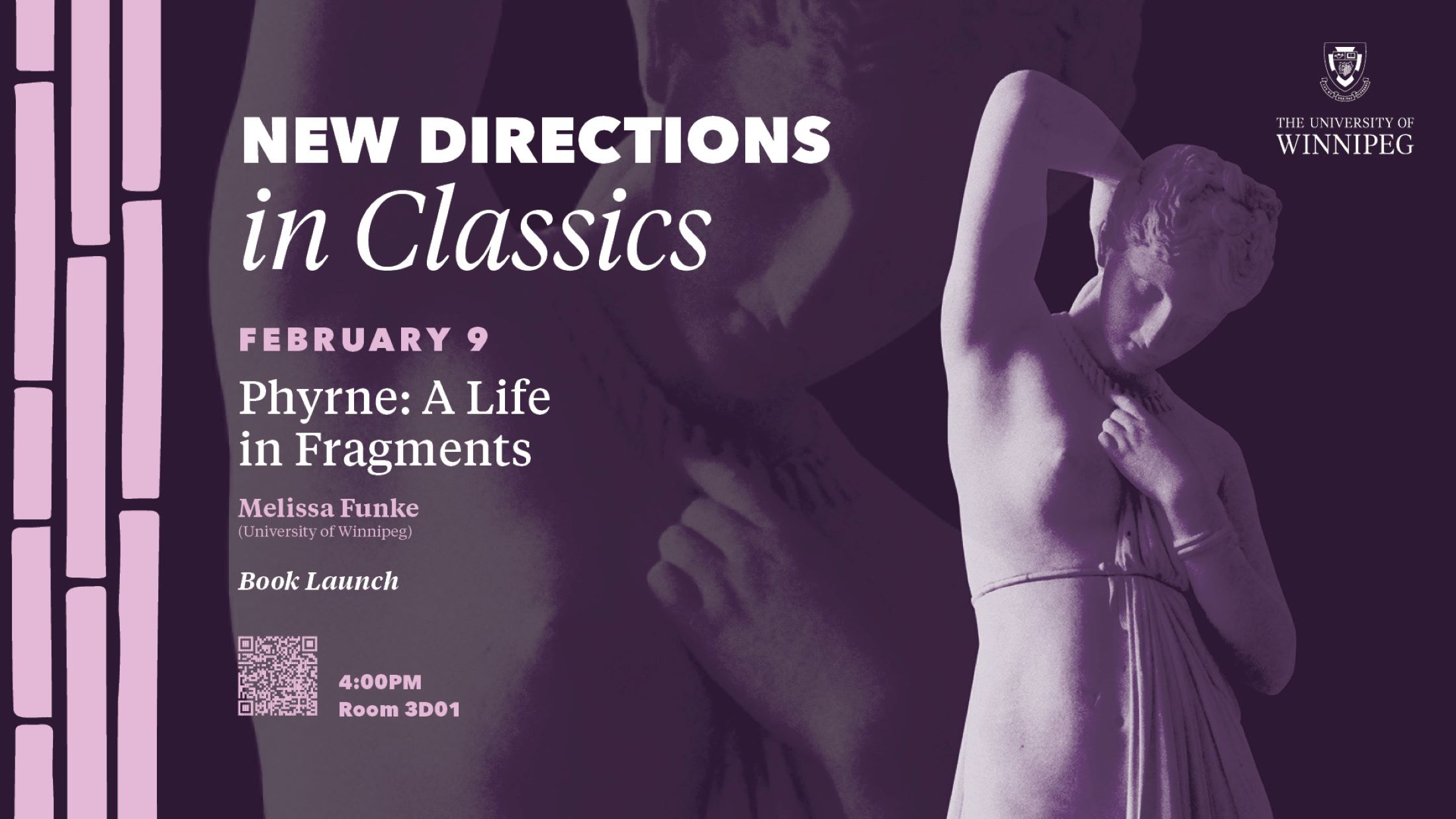 Phryne: A Life in Fragments
Melissa Funke (University of Winnipeg)

February 9, 2024 | 4:00-5:00pm, Room 3D01
Book launch
How did Mnesarete, a girl from Boeotia, end up as Phryne and how did she end up as an enduring symbol of ancient Greek culture? This talk pieces together the story of the famous fourth-century Athenian sex worker, Phryne. It considers her early life and her development into a cultural figure, whose influence and legacy lasted from her own lifetime 2500 years ago to 19th century European cabaret, 1950s cinema, and more.
---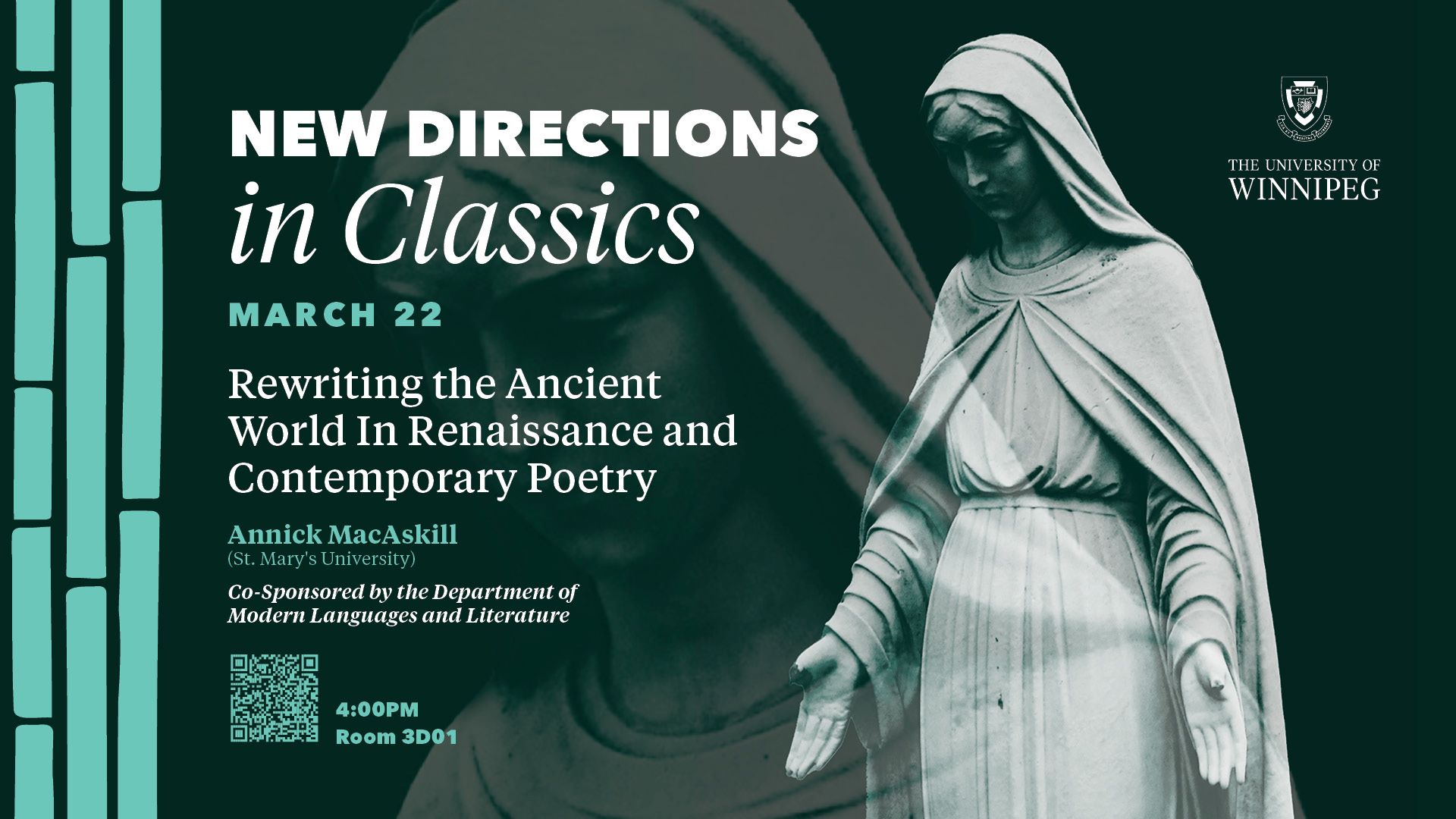 Rewriting the Ancient World in Renaissance and Contemporary Poetry
Annick MacAskill (St. Mary's University)
March 22, 2024 | 4:00-5:00pm, Room 3D01
Co-sponsored by the Department of Modern Languages and Literatures
This talk begins by examining Anne de Marquets, a sixteenth-century poet and translator and Dominican nun implicated in the French Religious Wars, and the presence of the classical tradition in her work. From the limits of women's education in the sixteenth century, the talk then turns to the author's own interests in the classical tradition and its presence in her own collections of poetry.
---
Learn more about the previous New Directions in Classics series: