Classics Students Association
Classics
---
The University of Winnipeg Classics Students Association (UWCSA) was created in order to provide a supportive peer group for those interested in Classics. You do not need to be a Classics major to attend, and there is no cost involved in joining.
The students' Classics group meets in the Common Room (4G07) once a week during term. The Common Room is on the fourth floor of Graham Hall: the fourth floor can be reached either by the stairs located off the Department of Education foyer (turn right immediately after heading through the doors), or by the elevator located opposite the Riddell Hall cafeteria.
Meetings are held on Wednesdays, between 12:30-1:30pm, beginning in September..
For more information about current events and activities, either email us or check out the UWCSA Facebook page!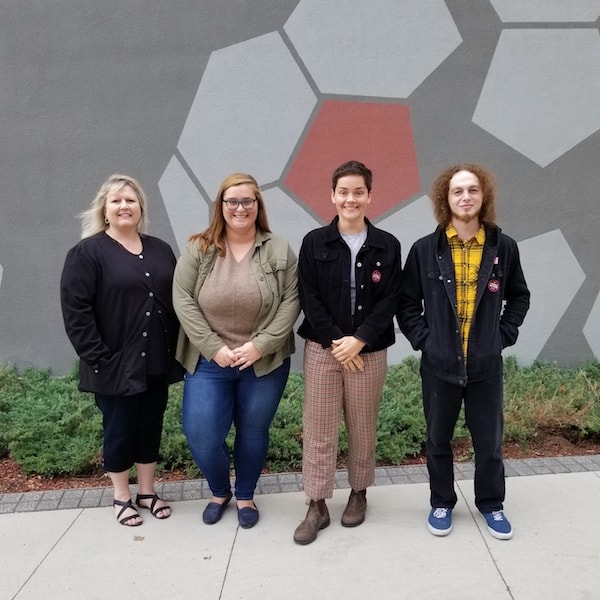 The UWCSA management committee for the 2019-20 academic year are (from left to right): Ruth Dickinson (Treasurer), Kaitlyn Gilfillan (Secretary), Anya Ingram (President), and Travis Cook (Vice-President).
All dates, times and rooms are subject to change, due to Campus Scheduling and unforeseen circumstances. Regardless, all events will be updated on the Facebook page!
UWCSA Colloquium
January 7, 2020!
12:30-3:00pm, location TBD
The University of Winnipeg Classics Student Assocation (UWCSA) is looking for student papers for their student colloquium!
Submit your topic and a brief summary of your paper by December 20. Topics can be anything from Classics, History, Anthropology, Archaeology, and Languages.
Send your paper to uwclassicsclub@gmail.com. You will be notified when your submission is received; submissions are accepted on a first-come, first-served basis.