New Directions in Classics 2021-22
The Department of Classics' New Directions in Classics series hosted its fifth season beginning in September 2021.
Once again, we would like to thank donors to our University of Winnipeg Foundation "crowd-funding" campaign. If you would like to support the series, please consider visiting the campaign page.
If you'd like more information on New Directions in Classics, please email Dr. Peter J. Miller, download the series poster (PDF version of the image below), read the UWinnipeg News Centre article, or find us on Facebook.
Learn more about the previous New Directions in Classics series:
Watch all of our talks on our YouTube channel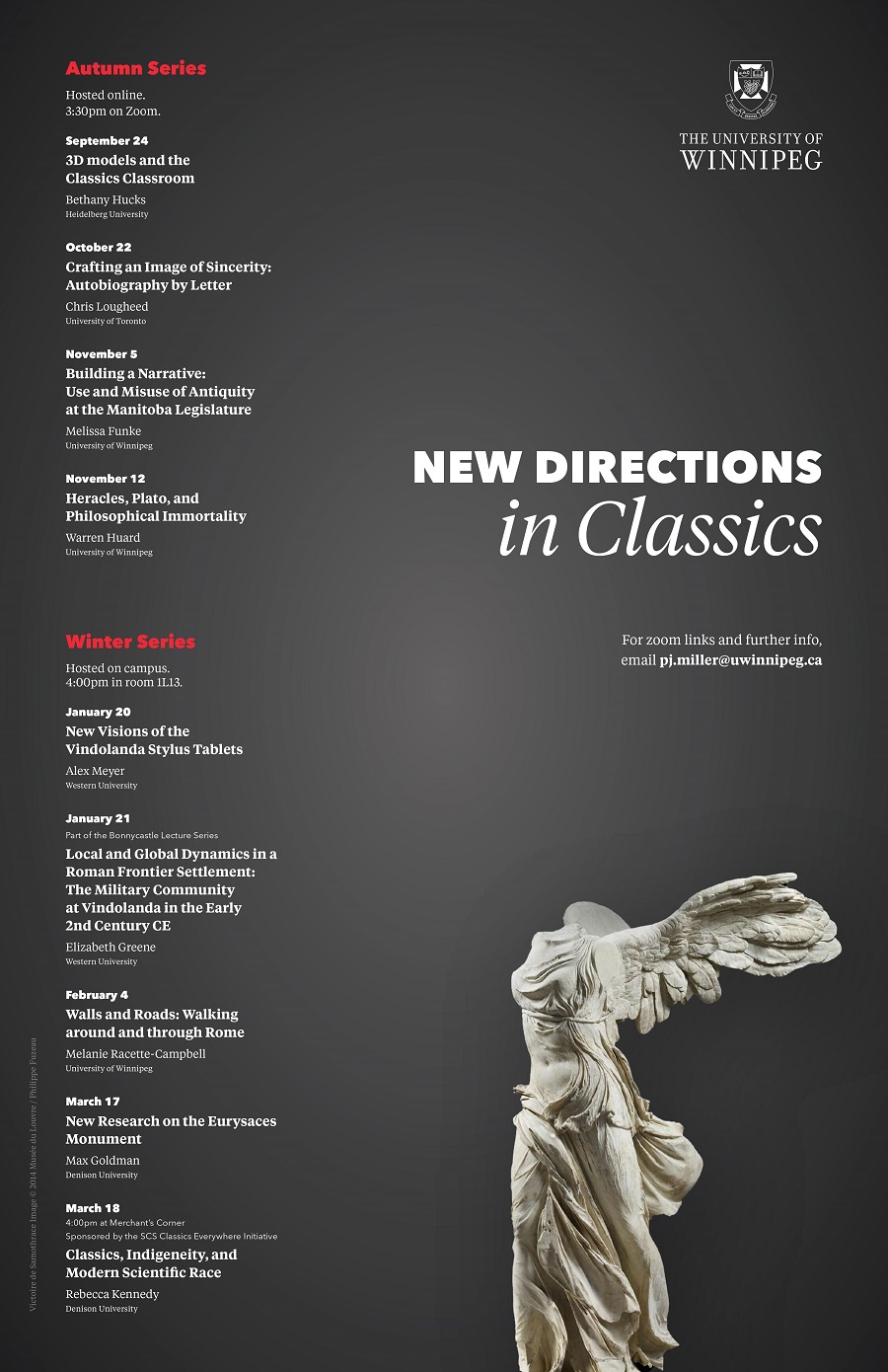 ---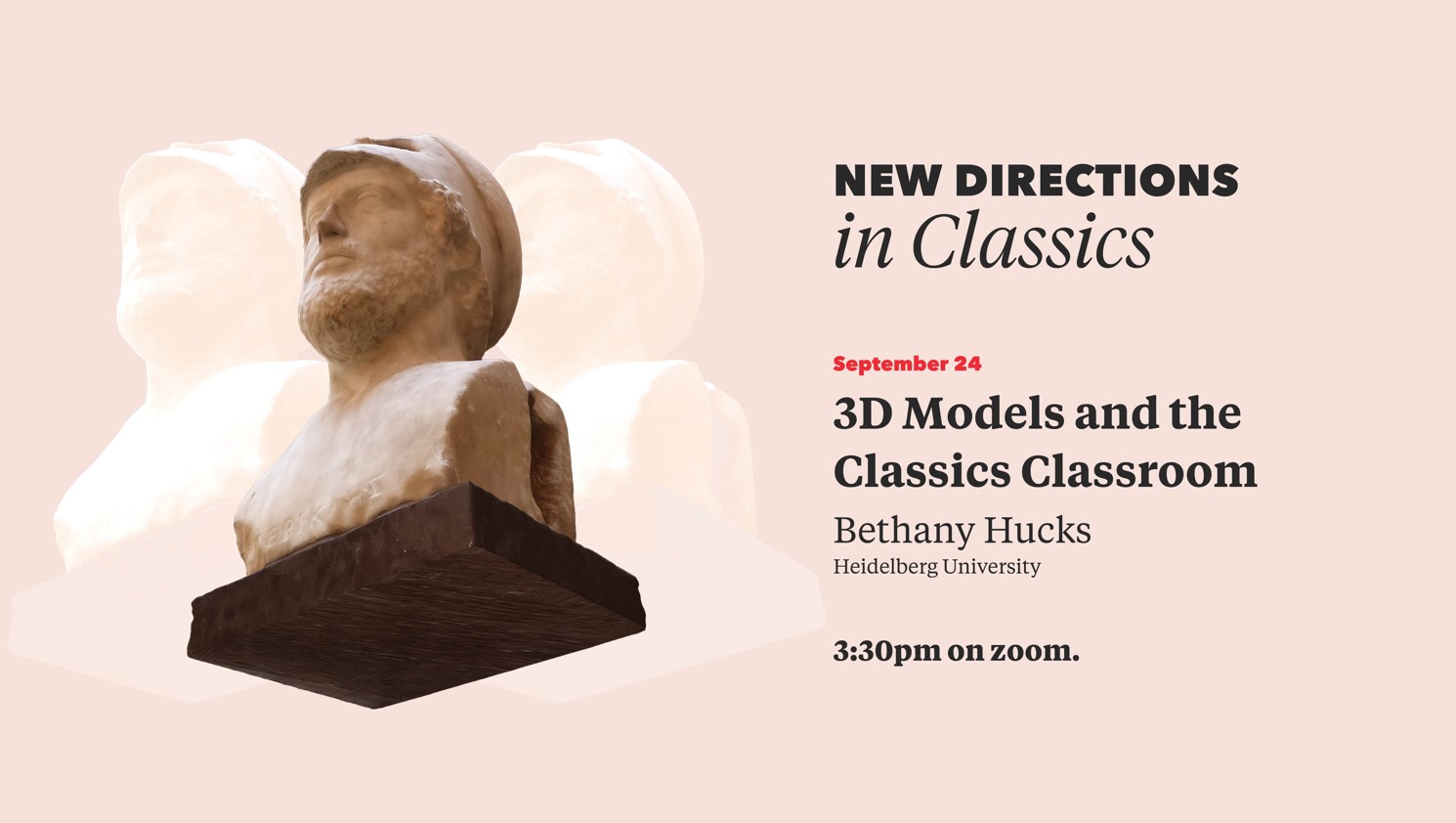 Friday, September 24, 2021
3:30 - 4:30 pm on Zoom

3D models and the Classics Classroom,
Bethany Hucks, Heidelberg University
---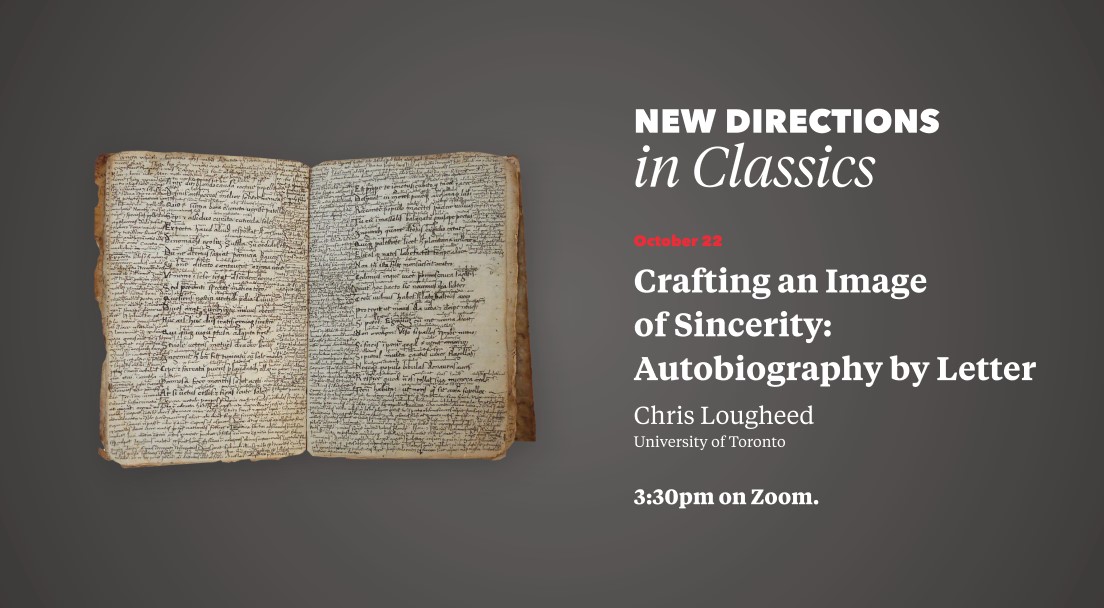 Friday, October 22, 2021
3:30 - 4:30 pm on Zoom

Crafting an Image of Sincerity: Autobiography by Letter, 
Dr. Chris Lougheed, University of Toronto 
Watch the lecture on the New Directions in Classics YouTube channel: https://www.youtube.com/watch?v=x6Z5FiU5e4E
---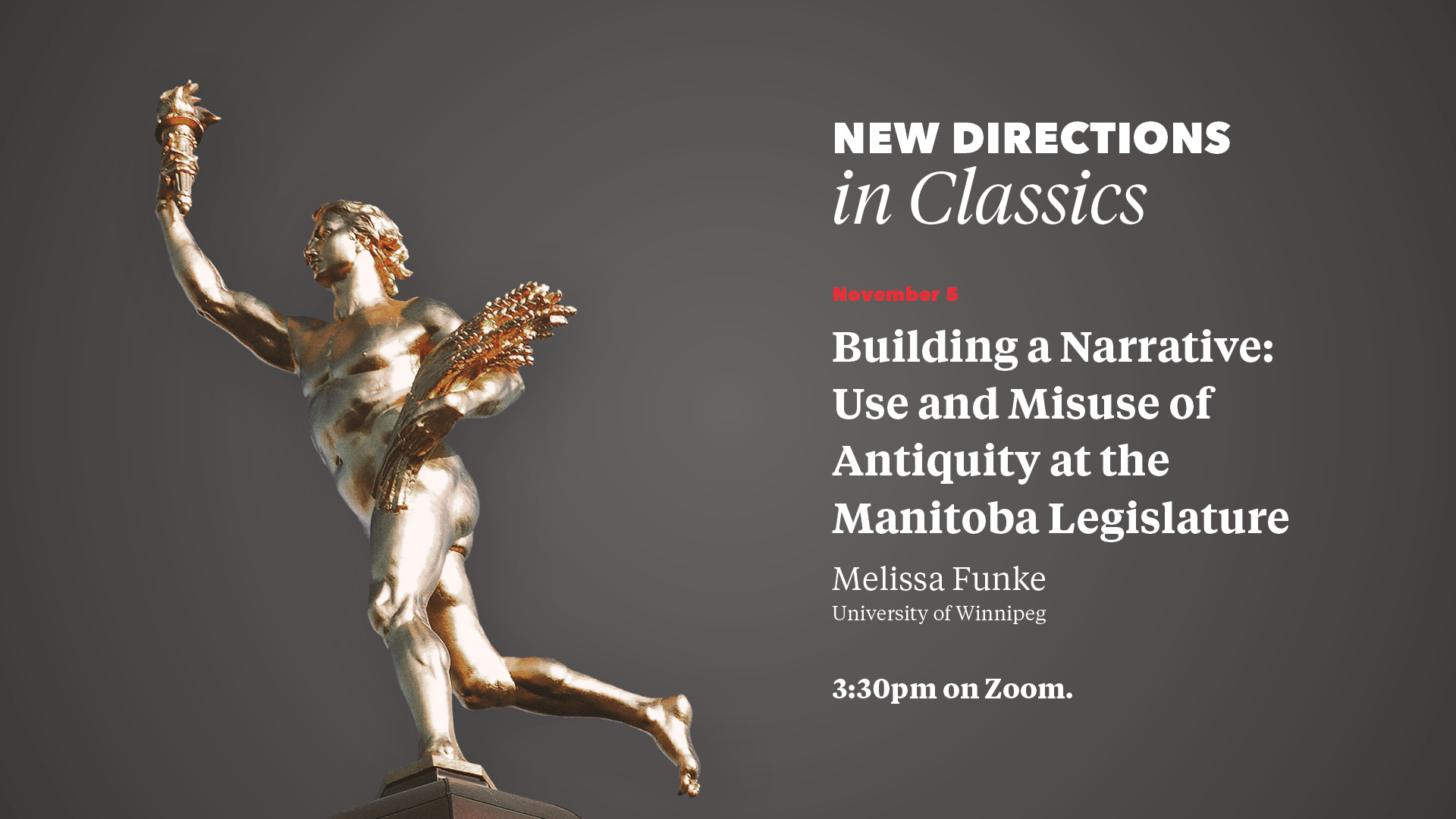 Friday, November 5, 2021, 3:30 – 4:30 pm
3:30 - 4:30 pm on Zoom

Building a Narrative: Use and Misuse of Antiquity at the Manitoba Legislature,
Dr. Melissa Funke, UWinnipeg
Watch the lecture on the New Directions in Classics YouTube channel: https://youtu.be/l9d3Q61WqNg
---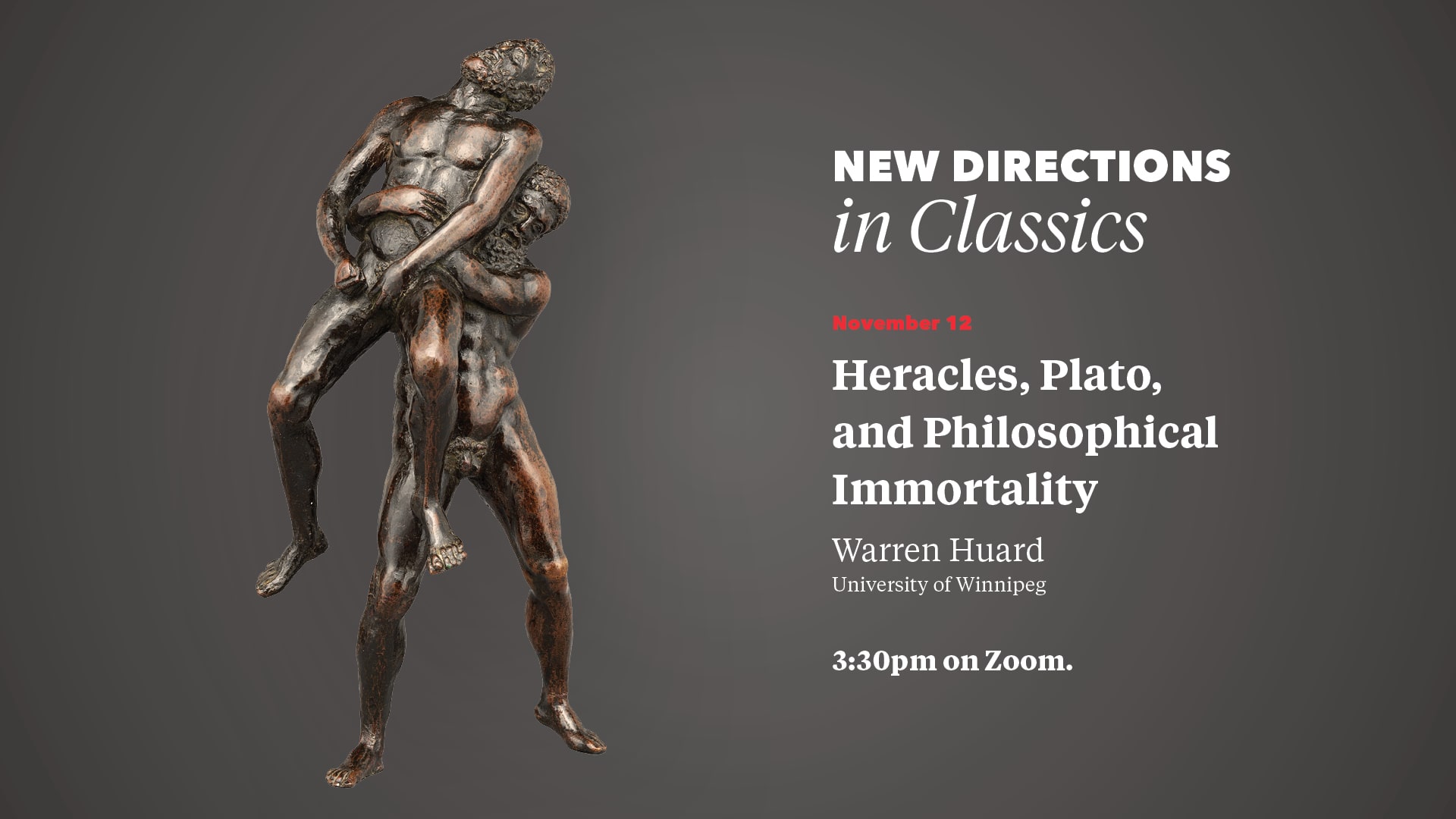 Friday, November 12, 2021, 3:30 – 4:30 pm
3:30 - 4:30 pm on Zoom

Heracles, Plato, and Philosophical Immortality,
Dr. Warren Huard, UWinnipeg
Watch the lecture on the New Directions in Classics YouTube channel: https://youtu.be/VzO44ItA__M
---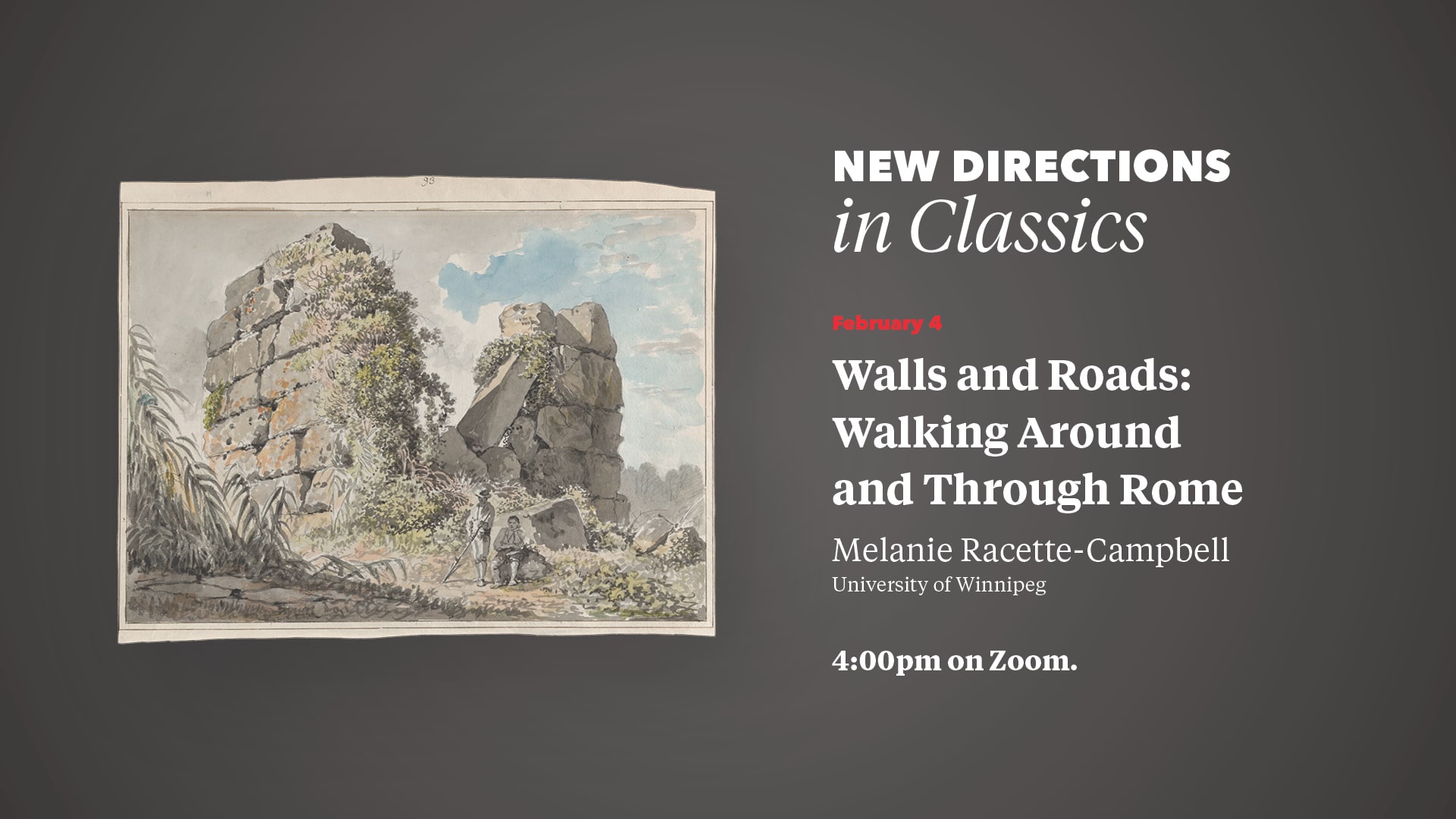 Friday, February 4, 2022
4:00 - 5:30 pm on Zoom
Walls and Roads: Walking Around and Through Rome,
Dr. Melanie Racette-Campbell, UWinnipeg
Register here: https://us06web.zoom.us/webinar/register/WN_66M8b7c2TfG-NdLUS4QjNw
---
 POSTPONED to Fall 2022
New Visions of the Vindolanda Stylus Tablets,
Dr. Alex Meyer, Western University
Local and Global Dynamics in a Roman Frontier Settlement: The Military Community at Vindolanda in the Early 2nd Century CE,
Dr. Elizabeth Greene, Western University
Part of the Bonnycastle Lecture Series
New Research on the Eurysaces Monument,
Dr. Max Goldman, Denison University
Classics, Indigeneity, and Modern Scientific Race
Dr. Rebecca Futo Kennedy, Denison University
Sponsored by the Society for Classical Studies Classics Everywhere Initiative
---