New Directions in Classics 2018-19
Classics
---
There's never been a better time to fall in love with the Classics! The Department of Classics's New Directions in Classics is an interesting and engaging 10-lecture series that's open to the public and runs from September until March. The series, organized by Classics professor Dr. Peter J. Miller and Classics alumna Ruth Dickinson, covers an array of topics that showcase the Classics as relevant and fundamental to the study of arts, culture, and language in our contemporary world.
The 2018-19 series had a range of speakers from across the world who addressed a myriad of topics including UWinnipeg's collection of ancient Egyptian artifacts, the modern revival of ancient beer recipes, the origins of the Faculty of Arts, Greek tragedy, and communication techniques in Latin poetry.

The series also included the Bonnycastle Lecture, Calling the Muses to Oklahoma: Native North American Writing on Graeco-Roman Antiquity, presented by Prof. Craig Williams, from the University of Illinois. His work, supported by the National Endowment for the Humanities, is part of ground-breaking research on Indigenous North American responses to Classical Antiquity from America's colonial period to the present day.
---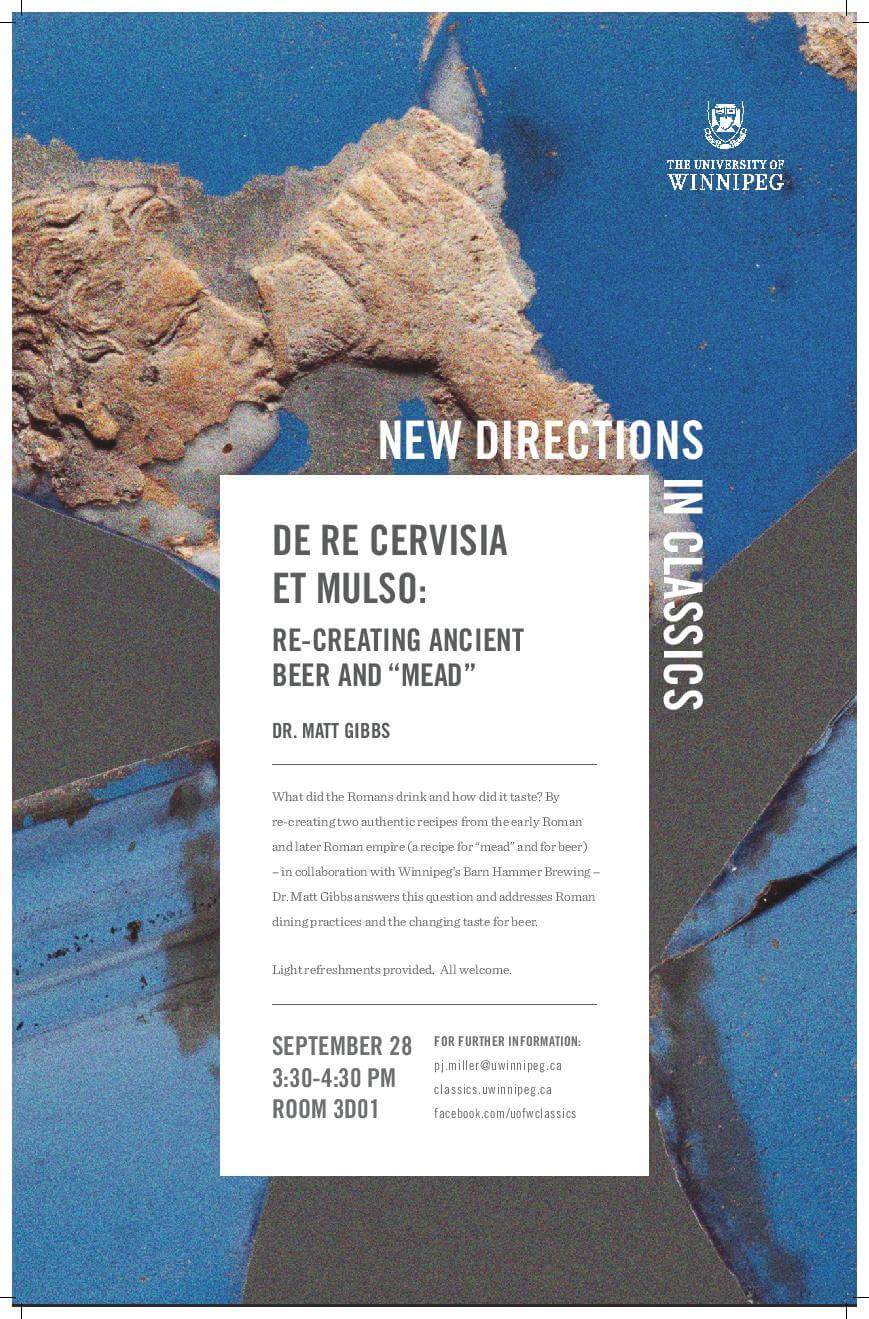 De Re Cervisia et Mulso: Re-Creating Ancient Beer and "Mead"
Dr. Matt Gibbs
September 28, 2018 | 3:30-4:30pm | Room 3D01
What did the Romans drink and how did it taste? By re-creating two authentic recipes from the early Roman and later Roman empire (a recipe for "mead" and for beer) - in collaboration with Winnipeg's Barn Hammer Brewing - Dr. Matt Gibbs answered this question and addressed Roman dining practices and the changing taste for beer.
---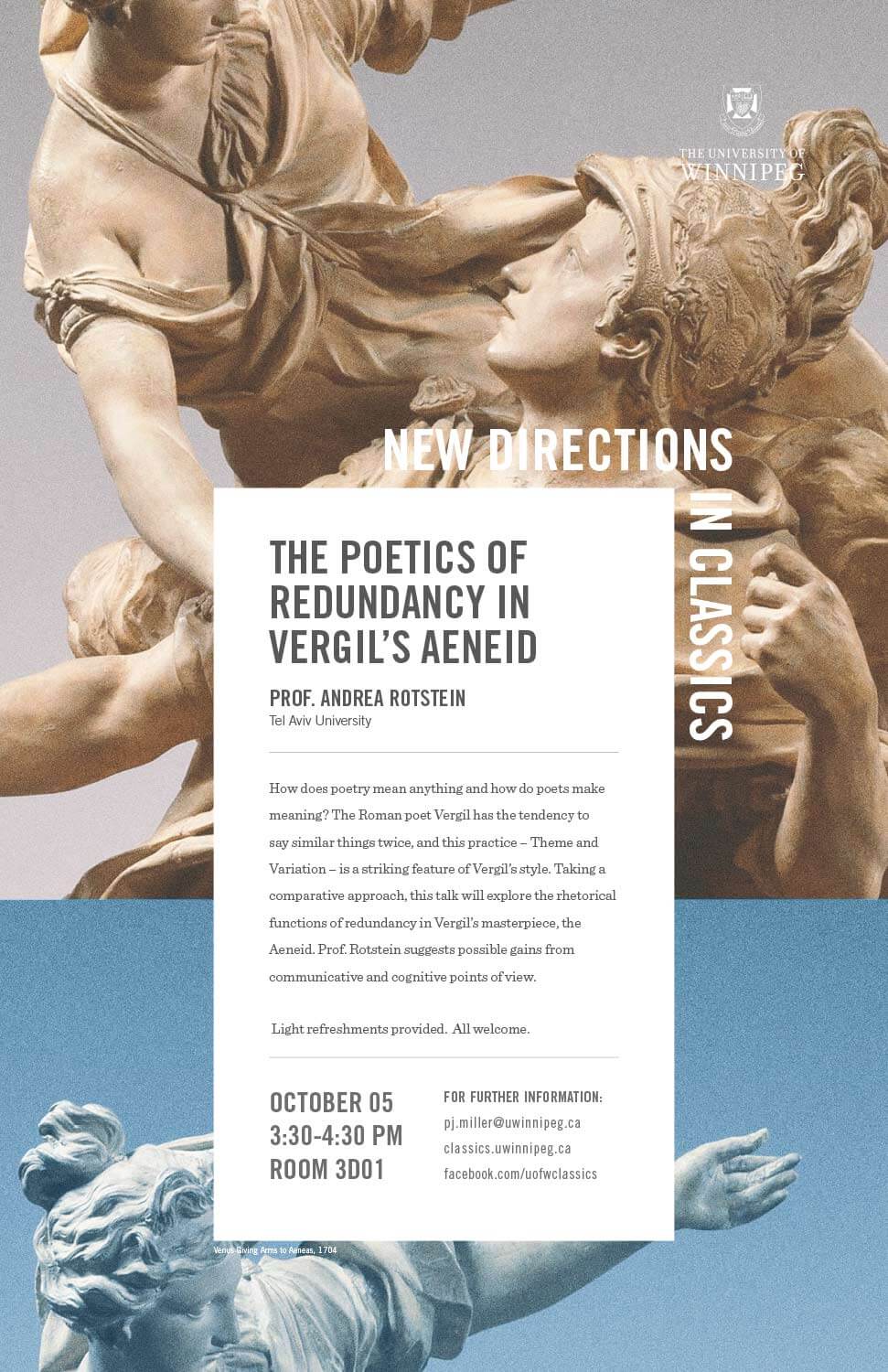 The Poetics of Redundancy in Vergil's Aeneid
Professor Andrea Rotstein, Tel Aviv University
October 5, 2018 | 3:30-4:30pm | Room 3D01
How does poetry mean anything and how do poets make meaning? The Roman poet Vergil has the tendency to say similar things twice, and this practice - Theme and Variation - is a striking feature of Vergil's style. Taking a comparative approach, this talk explored the rhetorical functions of redundancy in Vergil's masterpiece, the Aeneid. Prof. Rotstein suggests possible gains from communicative and cognitive points of view.
---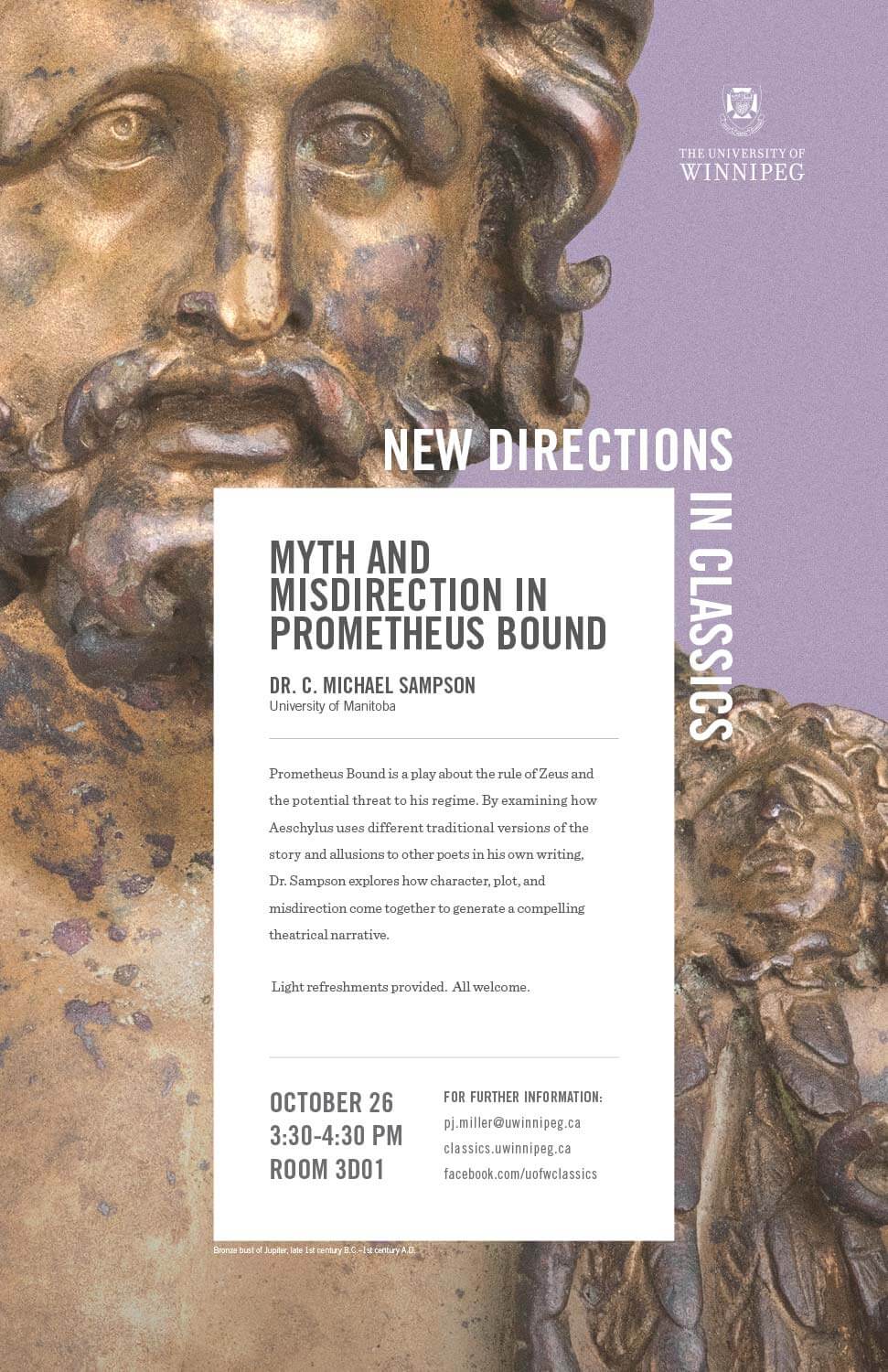 Myth and Misdirection in Prometheus Bound
Dr. C. Michael Sampson, University of Manitoba
October 26, 2018 | 3:30-4:30pm | Room 3D01
Prometheus Bound is a play about the rule of Zeus and the potential threat to his regime. By examining how Aeschylus uses different traditional versions of the story and allusions to other poets in his own writing, Dr. Sampson explored how character, plot, and misdirection come together to generate a compelling theatrical narrative.
---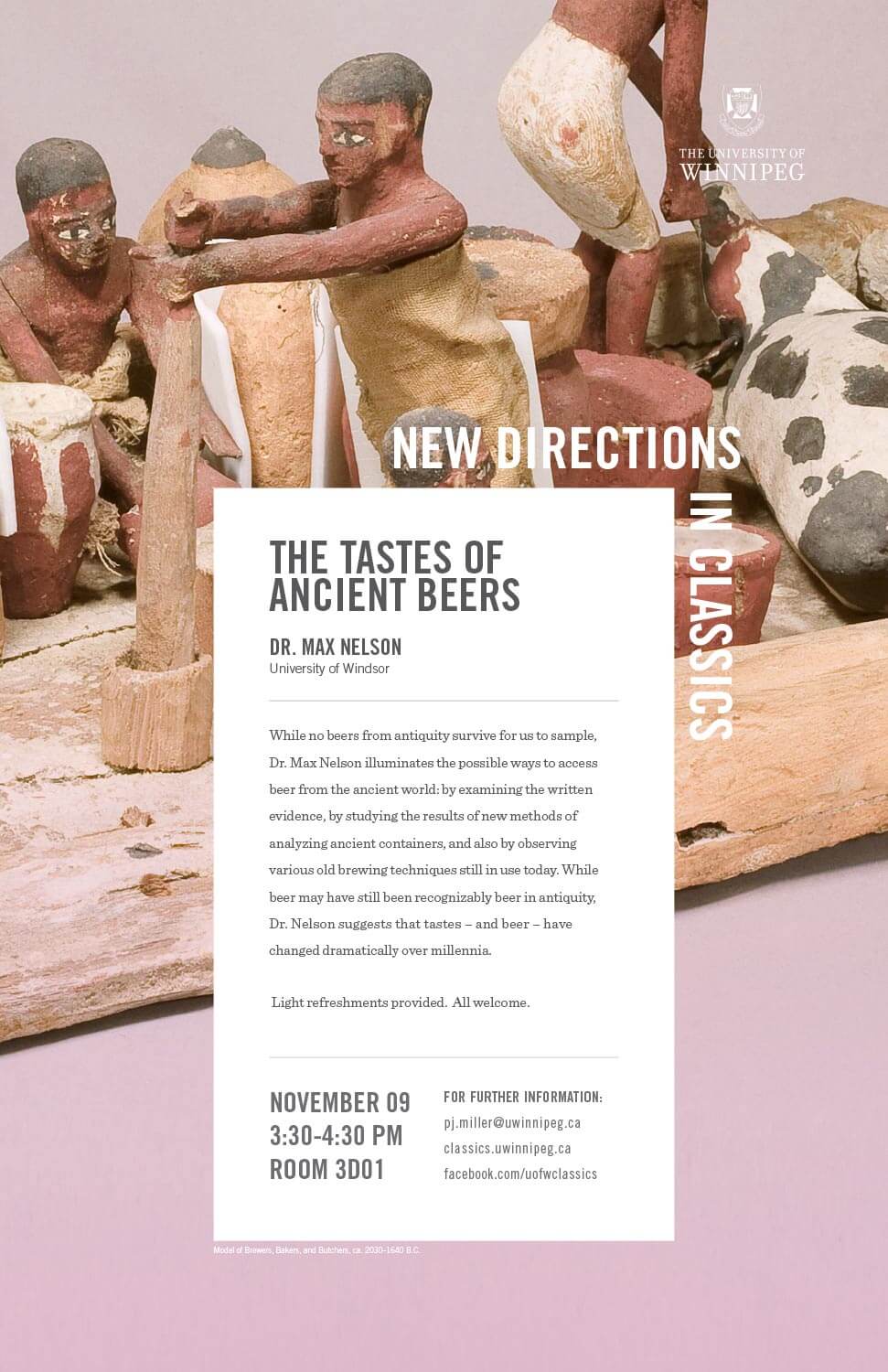 The Tastes of Ancient Beers
Dr. Max Nelson, University of Windsor
November 9, 2018 | 3:30-4:30pm | Room 3D01
While no beers from antiquity survive for us to sample, Dr. Max Nelson illuminated the ways to access beer from the ancient world: by examining the written evidence, by studying the results of new methods of analyzing ancient containers, and also by observing various old brewing techniques still in use today. While beer may have still be recognizably beer in antiquity, Dr. Nelson suggests that tastes - and beer - have changed dramatically over millenia.
---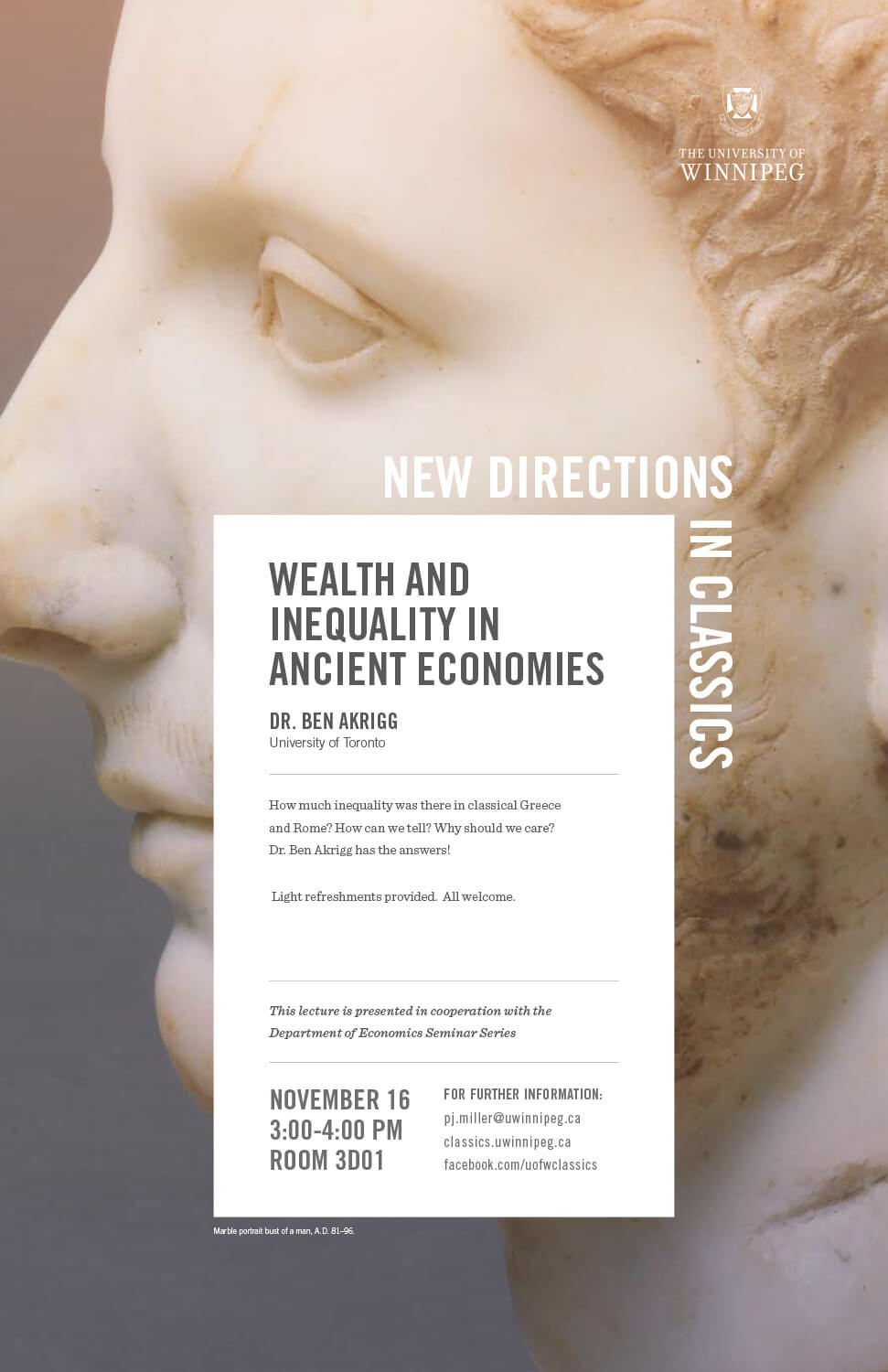 Wealth and Inequality in Ancient Economies
Dr. Ben Akrigg, University of Toronto
November 16, 2018 | 3:00-4:00pm | Room 3D01
How much inequality was there in classical Greece and Rome? How can we tell? Why should we care? Dr. Ben Akrigg has the answers!
This lecture was presented in cooperation with the Department of Economics Seminar Series.
---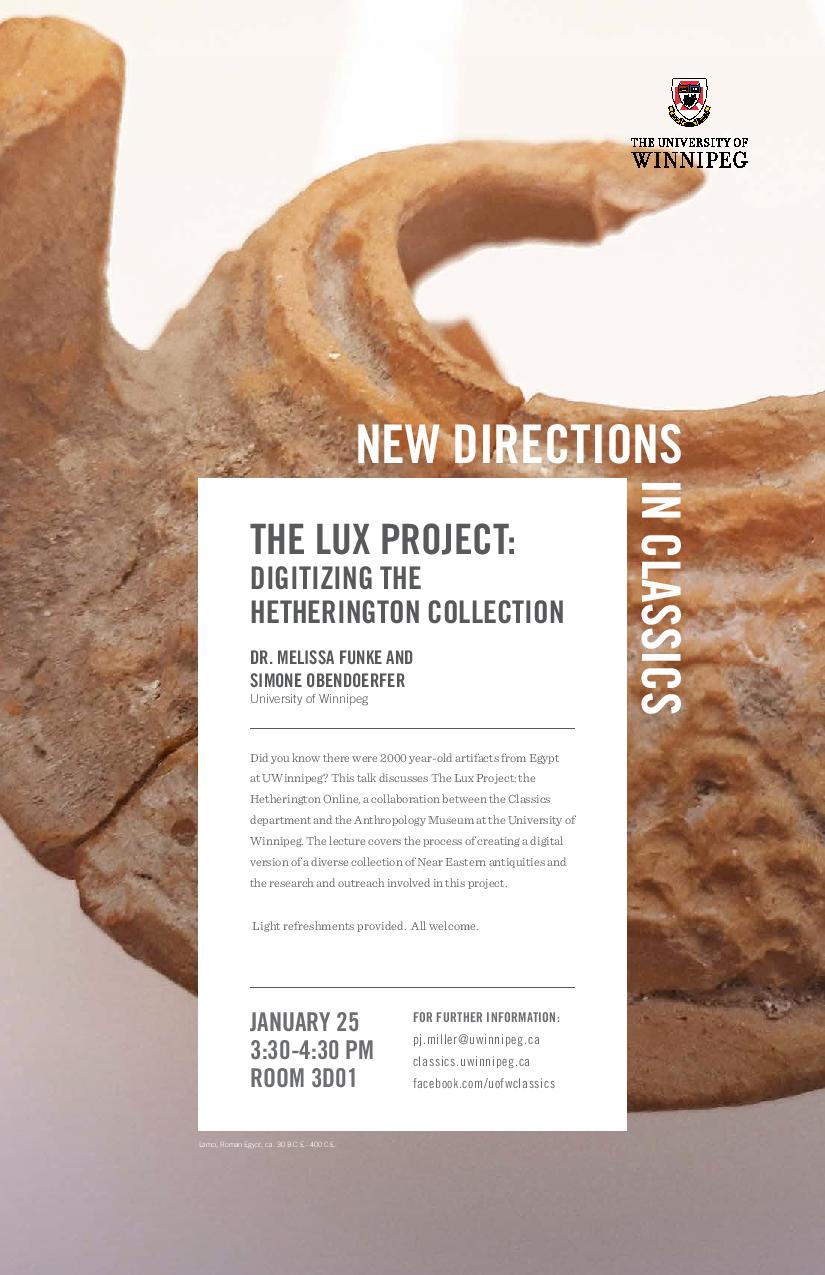 The Lux Project: Digitizing the Hetherington Collection
Dr. Melissa Funke and Simone Obendoerfer
January 25, 2019 | 3:30-4:30pm | Room 3D01
Did you know there were 2000 year-old artifacts from Egypt at UWinnipeg? This talk discussed The Lux Project: the Hetherington Online, a collaboration between the Classics department and the Anthropology Museum at the University of Winnipeg. The lecture covered the process of creating a digital version of a diverse collection of Near Eastern antiquities and the research and outreach involved in this project.
---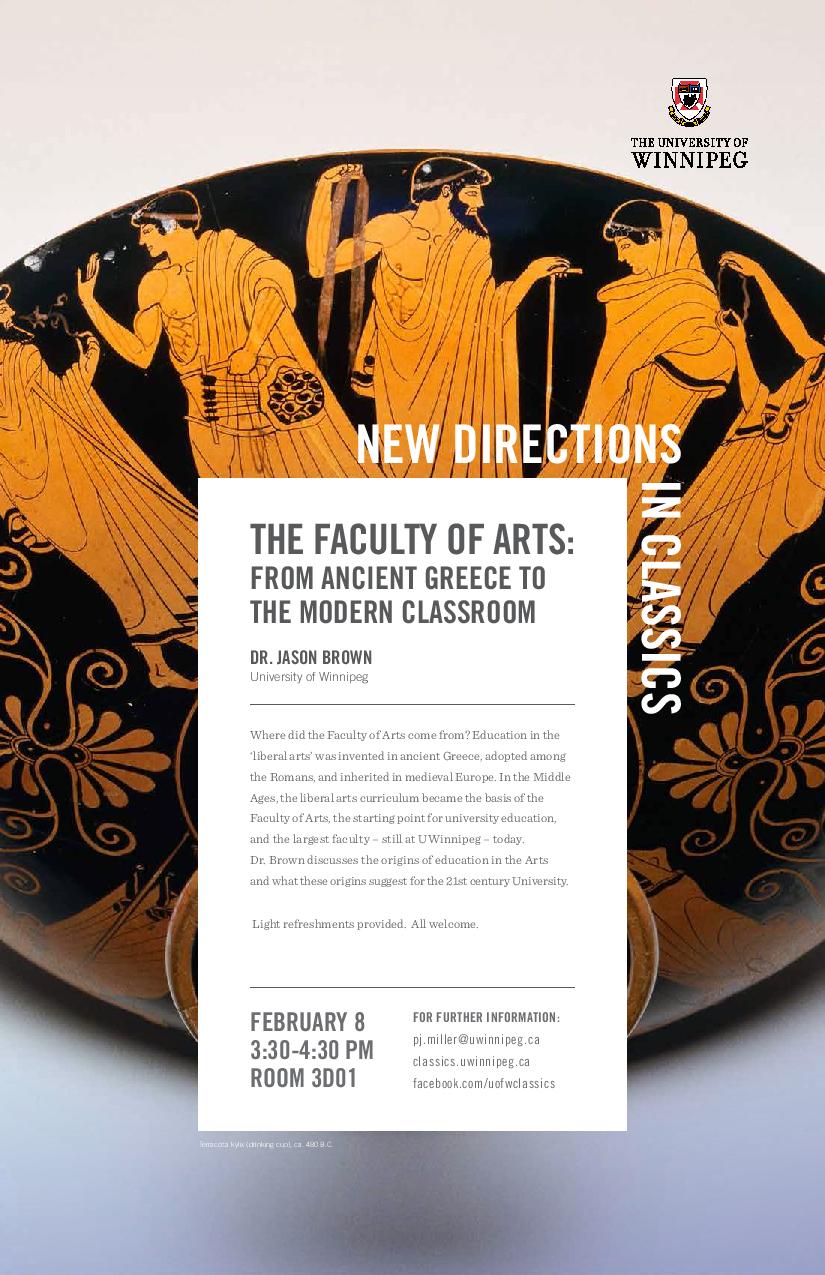 The Faculty of Arts: From Ancient Greece to the Modern Classroom
Mr. Jason Brown
February 8, 2019 | 3:30-4:30pm | Room 3D01
Where did the Faculty of Arts come from? Education in the 'liberal arts' was invented in ancient Greece, adopted among the Romans, and inherited in medieval Europe. In the Middle Ages, the liberal arts curriculum became the basis of the Faculty of Arts, the starting point for university education, and the largest faculty – still at UWinnipeg – today. Dr. Brown discussed the origins of education in the Arts and what these origins suggest for the 21st century University.
---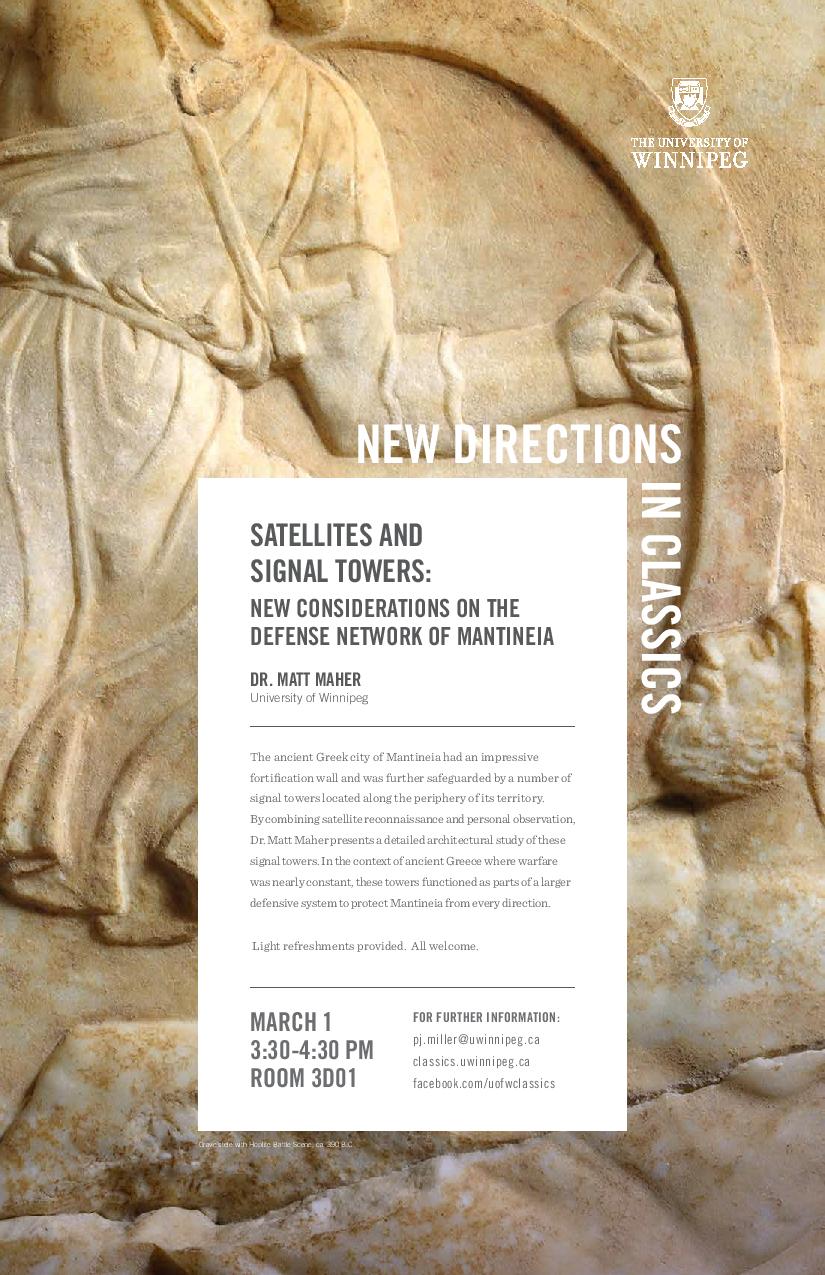 Satellites and Signal Towers: New Considerations on the Defense Network of Mantineia
Dr. Matt Maher
March 1, 2019 | 3:30-4:30pm | Room 3D01
The ancient Greek city of Mantineia had an impressive  fortification wall and was further safeguarded by a  number of signal towers located along the periphery of its territory. By combining satellite reconnaissance and personal observation, Dr. Matt Maher presented a detailed architectural study of these signal towers. In the context of ancient Greece where warfare was nearly constant, these towers functioned as parts of a larger defensive system to protect Mantineia from every direction.
---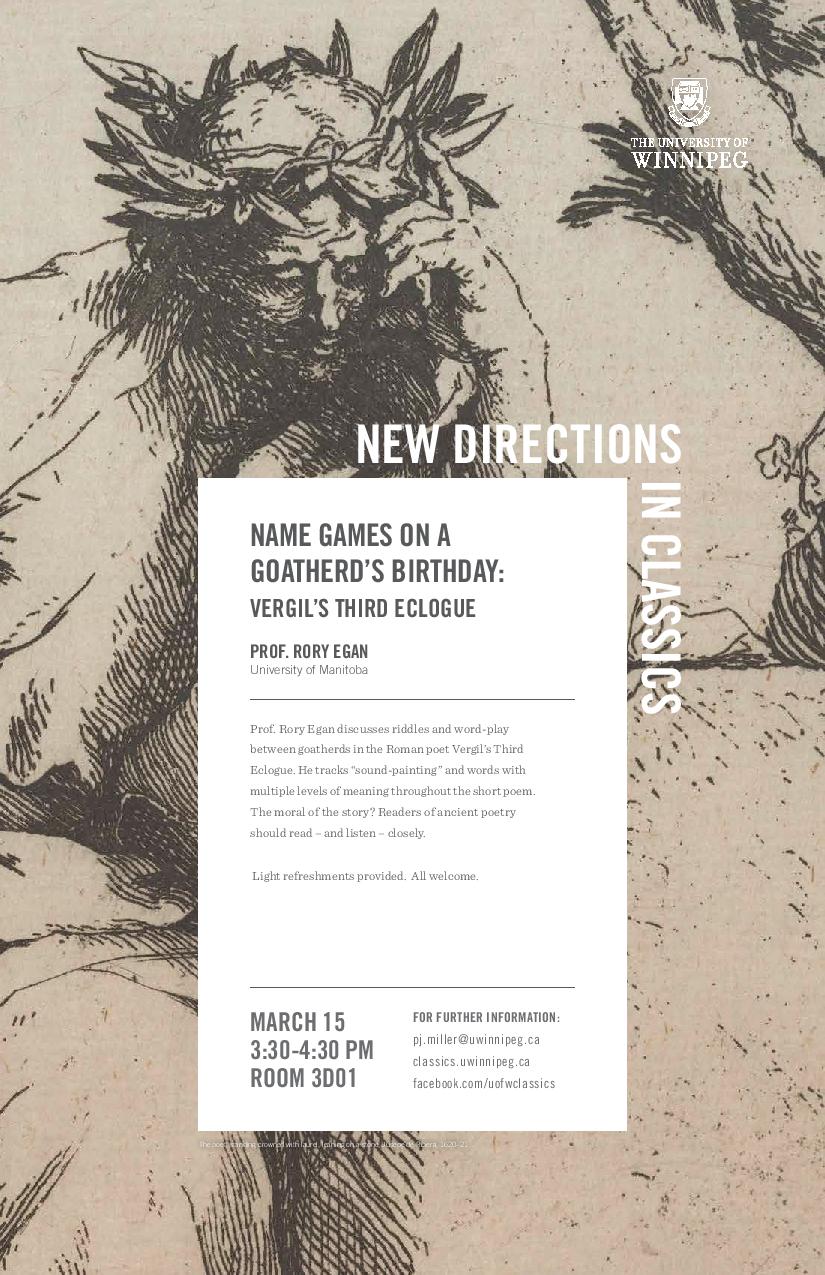 Name Games on a Goatherd's Birthday: Vergil's Third Eclogue
Professor Rory Egan, University of Manitoba
March 15, 2019 | 3:30-4:30pm | Room 3D01
Prof. Rory Egan discussed riddles and word-play between goatherds in the Roman poet Vergil's Third Eclogue. He tracked "sound-painting" and words with multiple levels of meaning throughout the short poem. The moral of the story? Readers of ancient poetry should read – and listen – closely.
---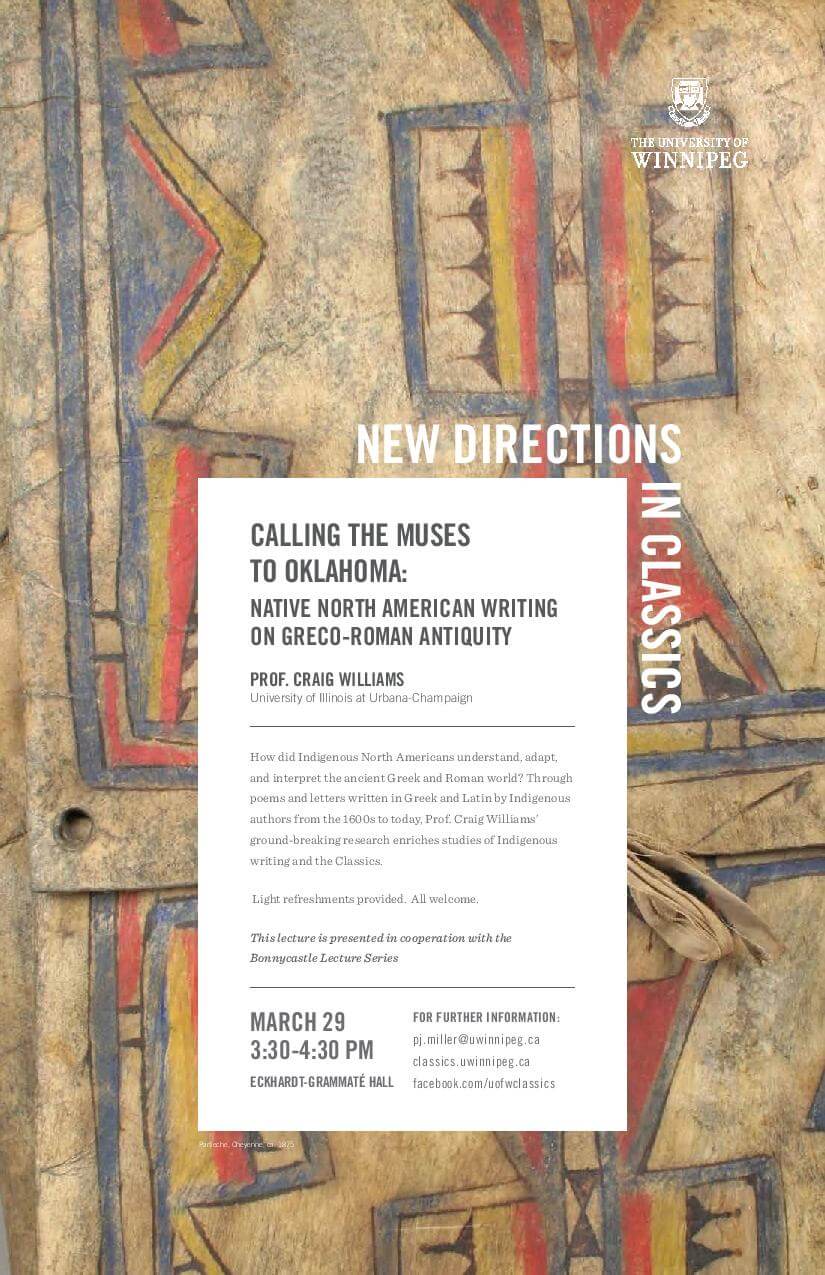 Calling the Muses to Oklahoma: Native North American Writing on Greco-Roman Antiquity
Professor Craig Williams, University of Illinois at Urbana-Champaign
March 29, 2019 | 3:30-4:30pm | Eckhardt-Gramatté Hall
How did Indigenous North Americans understand, adapt, and interpret the ancient Greek and Roman world? Through poems and letters written in Greek and Latin by Indigenous authors from the 1600s to today, Prof. Craig Williams' ground-breaking research enriches studies of Indigenous writing and the Classics.
This lecture was presented in cooperation with the Bonnycastle Lecture Series