Kitchen Philosophy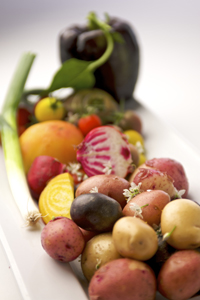 To become the premier on-site restaurant at the University of Winnipeg known for its culinary expertise and its commitment to socially responsible practices.
Create Authentic Food
Our aim is to create authentic cultural food that is alive with flavour and nutrition, prepared from scratch using authentic ingredients and recipes. Our kitchen philosophy ensures that we will accomplish this in a socially responsible manner for the well being of our guests, the community, and the environment.
We recognize that food is necessary for more than great health; food also contributes to the creation of community. Dining rooms are gathering places. Breaking bread together helps to create a sense of community and comfort. We recognize the important role we fill and take great care in honouring our position on campus.
Fresh Ingredients
Combined with our commitment to using fresh, authentic ingredients, we start with food in its simplest, most natural form. We purchase local and seasonal products; our freezers are small. Fresh ingredients used in our kitchens are complemented with cooking techniques that preserve nutrition and produce healthy dishes. Our attention to quality is high.
We care about our guests. We care about what they like and we care about their health. Our staff are all educated in the principles of our kitchen philosophy and our training program is crafted using hands-on research with real people in real kitchens.
The result? Our food is well made, the flavours are real, culturally authentic, and well delivered. Community begins here - welcome to our table!