ERDE Success Stories
Economics
---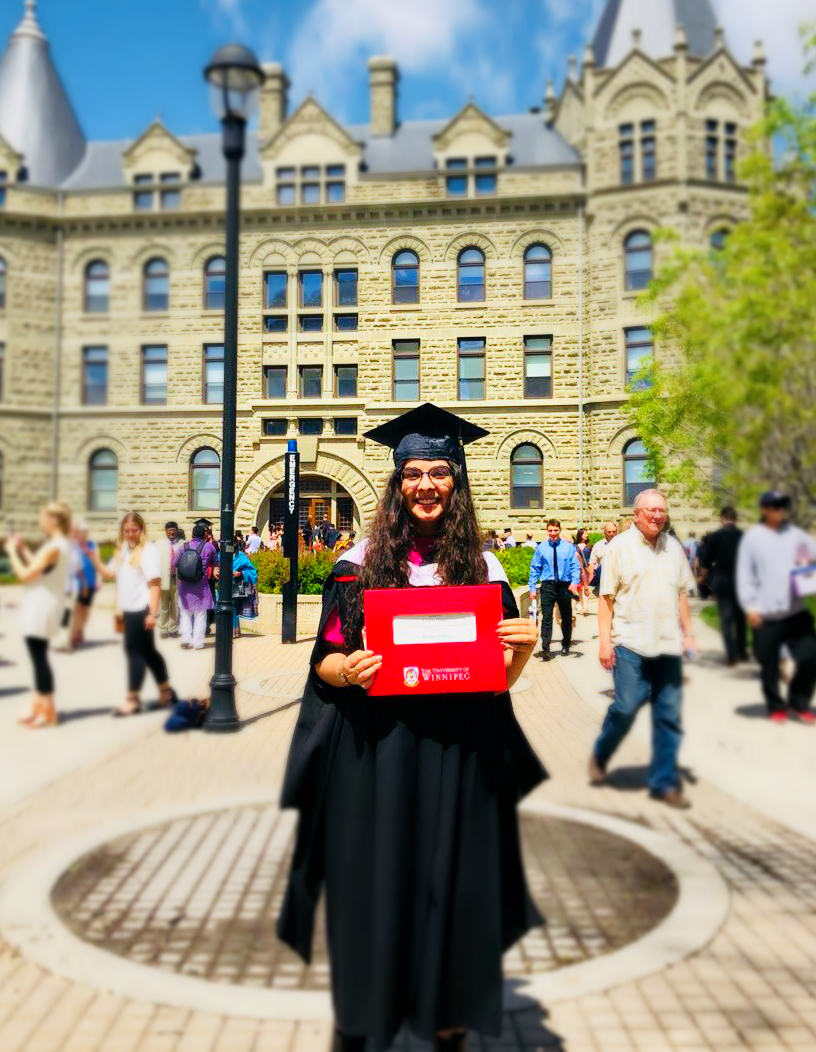 Eashita Dabas graduated from the University of Winnipeg's Master of Arts in Environmental, Resource and Development Economics (ERDE) program in June 2018. She has been accepted into the University of Calgary's Ph.D. program in Economics with full funding. Eashita came to the ERDE program from India, after receiving her B.A (Honours) in Economics from Shri Ram College of Commerce, University of Delhi.

Upon entry into the ERDE program Eashita was awarded the Queen Elizabeth II Diamond Jubilee Scholarship. This prestigious scholarship is awarded to students who not only enter the University of Winnipeg with a strong grade point average, but who have contributed to their community or completed volunteer work of some kind. Eashita worked as the Project Co-ordinator and educator to impart out-of-the-classroom knowledge and skills to under-privileged students in Delhi under the project LEAP at the 'Becoming I Foundation'.

Regarding the ERDE program, Eashita says that "one of the most significant things I gained throughout this program was the enriching experience of interacting with a diverse cohort of bright students along with the incredible support received from faculty. It contributed to my overall growth not just as a student but as a person - for which I will remain indebted to the University!"

We wish her the best in Calgary!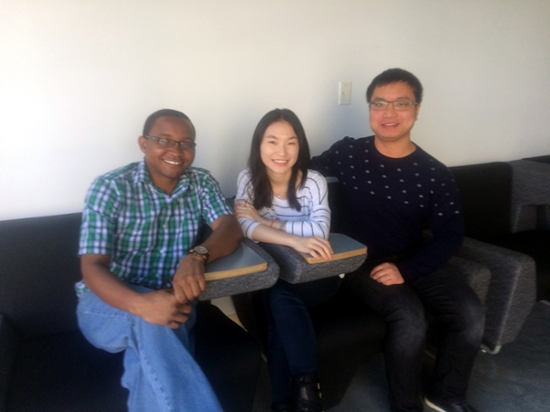 In Fall 2017, three ERDE graduates are starting Ph.D. programs in Economics. Francis Chiparawasha (left) will be attending the University of Alberta, Yixuan Li (centre) will be attending the University of Waterloo and Miao Dai (right) will be attending McGill University. The three students have received funding of $20,000 or more per year to pursue a Ph.D. degree in Economics.

[Read more here]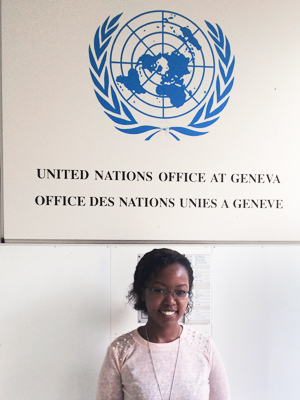 MA in Economics Graduate, Joyce Riungu Interns at United Nations Environment Programme (UNEP) at their offices in Geneva

I am currently doing an internship with United Nations Environment Programme (UNEP) at their offices in Geneva, Switzerland. I found out about the opening through the chairperson of the ERDE Programme who sent links to the students on work opportunities available both within Canada and internationally.
I am working with the Research and Partnerships Unit at the Economics and Trade Branch (ETB). ETB seeks to conserve the environment, reduce poverty and promote sustainable development by enhancing the capacity of governments, businesses and civil society to integrate environmental considerations into economic and financial practices. My work generally encompasses carrying out research on issues related to the Green Economy concept, which has been the primary focus of ETB's work in the past few years. The Research and Partnerships Unit is responsible for generating and disseminating knowledge, raising awareness, facilitating discussion and forging partnerships to advance Green Economy. I am involved in conducting research on the green economy implementation strategies, policies and programmes of different countries and economic sectors, and assisting in assessing general progress and impact. The focus has been mainly on developing countries. This has given me an excellent opportunity to learn and understand the various complex challenges and opportunities being faced by these countries in their efforts towards sustainable growth and development.
Besides getting to know more about the functioning of the United Nations system in general, the internship has also enabled me to learn how UNEP carries out its mandate in collaboration with member countries. I have been exposed to various projects being implemented in different countries, and learnt about how these countries are tackling environmental issues according to their economic, social and political position.
The internship is an excellent complement to my studies at the ERDE programme and has provided insight into the practical application of environmental and development issues in the global context. The structure of the program distinguishes its students from other applicants in the increasingly important field of sustainable development. I learnt how to make optimal and inclusive short-run and long-run decisions regarding environmental and natural resource use within the wider economic system.
Undertaking the ERDE programme was a great new experience for me. Before going to Canada, I had never lived away from home. I was therefore anxious and did not know what to expect in a foreign country. However, my experience at the ERDE programme turned out to be amazing. Although moving to a new country and culture was a challenge, I received a lot of support from the University and fellow students. I was therefore able to settle in faster than I had expected. The classes were small in size and this created a conducive environment for closer interaction with fellow classmates and enabled us to support each other. I also had to adapt to a new and different style of teaching than I was used to. Our lecturers however were very friendly, patient, understanding and always available to help us out, and because of this, I found it easier to adjust.
I would confidently say that from the University of Winnipeg, one can expect people who are ready and willing to help not only in you studies, but also in building your future by providing many different opportunities.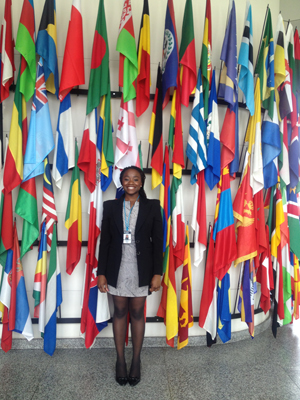 MA in Economics Graduate, Christi-Anna Durodola Interns at the United Nations in Vienna
Tell us about the program you are graduating from.
I completed the Environmental, Resource and Development Economics (ERDE) master's program at the University of Winnipeg in June 2014. The ERDE program is comprehensive, challenging and offers in-depth understanding of global environment and sustainable development issues and how to analyze them. Attending this program has given me better research skills, stronger econometric analysis skills and a deeper understanding of the global challenge on sustainable development. I have learnt how to ask the right questions, analyze, and suggest solutions for sustainable development.
My research interests are macroeconomics, environmental and economic development in Nigeria, Africa and around the world. I chose the research stream of the ERDE program, and my research project was on understanding total factor productivity (TFP) of Nigeria's economy from 1970 to 2010.
You are currently doing an internship in Vienna, how did you learn about this internship opportunity?
It was through my research project that I found out about the United Nations Industrial Organization (UNIDO) as most of my research built on a UNIDO working paper on total factor productivity. I had a supportive supervisor that encouraged me to apply for internship positions with international organizations from the onset. I am interested in how international organizations work and how they go about achieving the Sustainable Development Goals (SDGs). I applied to intern with UNIDO and got accepted and with support from the Faculty of Graduate Studies and the Economics Department, I was able to come to intern at UNIDO, in Vienna, Austria.
What does this internship entail?
I am interning in the Program and Technical Division of the Environment Management Branch, in the Stockholm Convention Unit (SCU). This three month internship is from April 1, 2014 to June 27, 2014. UNIDO is the specialized agency of the United Nations that promotes industrial development for poverty reduction, inclusive globalization and environmental sustainability. The Program Development and Technical Cooperation Division is responsible for providing analytical, advisory and resource mobilization support, and strategic advice to policy makers at national and regional levels.
The SCU is responsible for implementing the Stockholm Convention, the global treaty to protect human health and the environment from persistent organic pollutants (POPs). I have been conducting research on issues relevant to projects in member countries for the Environment Management Branch Stockholm unit, specifically in West Africa and presenting research results. Amongst other responsibilities, developing Key Performance Indicators (KPIs) for the SCU projects and revising the project report documents, I assist with reviewing project proposals and filling out project documents for new and pipeline projects as well as liaising with stakeholders and project participants. Most of my time has been spent researching on a sound solid waste management solution in Nigeria, which I would present at the end of this internship.
Interning at UNIDO has given me the opportunity to observe and participate in solutions for sustainable development, meet and network with colleagues and delegates from around the world. I have also acquired more knowledge about development issues and clarity on where and how I can contribute to achieving global sustainable development.
What are your plans for after the internship is completed?
After my internship is completed, I plan to continue contributing to global development especially in Africa and make an impact in the world to improve the standard of living of people in under development.
What was the best part of the ERDE program for you?
 
The best part of the ERDE program was doing my research project as it gave me the opportunity to critically think about and test my questions. My supervisor was very supportive and taught me a lot. I enjoyed the small class size and discussing ideas with my colleagues and teachers. I like that the program gives you an opportunity to take elective course in other master's programs, my electives in the politics department and development practice program gave me a broader view of issues beyond economics.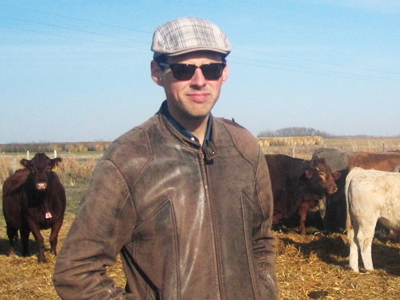 MA in Economics Graduate, Alain Beaudry, Economist and Development Officer for the Rural Municipality of Woodlands
Small governments often have an amazing breadth of obligations to their constituency. At a municipal level, this often includes infrastructure construction and maintenance, policy development and enforcement, and the delivery of social services. The day-to-day working life of Alain Beaudry often entails working on any combination of these items. As an economist and development officer for the Rural Municipality of Woodlands, about 30 kilometres north-west of Winnipeg, Manitoba, Alain is the on-hand advisor to the municipal council on all matters related to economic development, and many other matters.

In addition to acting as a researcher and advisor, he is also responsible for actively encouraging economic development in the region, which entails working closely with business owners and overseeing the development and management of business subdivisions, as well as negotiating with development companies on behalf of the municipality. He has indeed achieved a healthy balance between theory and "getting his hands dirty".

The education which Alain received while earning his M.A. in Environmental, Resource and Development Economics from the University of Winnipeg has proven very useful to him in his working life. "The most valuable thing which I learned during my Master's was how to think very carefully about the various effects of a system shock," says Alain. "It is extremely important that governments understand the entire potential impact of a given policy, regardless of how complicated, in order to be able to determine a proper course of action. It is a significant part of my job to ensure that those who have been elected as decision-makers within this community are as well-informed as is possible on these complex subjects."

With respect to his particular experience at the University of Winnipeg's Department of Economics, Alain adds, "it is largely due to the close-knit group of faculty and students that I was able to hone my analytical skills which are so valuable to me today. The very small class-sizes and readily-available professors pushed me very hard to think better, to defend my positions or capitulate to superior reasoning, to explore many ideas more deeply. The faculty at the U of W is extraordinarily passionate about learning and research, and this enthusiasm translates to an amazingly effective learning environment."