Contact Us
---
What You Need to Know During COVID-19
The health and safety of our students, faculty, staff, and visitors to our campus is our top priority. As such, Awards and Financial Aid is not currently offering in-person service.
All appointments will be conducted by phone or Zoom until further notice.
We are grateful for your patience and understanding. Please see below and let us know if you have any questions!
Visit UWinnipeg's COVID-19 website for ongoing updates.
Contact our Awards Officers
Email: awards@uwinnipeg.ca
We will be monitoring our inbox during regular business hours: Monday to Friday, 8:30AM to 4:00PM.
We will respond to your message as soon as able.
Phone: (204) 786-9459
Staff will answer incoming calls as able Monday to Friday, 9:00AM to 4:00PM, and will be checking messages on this central line regularly.
Please give us one to two business days to respond to your message.
---
Schedule a phone or Zoom appointment
If you have detailed questions and would like to schedule an appointment -

Please send us an email or leave a voicemail with the following information:
your name
student ID number
requested time and date during regular business hours
appointment type (Zoom or phone)
brief summary of your inquiry
An Awards Officer will contact you directly. Please note that calls may come from a private number.
---
General Inquiries: studentcentral@uwinnipeg.ca
Phone: 204-779-UWIN (8946)
Fax: 204-786-8656
Email: awards@uwinnipeg.ca
Mailing Address:
Awards and Financial Aid
The University of Winnipeg
515 Portage Ave.
Winnipeg, MB R3B 2E9
Canada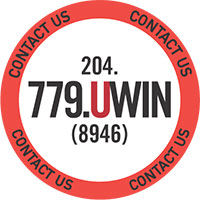 Contacts
Ryan Filteau
Director of Awards and Financial Aid
Office: 2Ri14
Email: r.filteau@uwinnipeg.ca
Leanne Shumka
Awards and Financial Aid Coordinator
Office: 2Ri12
Email: l.shumka@uwinnipeg.ca 

Katy Leverick
Senior Awards and Financial Aid Officer
Office: 2Ri06
Email: k.leverick@uwinnipeg.ca
Daniel Bailey
Awards and Financial Aid Officer
Office: 2Ri06
Email: da.bailey@uwinnipeg.ca 
Kezia Abueg
Awards and Financial Aid Officer
Office: 2Ri06
Email: k.abueg@uwinnipeg.ca