Nick Ternette
Alumni
---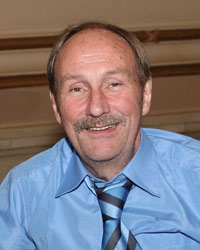 A political activist, social advocate, journalist and volunteer, Nick Ternette has dedicated much of his life to the fight for fair treatment and justice for all. For 40 years, he has challenged social norms and all levels of government through direct, participatory democracy, and in the process successfully refuted the notion that only politicians and insiders can participate in political debates and influence their outcomes.
Born in Germany in 1945, Ternette immigrated to Canada at the age of ten.  He grew up in Winnipeg's West End. As a student at The University of Winnipeg he served as the assistant editor of The Uniter and became actively involved in the University community. He graduated in 1967 and maintained a strong connection to the University. In 2007 he was the organizer for the 40th reunion celebration of the Class of ′67. He has also been a visiting lecturer in the faculties of Sociology and Education. A proponent of oral history, he has recorded his personal recollections at The University of Winnipeg.
For many years, Ternette has worked at Winnipeg Harvest in the areas of public education and advocacy and as a hands-on team member, preparing food hampers for families in need. With his insight and knowledge, he has made the lives of low-income people better.
In addition to writing a weekly column, Ternette has been a radio and cable-access television host, and associate editor of Canadian Dimension and City Magazine. As a journalist, he has been a dedicated analyst of the municipal political scene, and through his experiences as a candidate, he illuminated the political process for a wide audience.
In 2009, Ternette became gravely ill. He spent several months in the hospital and lost both legs to amputation necessitated by flesh-eating disease. After his rehabilitation and release he adjusted to using a wheelchair. In a candid series of articles, he shared these experiences with Winnipeggers.
In 2010, after countless speeches at City Hall, Ternette announced his retirement from city politics. He continues to publish his own weekly electronic newsletter The Ternette Report and is working on a variety of projects, including an autobiography. He remains an advocate for those whose voices may otherwise not be heard.