Joëlle Pastora Sala
Urban and Inner-City Studies
---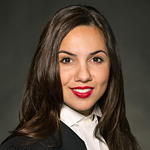 Phone: 204.988.7196 (messages)

Biography:
Joëlle Pastora Sala, B.A. Hons, J.D.
Joëlle is passionate about the law and has made it her goal to promote social justice and remove barriers to access to justice to the best of her abilities. Her core areas of practice include environmental law, human rights law, aboriginal law and constitutional law. Prior to joining the Public Interest Law Centre (PILC) as an articling student in 2013, Joëlle obtained an Honors Degree from the University of Winnipeg. She then attended the University of Ottawa and graduated with a Juris Doctoro (J.D.) from the French Common Law Program. Joëlle is published in the Canadian Journal of Women and the Law and the Undercurrent Journal. She is on the Board of Directors of the Community Unemployed Help Centre (CUHC), Association de juristes d'expression francaise de Manitoba (AJEFM) and is Co-Chair of the CBA Aboriginal Law Section. She is also an active member of the Human Rights Committee of the Council of Canadians with Disabilities.