Student Central
Student Services
---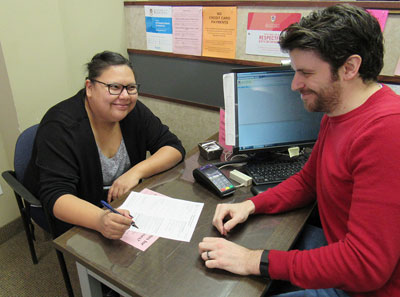 Where we are: 
1st floor, Rice Centre
489 Portage Avenue
When we're open:
Mon-Thurs- 8:30 am to 5:30 pm
Fri- 8:30 am to 4:15 pm
Changes to regular hours:
Mon, Aug 6-closed (Terry Fox Day)
Mon, Sept 3-closed (Labour Day)


Contact us:
Email: studentcentral@uwinnipeg.ca
Ph: 204.779.8946 or 1.800.956.1824
Fax: 204.783.4996



ACADEMIC CALENDAR - The 2018-19 edition is now available here: Academic Calendar
SPRING TERM: Get answers to your most frequently asked questions here: Spring Term FAQs [PDF]
UWINNIPEG ON THE GO:  Check out the new FREE mobile app, "Ellucian GO," which makes it easy for you to connect to campus and manage your student accounts.  Learn more here:  Ellucian GO
"STUDENT PLANNING"–  For more on this great online tool for degree planning and course registration, please see:
About "Student Planning"
Student Planning - Instructional Videos
WebAdvisor/Student Planning Guide [PDF]

Student Central is your convenient hub for many student services - from applying to become a UWinnipeg student, to course registration and payments, and through to graduation.  Student Central is here for you throughout your studies.  You can email us, phone, or stop by in person to speak with one of our Student Central Assistants.
Get Started
Register for Classes
Money Matters
Find your Documents
Connect with our Campus Communities

Photo credit (at top):  Lois Cherney