Student Central
Student Services
---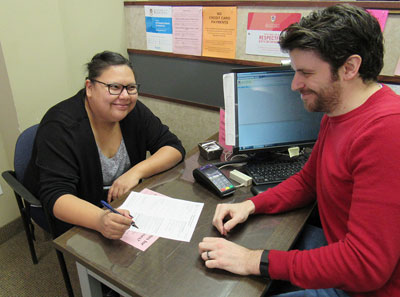 Location: 
1st floor, Rice Centre
489 Portage Avenue
The University of Winnipeg is committed to the safety of our students and staff as the COVID-19 situation continues to evolve.
As a result, Student Central will no longer be open for in-person student inquiries, but staff are working remotely.  Please contact us by phone or email.  
Got Questions about Fall Term 2020?  We've got answers!  See our Most Frequently Asked Questions for Fall Term

Contact us:
Email: studentcentral@uwinnipeg.ca
Ph: 204.779.8946 or 1.800.956.1824
Fax: 204.783.4996
Student Central is your convenient hub for many student services - from applying to become a UWinnipeg student, to course registration and payments, and through to graduation.  Student Central is here for you throughout your studies.  Email or phone us! 
Update for Fall-Winter Terms
The majority of fall term 2020 courses will be offered online, with a limited return to campus for classes and labs that cannot be accommodated through distance learning (with appropriate safety protocols).  Subject to future guidance from public health agencies, we are planning for an increased level of campus activity in January 2021, including in-person lectures, seminars, labs (with appropriate safety protocols). 
See fall and winter courses here: WebAdvisor. 

For more information on registration, please go to: Registration-Fall/Winter and Online Courses
For ongoing updates on campus, visit UWinnipeg's Covid-19 website
"STUDENT PLANNING"–  For more on this great online tool for degree planning and course registration, please see:
About "Student Planning"
Student Planning - Instructional Videos
WebAdvisor/Student Planning Guide [PDF]


Get Started
Register for Classes
Money Matters
Find your Documents
Connect with our Campus Communities

Photo credit (at top):  Lois Cherney