Student Central
Student Services
---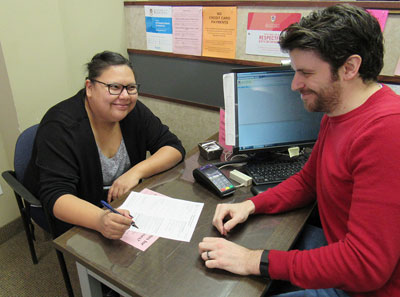 Student Central is your convenient hub for many student services - from applying to become a UWinnipeg student, to course registration and payments, and through to graduation.  Student Central is here for you throughout your studies!
Due to the COVID-19 situation, Student Central is no longer open for in-person student inquiries, but staff are working remotely. 
You can contact us by email or phone, or join us for a drop-in Zoom session.
Contact us:
Email: studentcentral@uwinnipeg.ca
Phone: 204.779.8946 or 1.800.956.1824
Fax: 204.783.4996
HOURS: Monday-Friday, 8:30 am-4:30 pm (except holidays)

Drop-in Zoom sessions:  Student Central is offering drop-in Zoom sessions where students can ask questions "in person" with a SC staff member. The Zoom waiting room is enabled. One student will be admitted at a time. Students will wait for their turn and need to present their UWinnipeg student card (or other photo ID) to talk about their account. To enqueue yourself, use the myVisit app (by Q-nomy) available for Apple or Android phones. Turn off the location permission in the app. An SMS notification, sent when it is your turn shortly, will provide the Zoom info. Students can enqueue themselves during the following hours.
NEW DROP-IN HOURS: Monday-Friday, from 10:30 am-4:30 pm (except holidays)


Frequently Asked Questions
When will I know my Fall Term grades? When is tuition due for Winter Term? What do I do if I'm on a waitlist?
If you've got questions related to end of Fall Term or start of Winter Term, we've got some answers here: Frequently Asked Questions
Update for Winter & Spring Terms
The majority of Winter Term 2021 and Spring Term 2021 courses will be offered online, with a limited return to campus for classes and labs that cannot be accommodated through distance learning (with appropriate safety protocols). 
Search for Winter courses here: WebAdvisor. 

For more information on registration, please go to: Registration and Online Courses
For ongoing updates on campus, visit UWinnipeg's Covid-19 website
"STUDENT PLANNING"–  For more on this great online tool for degree planning and course registration, please see:
About "Student Planning"
Student Planning - Instructional Videos
WebAdvisor/Student Planning Guide [PDF]


Get Started
Register for Classes
Money Matters
Find your Documents
Connect with our Campus Communities

Photo credit (at top):  Lois Cherney