Student Central
Student Services
---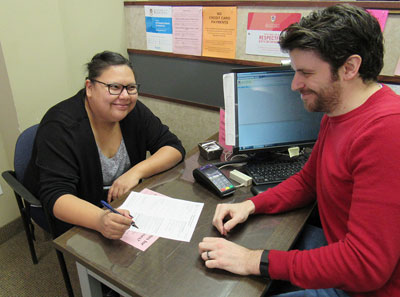 Location: 
1st floor, Rice Centre
489 Portage Avenue
The University of Winnipeg is committed to the safety of our students and staff as the COVID-19 situation continues to evolve.
As a result, Student Central will no longer be open for in-person student inquiries.  Please call or email us with any questions.  
Check UWinnipeg's COVID-19 website regularly for ongoing updates. 

Contact us:
Email: studentcentral@uwinnipeg.ca
Ph: 204.779.8946 or 1.800.956.1824
Fax: 204.783.4996 
Updates for Winter & Spring Terms: 
In light of recent health concerns, classes for Winter Term have been suspended and there will be no in-person exams.  Students will have received information via webmail by March 20 on how final grades for the term will be determined.   
Update: The Voluntary Withdrawal dates for both Winter Term and Fall-Winter Term have now been extended to April 6, 2020.  
A revised Spring Term timetable is in progress and WebAdvisor is being continually updated. It is expected to be finalized on April 6. All courses between May-August will take place online; there will not be any in-person courses.

On April 7, new tiered registration start dates/times will be emailed to students' University accounts. Tiered registration will take place from April 13-27. Open registration will begin April 28.
Student Central is your convenient hub for many student services - from applying to become a UWinnipeg student, to course registration and payments, and through to graduation.  Student Central is here for you throughout your studies.  Email or phone us! 

"STUDENT PLANNING"–  For more on this great online tool for degree planning and course registration, please see:
About "Student Planning"
Student Planning - Instructional Videos
WebAdvisor/Student Planning Guide [PDF]



Get Started
Register for Classes
Money Matters
Find your Documents
Connect with our Campus Communities

Photo credit (at top):  Lois Cherney