Ready to Apply?
Future Students
---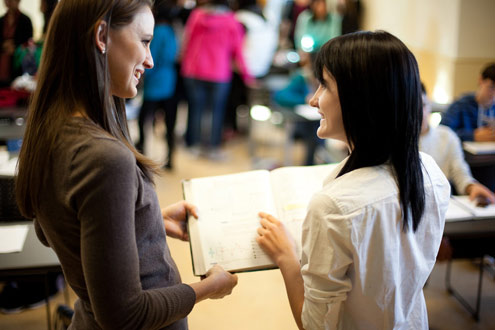 Applying to The University of Winnipeg is easy! Now that you are ready to apply, there are a few things to think about before you submit your application. If you have not already done so, take a moment to review the academic programs and admission requirements. This will assist you with applying to the right programs and allow your application to be processed faster.
---
Things to Know before Applying

---
Application Deadlines
We encourage students to apply at least 3 to 4 months before their desired Start Term. You may start in Fall (September), Winter (January) or Spring (May).

Canadian citizens, Permanent Residents and Refugees:  The suggested deadlines to apply for the Faculties of Arts, Business and Economics, Kinesiology, and Science are:
Fall (September)        July 2
Winter (January)        November 1
Spring (May)             March 1
NOTE: March 1 is the deadline for some Applied/Joint Programs, as well as all high school applicants studying Canadian curriculum abroad (both international and Canadian students).
The suggested deadline to apply for the Faculty of Education is:
Fall (September)        March 1

NOTE:  The final deadline for Education is June 1.  For more information, please see Faculty of Education -Applying for Admission.
International applicants: We recommend applying as early as possible to allow enough processing time for admission and visa or study permit applications.  Deadlines are:
Fall (September)     June 1
Winter (January)     October 1
Spring (May)          March 1
ALL APPLICANTS:  Late applications may be accepted, but we cannot guarantee that your file will be processed by the start of classes for the Term you want. Don't worry if you miss a deadline though, because if you don't start classes in Fall (September), you can start in Winter (January) or Spring (May). Official offers of admission are valid for up to three Start Terms.

Application Fee?
There is a non-refundable application fee required when you apply. This fee must be received by the University before we can start assessing your application.
Domestic (Canadian)          $100
International                     $120
Continuance (domestic)      $50
Continuance (international) $120
The application fee can be paid online with a credit card when you apply.  Or applicants in Canada can pay later with a cheque or money order, payable to The University of Winnipeg, and mailed to:
The University of Winnipeg
Admissions Office
515 Portage Avenue
Winnipeg, Manitoba, Canada
R3B 2E9
Payment can also be made in-person at Student Central at 489 Portage Avenue.

What Supporting Documents Do I Need?
You will be asked to submit official academic records, i.e. final official high school transcripts or university/college transcripts. 

Depending on the program you have selected, or what category of student you are, we may require additional documents, e.g. proof of English Language Proficiency, proof of citizenship, copy of passport, change of name verification, course descriptions and syllabi.
All documents must be official. Copies or uncertified photocopies will not be accepted. Replaceable documents submitted with an application become the property of the University and will not be returned.
How and where do I send my supporting documents?
Transcripts:  We accept only official transcripts issued by the high school, university or college you attended.   You need to request your transcript(s) from the institution(s) and then either mail them in yourself or ask the institution to mail them directly to us:
The University of Winnipeg
515 Portage Avenue
Winnipeg, MB, Canada R3B 2E9
Attention:  Admissions Office
Another option is to drop off your transcript(s) in-person at the Admissions Office, Room 2Ri33 (2nd floor, Rice Centre), 489 Portage Avenue, or at Student Central.
NOTE:  We do NOT accept transcripts by email or fax.  We do NOT accept photocopies. 
Current Manitoba high school students:  IF you apply before June 1, we will request the final grades from your high school on your behalf.  You do not have to make a request to your school. 
Other documents:  Name change documents, proof of citizenship, landing card, and diplomas can be submitted by mail or dropped off at the Admissions Office or Student Central.  They can also be scanned and emailed to:
Domestic Admissions (Canadian, Permanent Resident & Refugee) admissions@uwinnipeg.ca
International Admissions intladmissions@uwinnipeg.ca
You may also fax documents to us at 204.779.3443.

Things to Know before Applying
Have you read through all the information and are now ready to apply? Great! The online application is very easy to follow and will not take you long to complete. 
Before you begin, make sure that:
you meet admission requirements
you have all of the required high school pre-requisite courses for the major you wish to pursue.
you have chosen a faculty and a major, and when you want to start: Fall (September), Winter (January), or Spring (May).
If you are a high school student in Manitoba, have this information ready:
your Manitoba Education and Training (MET) number.  Your high school will have this. 
a list of the Grade 12 courses and grades you have completed or are currently taking. You will need this to self-report your grades.
To begin the online application form:
Click on the "Application for Admission" button.
Click on "Create an account" – located on the lower right-hand side, above "Reset Password."
Enter your personal email and create a new password.
Then an email from the University will be sent to your personal email, asking you to confirm your account by clicking on the link provided.
Log in and start the application by clicking "Add a Program."
Note: In all cases, students should apply for admissions using the online application. If you do not have access to the Internet or cannot access the online application for some reason, please contact us to request a paper application:
Domestic Admissions (Canadian, Permanent Resident & Refugee) admissions@uwinnipeg.ca
International Admissions intladmissions@uwinnipeg.ca