How to Apply
Future Students
---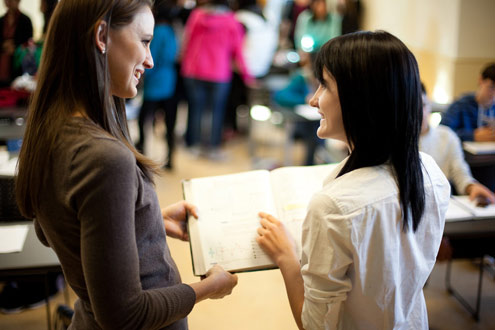 Applying to The University of Winnipeg is easy! Now that you are ready to apply, there are a few things to think about before you submit your application. If you have not already done so, take a moment to review the academic programs and admission requirements. This will assist you with applying to the right programs and allow your application to be processed faster.
---
When do you want to begin your studies?
What is your admission category?
What academic program are you interested in?
When are the application deadlines?
How and where do I send supporting documents?
---

When do you want to begin your studies?
There are three "Start Terms" to choose from. The majority of students start in the Fall Term, however you need to decide what fits the best with your unique situation. It is becoming very common for students to start their studies in the Winter or Spring Terms too. You will be asked to select a Term on the application form. The Terms are as follows:
Spring - May
Fall - September
Winter - January

What is your admission category?
This is where you tell us what type of student you are. Are you coming from high school? Perhaps you are from outside of Canada wanting to take a course here? Maybe you were home schooled? Take a few minutes and determine your admission category. This will ensure we assess your application correctly. There are a lot of categories, so if you are unsure just send us an email. We would be happy to help you.

What academic program are you interested in?
This is where you tell us what you want to study. For example, are you interested in undergraduate or graduate studies? What major are you considering? Make sure you know what you want before starting the application. Remember, you can always change your program after your first year. Don't worry about making a wrong decision at this early stage in your academic path – you have time to figure out what you like and don't like. Many students will change their major or program at least twice during their time here. 

When are the recommended application deadlines?
We encourage students to apply at least 3-4 months before they wish to start school. This allows time for your application to be processed. Below are some recommended deadlines. Late applications will be accepted, but we cannot guarantee that your file will be processed by the start of classes for the Term you want. International students should also consider processing times for study permits or visas when applying for admission. 

Don't worry if you miss a deadline, because if you don't start classes in September (Fall), you can start in January (Winter) or May (Spring). More and more students are choosing to start their classes at different times of the school year, depending on their circumstances. Official offers of admission are valid for three Terms.
The suggested deadlines to apply for the Faculties of Arts, Business and Economics, Kinesiology, and Science, are:
Fall         July 2*
Winter     November 1
Spring     March 1
*March 1 is the deadline for some Applied/Joint Programs, as well as all Canadian high school and international students studying Canadian curriculum abroad.
The suggested deadlines to apply for the Faculty of Education, are:
*Qualified students with an average of 78% or higher who apply by March 1, will receive offers of admission. Between March 1-June 1, any remaining spots will be offered to: a) qualified students with 78% or higher, and then b) qualified students with less than 78% but above a determined minimum.
To see deadlines for other programs in the Faculty of Education, please visit their website.


What is the application fee?
There is a one-time non-refundable application fee required when you apply. This fee must be received by the University before we can start assessing your application. If paying by cheque or money order, please make it payable to The University of Winnipeg. Click here for information on how to pay this fee.  
Domestic (Canadian)          $100
International                     $120
Continuance (domestic)      $50
Continuance (international) $120

What Documents Do I Need?
Depending on the program you have selected, or what category of student you are, we may require additional documents to process your application. In most cases, we will let you know what we need after we receive your application, however to get an offer of admission faster, take a look at the list below and get a head start! All documents must be originals. Copies or uncertified photocopies will not be accepted. Replaceable documents submitted with an application become the property of the University and will not be returned. This will include such things as:
Application fee
Proof of English Language Proficiency
Official Academic Records (i.e. proof of high school graduation, final transcripts (official), and post-secondary (university/college) transcripts)
Proof of Citizenship
Manitoba Education Number
Change of Name Verification
Course Descriptions and Syllabi

How and where do I send my supporting documents?
Transcripts:  We accept only official transcripts issued by the high school, university or college you attended.   You need to request your transcript(s) from the institution(s) and then either mail them in yourself or ask the institution to mail them directly to us:
The University of Winnipeg
515 Portage Avenue
Winnipeg, MB, Canada R3B 2E9
Attention:  Admissions Office
Another option is to drop off your transcript(s) in-person at the Admissions Office, Room 2Ri33 (2nd floor, Rice Centre), 489 Portage Avenue, or at Student Central.  For information on hours, see Student Central.
NOTE:  We do NOT accept transcripts by email or fax.  We do NOT accept photocopies. 
Current Manitoba high school students:  IF you apply before June 1, we will request the final grades from your high school on your behalf.  You do not have to make a request to your school. 
Other documents:  Name change documents, proof of citizenship, landing card, and diplomas can be submitted by mail or dropped off at the Admissions Office or Student Central.  They can also be scanned and emailed to the Admissions Office at admissions@uwinnipeg.ca or faxed to 204.779.3443.

I am Ready to Apply!
Have you read through all of the tips and information and are now ready to apply? Great! The application is very easy to follow and will not take you long to complete. 
Make sure that you meet admission requirements
If you are a high school student in Manitoba, make sure you have your Manitoba Education Number (MET). You will need this to complete the application. Your high school will have this. 
If you are a high school student in Manitoba, make sure you have a list of the Grade 12 courses and grades you have completed or are currently taking. You will need this to self-report your grades.
Make sure you have all of the required high school pre-requisite courses for the major you wish to pursue.
---

Note:
In all cases, students should apply for admissions using the online application. If you do not have access to the Internet or cannot access the online application for some reason, please contact
admissions@uwinnipeg.ca
to request a paper application.