Welcome!
Take a tour! 
The ASSC will be offering campus tours on September 17th.  Tours will be conducted in small groups and masks will be required.
To sign up for a tour, please email Tim Coughlan, t.coughlan@uwinnipeg.ca You will be provided with a tour time and information on where to meet.
This is also an opportunity for students to pick up their student id cards.  For pickup, students must bring a piece of photo ID  – driver's licence, passport, PR card, etc. – to get their card. Cards will not be given to third parties or mailed.  Deadline for ordering:  September 15 th at 4:30 pm.  

What to do:
From your UWinnipeg Webmail account, email a JPG image of yourself as an attachment to

 

studentcard@uwinnipeg.ca.


The photo must show your shoulders and entire head and be taken straight on with face, eyes, and shoulders centered and squared to the camera.  Think of the qualities of a

 

passport photo, except smile! Photos are subject to approval by Student Central.


Include in the email your full name and student number.


Tips for a great photo:
Avoid a busy background; use a wall that is a solid, light colour. (Do not take the photo in your car.)
Ask someone to take the photo for you.
Use a camera with high quality resolution.
Ensure the area is well lit, so the photo is in focus with no shadows, glare, or pixilation.
Do NOT wear sunglasses, a hat, or headband. 
Smile!
The ASSC will be holding virtual Drop In sessions each week via Zoom.  The sessions will be:
every Monday, 11:00 am to noon
every Wednesday, 2:00 pm - 3:00 pm
every Friday 11:00 am to noon 
To attend any of these sessions please email r.white@uwinnipeg.ca for login information.
The Aboriginal Student Services Centre (ASSC) is currently closed and in-person services have been moved to remote delivery. The ASSC student lounge (computer lab, printer, study space, lockers) will be unavailable for students this Fall until return-to-campus protocols are in place. The Elders-in-Residence continue to work remotely and will be available to meet with students, staff and faculty virtually by appointment only. All in-person cultural and social activities are postponed until further notice. We will keep you updated as information becomes available, for more UWinnipeg COVID updates please visit https://www.uwinnipeg.ca/covid-19/index.html

Jeff Booth: 204-786-9818 / j.booth@uwinnipeg.ca
Tim Coughlan: 204-786-9922 / t.coughlan@uwinnipeg.ca
Randy White: 204-786-9983 / r.white@uwinnipeg.ca

Please check out www.uwinnipeg.ca for current COVID-19 updates. Thank you for your patience and understanding during this time.
About the ASSC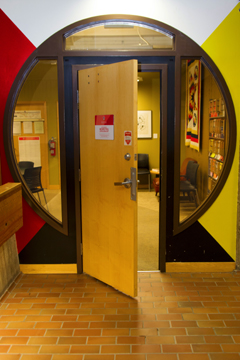 The Aboriginal Student Services Centre (ASSC) has been created to maintain a safe, educational and culturally sensitive environment for all Indigenous students (First Nation, Métis and Inuit) as they pursue their academic studies at The University of Winnipeg. The ASSC strives to provide continuous student support and resources that will foster resilience in students to succeed from the application process to Convocation.
 With 12% of the University student population declaring Indigenous ancestry, The University of Winnipeg is committed to offering a variety of Indigenous focus programs, research, scholarship opportunities and accessibility to a post-secondary institution. The ASSC offers a variety of support services in the areas of:
---
Academics
Academic Advising - course selection, degree planning and academic appeals
Transition Year Program (TYP) for first-year Indigenous students
Study Skill Workshops
Free Peer Tutoring in academic writing, science and math
University Preparatory Program (GED Prep)
Support Services
Assistance with the University admission and WebAdvisor registration process
Access to Elders-in-Residence
Laptop Program
Employer Speaker Series
Peer Mentoring Program (TYP)
Fax Services 
Cultural and Social activities
Liaison Services 
Recruitment and Liaison Services - providing campus tours, high-school school visits and community presentations
Student advocacy with Education Authorities and Sponsorship agencies
Liaison with The University of Winnipeg faculties, support staff and community organizations
Aboriginal Student Ambassadors
The ASSC has an open door policy with student access to all support staff and Elders within the centre. For part-time and evening students, the ASSC staff maintain flexible work hours to accommodate a students schedule and availability. A student lounge is located adjacent to the ASSC administration offices. With an 80 student capacity, the lounge provides a safe and quiet atmosphere and is equipped with study carousels, meeting area, computer lab, locker and kitchen facilities and the Aboriginal Student Council office.