Matthew Flisfeder
Rhetoric, Writing, and Communications
---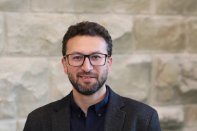 Title: Assistant Professor
Office: 3G23
Building: Graham Hall
Phone: 204.786.9848
Email: m.flisfeder@uwinnipeg.ca
Biography:

Matthew Flisfeder is an Assistant Professor in the Department of Rhetoric, Writing, and Communications. He received his Ph.D. from the Joint Graduate Programme in Communication and Culture from Ryerson and York Universities. Before coming to the University of Winnipeg, Dr. Flisfeder was an Assistant Professor at Ryerson University. Dr. Flisfeder has research and teaching interests in social media, popular culture, film, and rhetorical and ideology criticism. His interdisciplinary research addresses questions about the intersection of media, ideology, and subjectivity, and examines the role of media and popular culture in reproducing ideological hegemony and in interpellating subjects compliant in the dominance of capitalism and neoliberalism. Dr. Flisfeder is the author of Postmodern Theory and Blade Runner (Bloomsbury 2017), The Symbolic, The Sublime, and Slavoj Žižek's Theory of Film (Palgrave Macmillan 2012), and co-editor of Žižek and Media Studies: A Reader (Palgrave Macmillan 2014). Dr. Flisfeder's current research examines the relationship between social media, algorithmic discourses, automation, and the representation of neoliberal ideology.
Affiliations:

UW Cultural Studies Research Group, Researcher
Global College, Advisor
Courses:

FALL, 2017
RHET-3900-001 Topics: Social Media, Culture & Society
WINTER, 2018
RHET-2137-002 Contemporary Communication Theories | RHET-2250-001 Communication & Popular Culture | RHET-3350-001 Communication, Ideology & Power
Research Interests:

The Alt-Right
Communication Theory
Critical and Cultural Theory
Critical Political Economy
Critical Social Media Studies
Film and Visual Culture
Ideology and Popular Culture
Left Political Theory
Neoliberalism
Postmodern Theory
Subjectivity and Identity
Publications:

Books:
Postmodern Theory and Blade Runner (New York: Bloomsbury, 2017). 
Žižek and Media Studies: A Reader (New York: Palgrave Macmillan, 2014). 
The Symbolic, The Sublime, and Slavoj Žižek's Theory of Film (New York: Palgrave Macmillan, 2012).
Book Chapters:
"The Hysterical Sublime: Black Mirror, Playtest, and the Crises of the Present." In Angela M. Cirucci and Barry Vacker, eds., Black Mirror and Critical Media Theory (Lanham, MD: Lexington, 2018).
"Nuclear 1."  In Imre Szeman, Jennifer Wenzel, and Patsy Yaeger, eds., Fueling Culture:  101 Words for Energy and Environment (New York:  Fordham University Press, 2017). 
"Enjoying Social Media."  In Matthew Flisfeder and Louis-Paul Willis, eds., 
Žižek and Media Studies:  a Reader
 (New York:  Palgrave Macmillan, 2014).
Articles:
"The Ideological Algorithmic Apparatus: Subjection Before Enslavement." Theory & Event 21.2 (2018): 454-487.
"'Trump' - What does the name signify?; or, Protofascism and the Alt-Right: Three Contradictions of the Present Conjuncture" Cultural Politics 14.1 (2018): 1-19.
"Love and Sex in the Age of Capitalist Realism: On Spike Jonze's Her (2013)," Cinema Journal 57.1 (2017): 25-45 – co-authored with Clint Burnham (SFU).
"Morality or Enjoyment?: On Althusser's Ideological Supplement of the Law," Mediations 30.2 (2017): 37-44
"Est-il possible de représenter le rapport sexuel au cinema?" CiNéMAS 26.1 (2015): 49-67.
"The Entrepreneurial Subject Online, and the Objectivization of the Self in Social Media."  The South Atlantic Quarterly 114.3 (2015): 553-570.
"Debt:  The Sublimated Object of Capital." TOPIA:  Canadian Journal of Cultural Studies 30-31 (2014):  47-63.
"Communism and the End of the World."  PUBLIC: Art/Culture/Ideas  48 (2013):  105-115.
"Dialectical Materialism and the Feminine Sublime."  Subjectivity 5.4 (2012):  376-395.