Matthew Flisfeder
Rhetoric, Writing, and Communications
---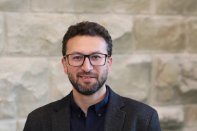 Title: Associate Professor
Office: 3G23
Building: Graham Hall
Phone: 204.786.9848
Email: m.flisfeder@uwinnipeg.ca
Biography:

Matthew Flisfeder is an Associate Professor of Rhetoric and Communications. He received his Ph.D. in the Joint Graduate Programme in Communication and Culture from Ryerson and York Universities. Dr. Flisfeder has research and teaching interests in critical studies of social media, popular culture, and film. He writes about cyberpunk and digital culture, the rise of the alt-Right, and the contradictions of twenty-first century capitalism. His interdisciplinary research addresses questions about the intersection of media, ideology, and subjectivity, and examines the role of media and popular culture in reproducing ideological hegemony and in interpellating subjects compliant in the dominance of capitalism and neoliberalism, as well as discourses of change and transformation.
Dr. Flisfeder is the author of Postmodern Theory and Blade Runner (Bloomsbury 2017), The Symbolic, the Sublime, and Slavoj Žižek's Theory of Film (Palgrave Macmillan 2012), and co-editor of Žižek and Media Studies: A Reader (Palgrave Macmillan 2014). His current research looks at social media, algorithmic logic, digital automation, and platform aesthetics as a way of understanding and critically examining the rhetorics and ideology of neoliberal capitalism. Dr. Flisfeder also has research interests in the rhetorics, aesthetics, and ethics of contemporary posthumanist and new materialist philosophies.
Personal Website: https://matthewflisfeder.com
Affiliations:

UW Affiliations:
UW Cultural Studies Research Group (CSRG), Researcher
Centre for Research in Cultural Studies (CRiCS), Advisory Committee
Crossings, Editorial Board
Academic Planning, Faculty Member (Humanities)
Senate, Academic Staff Member (Arts)
Courses:

FALL 2019
RHET 2137: Contemporary Communication Theories; RHET 2250: Communication & Popular Culture; GENG 7112: Concepts in Cultural Studies
WINTER 2020
RHET 1120: Introduction to Rhetoric and Communications; RHET 3151: Critical Studies of Discourse & Ideology; RHET 3450: Critical Studies of Social Media
Research Interests:

The Alt-Right and Online Culture Wars
Communication and Media Theory
Critical and Cultural Theory
Critical Political Economy
Critical Social Media Studies
Cyberpunk Culture
Digital Culture and New Media
Film and Visual Culture
Ideology and Popular Culture
Left Political Theory
Neoliberalism
Posthumanism and New Materialism
Postmodern Theory
Radical Ethics
Publications:

Sample Publications:
OP-EDs
"The trouble with saying 'it's okay to be white'" The Conversation Canada. November 19th. https://theconversation.com/the-trouble-with-saying-its-okay-to-be-white-106929. (Republished in the National Post on November 20th, 2018, the Winnipeg Free Press on November 26th, 2018, Films for Action December 5th, 2018).
"End of Sex? End of Cinema? Afterthoughts on Her," co-authored with Clint Burnham. Afterthoughts and Postscripts – Cinema Journal. November 22nd. http://www.cmstudies.org/?page=CJ_after571_FlisBurn.
"Oculus and our troubles with (virtual) reality." The Conversation Canada. November 13th. https://theconversation.com/oculus-and-our-troubles-with-virtual-reality-87305. (Republished in the National Post on November 14th, 2017, the Ottawa Citizen on November 14th, 2017, SciFi Generation on November 14th, 2017, Business Insider on December 2nd, 2017, and The Atlantic on December 3rd, 2017).
BOOKS
Postmodern Theory and Blade Runner (New York: Bloomsbury, 2017).
Žižek and Media Studies: A Reader, co-edited with Louis-Paul Willis (New York: Palgrave Macmillan, 2014).
The Symbolic, The Sublime, and Slavoj Žižek's Theory of Film (New York: Palgrave Macmillan, 2012).
BOOK CHAPTERS
"From the Sublime to the Hysterical: Reading the "End of the World" Thesis Against the "General Intellect." Lacan and the Environment, edited by Clint Burnham and Paul Kingsbury (New York: Palgrave Macmillan, forthcoming).
"Cyberpunk and Blade Runner 2049." In Anna McFarlane, Graham J. Murphy, and Lars Schmeink, eds., The Routledge Companion to Cyberpunk Culture (New York: Routledge, forthcoming).
"Object Oriented Subjectivity: Capitalism and Desire in Blade Runner 2049." In Calum Neill, ed., Blade Runner 2049: Some Lacanian Thoughts (New York: Palgrave Macmillan, forthcoming).
"The Hysterical Sublime: Black Mirror, Playtest, and the Crises of the Present." In Angela M. Cirucci and Barry Vacker, eds., Black Mirror and Critical Media Theory (Lanham, MD: Lexington, 2018).
ARTICLES
"The Apostle of Reason: Hegel and the Desire for Universal Emancipation in the Twenty-First Century." CT&T: Continental Thought & Theory, forthcoming.
"Postmodern Marxism Today: Jameson, Žižek, and the Demise of Symbolic Efficiency." International Journal of Žižek Studies 13.1 (2019): 22-56. http://zizekstudies.org/index.php/IJZS/article/view/1105.
"'Make America Great Again' and the Constitutive Loss of Nothingness: An American Nightmare." Third Text: Critical Perspectives on Contemporary Art and Culture 32.5-6 (2018): 647-655. Published online January 15th, 2019. https://doi.org/10.1080/09528822.2018.1559144.
"The Ideological Algorithmic Apparatus: Subjection Before Enslavement." Theory & Event 21.2 (2018): 457-484.
"'Trump' - What does the name signify? or, Protofascism and the Alt-Right: Three Contradictions of the Present Conjuncture" Cultural Politics 14.1 (2018): 1-19.