Faculty Bookshelf
Matthew Flisfeder
Algorithmic Desire: Toward a New Structuralist Theory of Social Media. Northwestern University Press, 2021.
In Algorithmic Desire, Matthew Flisfeder shows that social media is a metaphor that reveals the dominant form of contemporary ideology: neoliberal capitalism. The preeminent medium of our time, social media's digital platform and algorithmic logic shape our experience of democracy, enjoyment, and desire. Weaving between critical theory and analyses of popular culture, Flisfeder uses examples from The King's Speech, Black Mirror, Gone Girl, The Circle, and Arrival to argue that social media highlights the antisocial dimensions of twenty-first-century capitalism. He counters leading critical theories of social media—such as new materialism and accelerationism—and thinkers such as Gilles Deleuze and Michel Foucault, proposing instead a new structuralist account of the ideology and metaphor of social media. Emphasizing the structural role of crises, gaps, and negativity as central to our experiences of reality, Flisfeder interprets the social media metaphor through a combination of dialectical, Marxist, and Lacanian frameworks to show that algorithms may indeed read our desire, but capitalism, not social media, truly makes us antisocial. Wholly original in its interdisciplinary approach to social media and ideology, Flisfeder's conception of "algorithmic desire" is timely, intriguing, and sure to inspire debate.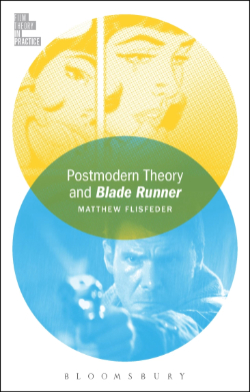 Postmodern Theory and Blade Runner. Bloomsbury, 2017.
Matthew Flisfeder introduces readers to key concepts in postmodern theory and demonstrates how it can be used for a critical interpretation and analysis of Blade Runner, arguably 'the greatest science fiction film'. By contextualizing the film within the culture of late 20th and early 21st-century capitalism, Flisfeder provides a valuable guide for both students and scholars interested in learning more about one of the most significant, influential, and controversial concepts in film and cultural studies of the past 40 years.
The "Film Theory in Practice" series fills a gaping hole in the world of film theory. By marrying the explanation of film theory with interpretation of a film, the volumes provide discrete examples of how film theory can serve as the basis for textual analysis. Postmodern Theory and Blade Runner offers a concise introduction to Postmodernism in jargon-free language and shows how this theory can be deployed to interpret Ridley Scott's cult film Blade Runner.
Žižek and Media Studies: A Reader. Palgrave Macmillan, 2014. Edited by Matthew Flisfeder and Louis-Paul Willis.
Film, media, and cultural theorists have long appealed to Lacanian theory in order to discern processes of subjectivization, representation, and ideological interpellation. Here, the contributors take up a Zizekian approach to studies of cinema and media, raising questions about power, ideology, sexual difference, and enjoyment.
The Symbolic, The Sublime, and Slavoj Žižek's Theory of Film. Palgrave Macmillan, 2012.
Returning to questions about ideology and subjectivity, Matthew Flisfeder argues that Slavoj Žižek's theory of film aims to re-politicize film studies and film theory, bringing cinema into the fold of twenty-first century politics.
---
Jason Hannan
Meatsplaining: The Animal Agriculture Industry and the Rhetoric of Denial. Sydney University Press, 2020. Edited by Jason Hannan.
The animal agriculture industry, like other profit-driven industries, aggressively seeks to shield itself from public scrutiny. To that end, it uses a distinct set of rhetorical strategies to deflect criticism. These tactics are fundamental to modern animal agriculture but have long evaded critical analysis. In this collection, academic and activist contributors investigate the many forms of denialism perpetuated by the animal agriculture industry. What strategies does the industry use to avoid questions about its inhumane treatment of animals and its impact on the environment and public health? What narratives, myths and fantasies does it promote to sustain its image in the public imagination?
Ethics Under Capital: MacIntyre, Communication, and the Culture Wars. Bloomsbury Academic, 2019.
We in the West are living in the midst of a deadly culture war. Our rival worldviews clash with increasing violence in the public arena, culminating in deadly riots and mass shootings. A fragmented left now confronts a resurgent and reactionary right, which threatens to reverse decades of social progress. Commentators have declared that we live in a "post-truth world," one dominated by online trolls and conspiracy theorists. How did we arrive at this cultural crisis? How do we respond?
This book speaks to this critical moment through a new reading of the thought of Alasdair MacIntyre. Over thirty years ago, MacIntyre predicted the coming of a new Dark Ages. The premise of this book is that MacIntyre was right all along. It presents his diagnosis of our cultural crisis. It further presents his answer to the challenge of public reasoning without foundations. Pitting him against John Rawls, Jürgen Habermas, and Chantal Mouffe, Ethics Under Capital argues that MacIntyre offers hope for a critical democratic politics in the face of the culture wars.
Truth in the Public Sphere. Lexington Books, 2016. Edited by Jason Hannan.
Has truth become a casualty of America's increasingly caustic and volatile political culture? Truth in the Public Sphere seeks to understand the significance of truth for the everyday world of human communication. To this end, this book explores the place of truth in several facets of the public sphere: language, ethics, journalism, politics, media, and art. Featuring an international group of contributors from across the humanities and social sciences, this collection is a definitive supplement to theoretical debates about the meaning and status of truth.
Philosophical Profiles in the Theory of Communication. Peter Lang Inc., International Academic Publishers, 2013. Edited by Jason Hannan.
Philosophical Profiles in the Theory of Communication is the first book to draw systematic attention to the theme of communication in twentieth-century academic philosophy. It covers a broad range of philosophical perspectives on communication, including those from analytic philosophy, pragmatism, critical theory, phenomenology, hermeneutics, feminism, psychoanalysis, systems theory, and more. What emerges is a vital, long-neglected story about the theme of communication in late modern academic philosophy. Each chapter features a «profile» of a particular philosophical figure, with a brief intellectual biography, an overview of that figure's contribution to communication theory, and a critical assessment of the significance of that contribution. The clear and accessible organization of the volume makes it ideal for courses in both philosophy and communication studies.
---
Andrew McGillivray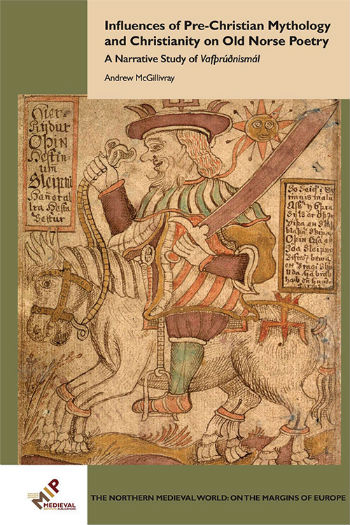 Influences of Pre-Christian Mythology and Christianity on Old Norse Poetry: A Narrative Study of Vafþrúðnismál. De Gruyter, 2018.
The Eddic poem Vafþrúðnismál serves as a representation of early pagan beliefs or myths and as a myth itself; the poem performs both of these functions, acting as a poetic framework and functioning as sacred myth. In this study, Andrew McGillivray looks closely at the journey of the Norse god Óðinn to the hall of the ancient and wise giant Vafþrúðnir, where Óðinn craftily engages his adversary in a life-or-death contest in knowledge.
---
Jaqueline McLeod Rogers
Book Release, OCT 7 -2022
Mon. Jul. 18, 2022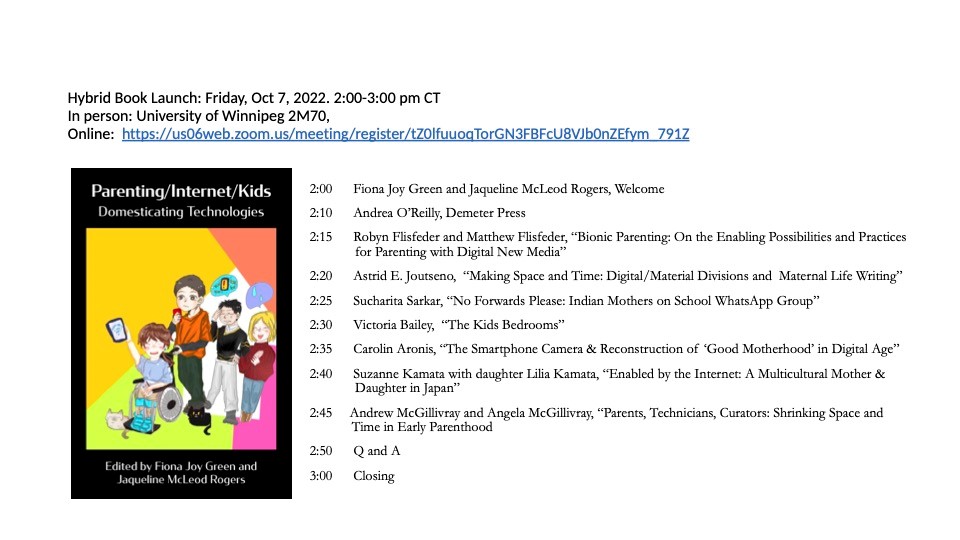 The collection, Parenting/Internet/Kids: Domesticating Technologies, co-edited by Dr. Fiona Joy Green (Department of Women's and Gender Studies) and Dr. Jaqueline McLeod Rogers (Department of Rhetoric, Writing, and Communications) focuses on families and homes, and takes up the longstanding question of whether technologies help or harm us—are they opening possibilities or taking away initiatives and agency? Are they delivering us to utopian shores or pulling us into chaos and dystopia? 
This question has a long history. It was contentious in the USA in the mid 1950's, with progressive politician Adlai Stevenson admonishing female graduates to monitor tech in their homes to ensure the development of democratic and civil etiquettes (John Beck and Ryan Bishop, Technocrats of the Imagination: Art, Technology, and the Military Industrial Avant-Garde, p. 39). When White American feminist Betty Friedan got wind of this exhortation, she fired back that it was not up to women to keep domestic sites tech safe: clean and neat—this problem was of national and global scale, not for home-sized management. 
The chapters in the collection look at the wonders of tech—and the worries that still abound. As we leave pandemic culture that grounded us in technological solutions and connections, we are now free and even charged with asking questions about how to limit technology in our lives –to keep us active and healthy—let alone free and independent. 
Authors in the book look at technologies influencing home life—where they help and where they block talk and thought and initiatives. Some of these connections will be drawn out in future posts on the Ta[l]king Care: Family Blog Lineswebsite https://familybloglines.com/p-i-k/ now that P/I/K is out and available.
---
McLuhan's Techno-Sensorium City: Coming to Our Senses in a Programmed Environment. Rowman & Littlefield, 2020.
Marshall McLuhan was both an activist and a speculative urbanist who drew from cross-disciplinary and ahistorical sources to explore constitutive exchanges between humanity and technologies to alter human perception and imagine a sustainable future based on collective participation in a responsive urban environment. This environment—a techno-sensorium—would endeavour to design and program technology to be favourable to life and capable of engaging with multiple senses.
Imaginations: Marshall McLuhan and the Arts (Journal of Cross-Cultural Image Studies, 2017). Edited by Jaqueline McLeod Rogers and Adam Lauder.
A collection of essays about McLuhan's interest in and contribution to art theory and practice.
---
Jaqueline McLeod Rogers, Tracy Whalen, and Catherine G. Taylor (Eds.)
Finding Mcluhan: The Mind / The Man / The Message. University of Regina Press, 2016
---
Updated: April 2021