Nolan Reilly
History
---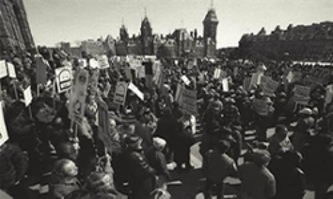 Title: Retired Professor
Email: reillynolan@gmail.com

Courses:
HIST-1010(6) Canadian Social History: Conflict and Change
HIST-2514(3) History of Education
HIST-3005(6) Introduction to Oral History
HIST-3544(6) History of Winnipeg
HIST-4500(6) Regions and Communities
HIST-7500(6) Western Canada

Research Interests:

Canadian History
Labour and Working-Class Studies
Social Movements
Public History
Oral History
Education
Publications:
Selected
Publications
"The Industrialisation of Amherst, Nova Scotia, 1860- 1930" in James Candow, editor,
Industrial Society in Nova Scotia
(Fernwood Publishers, Halifax, 2001).
Winnipeg 1919: Room 10, James Ave. Labour Temple Permanent Gallery, Canada Hall, Canadian Museum of Civilization, Hull, Quebec. Gallery Opened, November 1999.