Teaching History Institute
---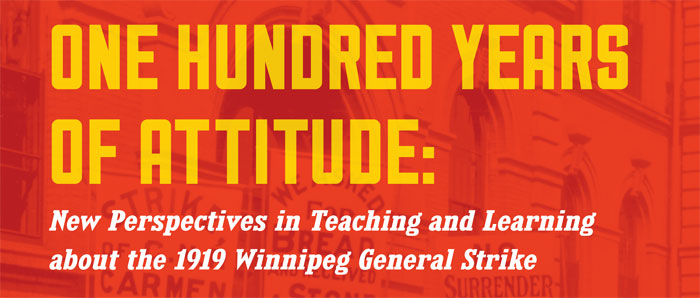 The University of Winnipeg Teaching History Institute (THI) and Manitoba Social Science Teachers Association (MSSTA) present
One Hundred Years of Attitiude:
New Perspectives in Teaching and Learning about the 1919 Winnipeg General Strike
The University of Winnipeg Teaching History Institute (THI) offers a practical professional development workshop series that brings together teachers, university faculty, and other educators to explore evolving methodologies, new research directions, and cutting-edge developments in the study and practice of history. Teachers gain practical tools for the classroom through the innovative use of primary sources (manuscript, artefacts, oral history) as well as field trips to archives, universities, museums, and local communities.
The Teaching History Institute in proud partnership with the Manitoba Social Science Teachers Association (MSSTA) is pleased to announce the 2019 program, "One Hundred Years of Attitude: New Perspectives in Teaching and Learning about the 1919 Winnipeg General Strike." This year's Institute critically examines the still-contentious history and commemoration of the general strike by offering mobile feast of learning that includes a keynote, roundtable, workshop, and walking tour of key historical sites.
Programming will be run in conjunction with MTS PD Day 2019, on October 25 at Miles Macdonell Collegiate, 757 Roch Street.
Registration is through the Manitoba Teachers Society (MTS) website: www.mbteach.org