Mary Jane McCallum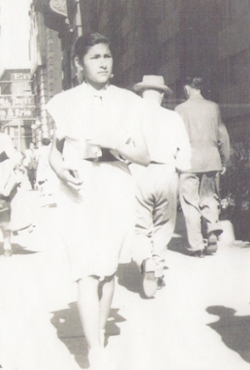 Title: Professor
Phone: 204.786.9412
Office: 2B19
Building: Bryce
Email: m.mccallum@uwinnipeg.ca
Courses:

HIST-3590 Indigenous Health History with Dr. Mary Jane Logan McCallum – Register Today
---
HIST-1007(3) Indigenous History Since 1900: Racism, Resistance, Renewal
HIST-3523(3) Aboriginal Women's Twentieth Century History
HIST-3542(6) Gender, Class and Ethnicity in Canadian History
HIST-3590(3) Indigenous Health History
HIST-4530(6) Canadian Social History
HIST-7517(6) Studies in Canadian History (Graduate)
Research Interests:

My work is inspired by Aboriginal women's histories and is invested in reshaping modern Aboriginal history in ways that engage with Native and Indigenous Studies, gender and women's history, labour history, medical/health history and histories of race in Canada.
Indigenous History Primary Source Digitization Project
The Indian News 1954-1984.  This is a complete collection of the Department of Indian Affairs' historically significant publication The Indian News. This periodical with text and photographs covered an array of topics and issues related to First Nations people and their communities in the years 1954 to 1984 including community and economic development, cultural heritage, education, community events, announcements pertaining to government policy changes, reports on the political movements and business ventures of First Nations people, and health and human interest pieces. http://ecommons.uwinnipeg.ca/handle/10680/451
The Annual Reports of the Indian Health Services, (Department of National Health and Welfare/Health Canada), 1945-1990). This collection contains the complete Annual Reports for the Indian Health Services Branch from 1946 to 1961 and for the Medical Services Branch from 1962 to 1990. These Annual Reports contain information about the activities of the federal government in the field of Indian health including Indian hospital and sanatorium activities, tuberculosis prevention and treatment activities, immunization/vaccination, public health programs, and statistics on diseases, hospital stays, and mortality rates. There are also some photographs. http://iportal.usask.ca/index.php?sid=934340211&id=33804&t=details&having=1800538
Indigenous Histories of Tuberculosis in Manitoba, 1930-1970
https://indigenoustbhistories.wordpress.com/
Publications:
Selected Publications
Mary Jane Logan McCallum, Indigenous Women, Work and History 1940-1980 Winnipeg: University of Manitoba Press, 2014. 
Mary Jane Logan McCallum, "'I Would Like the Girls at Home': Domestic Labour and the Age of Discharge at Canadian Indian Residential Schools," in Eds. Victoria Haskins and Claire Lowry (eds), Colonization and Domestic Service: Historical and Contemporary Perspectives. New York: Routledge, 2014.
Aroha Harris and Mary Jane Logan McCallum, '"Assaulting the Ears of Government": The Work of the Maori Women's Welfare League and the Indian Homemakers' Clubs in the 1950s and 60s', in Carol Williams, ed, Indigenous Women and Work: From Labour to Activism. University of Illinois Press, 2012.
Mary Jane Logan McCallum, "Condemned to Repeat? Settler Colonialism, Racism and Canadian History Textbooks in Eds RJ Gilmour, Davina Bhander, Jeet Heer and Michael C.K. Ma, Too Asian? Racism, Privilege, and Post-Secondary Education. Toronto: Between the Lines Press, 2012.
"Indigenous Labor and Indigenous History" American Indian Quarterly 33:4 (Fall 2009): 523-544. 
Mary Jane McCallum and Susan M. Hill, "Guest Editors' Remarks" in "Working from Home in American Indian History" Special Issue, American Indian Quarterly 33:4 (Fall 2009): ix-xix.
David Gregory, Mary Jane McCallum, Brenda Elias and Karen Grant, "Self-Determination and the Swampy Cree Tribal Council: A Case Study Involving Nursing Education in Northern Manitoba," The Canadian Journal of Nursing Research 40:2 (June 2008): 132-49.
"The Fundamental Things: Camp Fire Girls and Authenticity, 1910-1920." Canadian Journal of History, 40:1 (April, 2005): 45-66.
"This Last Frontier: 'Isolation' and Aboriginal Health." Canadian Bulletin of Medical History, 22:1 (2005): 103-120. http://www.cbmh.ca/index.php/cbmh/article/view/665/662
Twice As Good – A History of Aboriginal Nurses. Aboriginal Nurses Association of Canada, Ottawa, 2007.
Mary Jane McCallum and Denise Fuchs, eds. Intersecting Worlds: Rural and Urban Aboriginal Issues. Winnipeg: St. John's College Press, 2005.