Mark Meuwese
History
---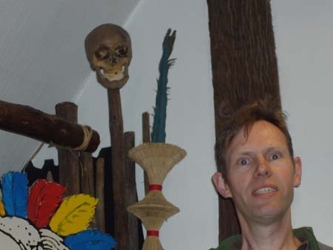 Title: Professor
Office: 3A18
Building: Ashdown
Phone: 204.786.9356
Email: m.meuwese@uwinnipeg.ca
Courses:


HIST-3611(6) Colonial and Revolutionary North America, 1492-1783
HIST-4112(3) Atlantic World History
HIST-7001(3) Selected Topics: Atlantic World History (Graduate)
Research Interests:

Aboriginal America; Colonial Americas Atlantic World


Links
http://www.brill.com/atlantic-biographies
Publications:

Selected Publications
Brothers in Arms, Partners in Trade: Dutch-Indigenous Alliances in the Atlantic World, 1595-1674 (Leiden and Boston: Brill, 2011)
"Language, Literacy, and Christian Education: Indigenous Peoples and Dutch Protestant Missions in Southwestern Taiwan and Northeastern Brazil, 1624-1662" Sprachgrenzen Sprachkontakte kulturuelle Vermittler: Kommunikation zwischen Europaern und Aussereuropeaern (16. 20. Jahrhundert), eds. Mark Haeberlein and Alexander Keese (Stuttgart: Franz Steiner, 2010): 107-128.
"Samuel Cohen (c. 1600-1642): Jewish Translator in Brazil, Curaçao and Angola," In: The Human Tradition in the Atlantic World, 1500-1850. Edited by Karen Racine and Beatriz Gallotti Mamigonian (Rowman and Littlefield Publishers, Lanham, Maryland, 2010): 27-42.
"Indigenous Peoples and the Dutch Globalization of the Atlantic World, 1600-1700" in Aboriginal Governance and Globalization: Proceedings of the International Symposium held at the University of Winnipeg (Canada) January 31st February 2nd 2008, ed. Liliane Rodriguez (Winnipeg: University of Winnipeg, 2009): 61-78.
"Subjects or Allies: The Contentious Status of the Tupi Indians in Dutch Brazil, 1625-1654", in Bridging the Early Modern Atlantic World: people, products, and practices on the move, ed. Caroline A. Williams (Surrey, UK, and Burlington, VT, USA: Ashgate, 2009): 113-130.
"Pragmatic Agents of Empire: Dutch Intercultural Mediators among the Mohawks in Seventeenth-Century New Netherland," in Boundaries and their meanings in the history of the Netherlands eds. Benjamin Kaplan, Marybeth Carlson, and Laura Cruz, Society for Netherlandic History 2 (Brill: Leiden and Boston, 2009): 139-154.
"From Intercolonial Messenger to Christian Indian: The Flemish Bastard and the Mohawk Struggle for Independence from New France and Colonial New York in the Eastern Great Lakes Borderland, 1647-1687," in Karl S. Hele, ed. Lines Drawn Upon the Water: First Nations and the Great Lakes Borders and Borderlands, Aboriginal Studies Series (Wilfred Laurier University Press, 2008): 43-63.
"Cultural Boundaries in the Backcountry of Colonial Brazil: European Diplomatic Agents among the Rio Grande Tarairius, 1642-1654," Portuguese Studies Review 14 (1) (2006): 255-277. (Special thematic issue on "Territory, Power, and Identities in the Captaincies of Northeastern Brazil, 16th-18th Centuries).
"Powerless yet Resourceful: Brazilian Indians as Political Refugees in the Dutch Republic, 1654-1657." In The Low Countries: Crossroads of Cultures. Edited by T.J. Broos, M. Bruyn Lacy, and T.F. Shannon (Muenster, Germany: Nodus Publikationen, 2006): 83-92.
"Flemish Bastard", "Arent van Curler", and "Harmen Meyndertsz van den Bogaert." In The Encyclopedia of New York State. Edited by Peter Eisenstadt (Syracuse, New York: Syracuse University Press, 2005), 573, 1634.
"The Murder of Jacob Rabe: Contesting Dutch Colonial Authority in the Borderlands of Northeastern Brazil." In New World Orders: Violence, Sanction, and Authority in the Colonial Americas. Edited by John Smolenski and Thomas J. Humphrey (Philadelphia: University of Pennsylvania Press, 2005), 133-156.
"Dutch Calvinism and Native Americans: A Comparative Study of the Motivations for Protestant Conversion among the Tupis in Northeastern Brazil (1630-1654) and the Mohawks in Central New York (1690-1715)." In
The Spiritual Conversion of the Americas
. Edited by James Muldoon (Gainesville: University Press of Florida, 2004), 118-141.