Ben Nobbs-Thiessen
History
---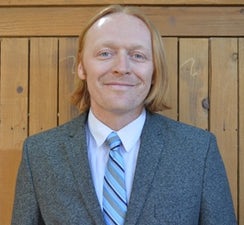 Title: Assistant Professor
Office: 3A36
Building: Ashdowne
Phone: 204.786.9391
Email: b.nobbs-thiessen@uwinnipeg.ca
Degrees:

BA (University of British Columbia, 2005)
MA (University of British Columbia, 2009) 
PhD (Emory University, 2016)
Biography:

Born in Vancouver, British Columbia, I completed a BA and an MA in History at the University of British Columbia before receiving my PhD from Emory University in Atlanta.  Prior to beginning my current position, I was a research associate in the School of Transborder Studies at Arizona State University (2016-18) and a teaching fellow in the Roots of Contemporary Issues program at Washington State University (2018-2020).  My research has involved archives, fieldwork and oral histories in Bolivia, Paraguay, Mexico, Canada and the United States. 
Teaching Areas:
Latin America; History of Mennonites; Environment and Agriculture; Migration and Diaspora; Indigenous-Settler Relations; Borderlands and Frontiers
Courses:

HIST-3114 - Latin American Mennonites
HIST-2109 - Mennonite Studies II
Research Interests:
My research explores the movements of Mennonites and other migrant communities across the frontiers of the Americas as these flows intersect with national revolutions, internal colonialism, and agro-environmental change.  My first book examined how indigenous Andeans, Mennonites, and Okinawans took part in Bolivia's colonization of its lowland frontier, an initiative known as the "March to the East." My new project looks at a century of Mennonite migrations between Mexico and Canada in relation to water scarcity, migrant labor, neoliberal reform, and illicit trade.
Publications:

Landscape of Migration: Mobility and Environmental Change on Bolivia's Tropical Frontier since 1952. Chapel Hill: University of North Carolina Press, 2020.
 https://uncpress.org/book/9781469656106/landscape-of-migration/
"Re-Shaping the Chaco: Migrant Foodways, Place-Making and The Chaco War." Journal of Latin American Studies 50:3 (2018)
"The Steel Wheel: From Progress to Protest and Back Again in Canada, Mexico and Bolivia." Agricultural History 92:2 (2018) – (co-authored with Royden Loewen)
"Cheese is Culture and Soy is Commodity: Environmental Change in a Bolivian Mennonite Colony." ­Journal of Mennonite Studies 35 (2017)
"Channeling Modernity: Nature, Patriotic Engineering and the Chaco War." in The Chaco War: Environment, Ethnicity, Nationalism. ed. Bridget Chesterton. New York: Bloomsbury Academic, 2016          
"Mennonites in Unexpected Places: Sociologist and Settler in Latin America." Journal of Mennonite Studies 28, (2010) 203-224.