Anne-Laurence Caudano
History
---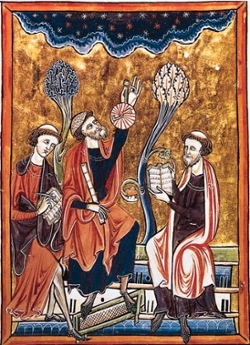 Title: Professor
Office: 3A24
Building: Ashdown
Phone: 204.786.9883
Email: a.caudano@uwinnipeg.ca
Teaching Areas:
Medieval History; Byzantium and Eastern Slavic culture; medieval sciences
Courses:

HIST-1014 (3) Europe and the Mediterranean to 1700
HIST-2211(3) Europe between c. 300 and 1350
HIST-2212(3) Europe between the Medieval and Modern Periods (1350-1650)
HIST-2215(3) History of the Byzantine Empire
HIST-4218(6) Topics in Medieval Culture
HIST-7203(6) Topics in Medieval Culture (Graduate) 
Publications:

Selected
Publications
Book:
"Let there be lights in the firmament of the heaven": Cosmological depictions in Early Rus, Palaeoslavica 14. Supplementum 2 (Cambridge Mass.: Palaeoslavica, 2006)
Articles: 
" 'These are the Only Four Seas:' The World Map of Bologna, University Library, Codex 3632", Dumbarton Oaks Papers 70 (2016): 167-190
"Cosmologies et cosmographies variées dans les manuscrits byzantins tardifs", Byzantion 85 (2015): 1–25
"Eustratios of Nicaea on Thunder and Lightning", Byzantinische Zeitschrift 105/2 (2012): 611-634
"An Astrological Handbook from the Reign of Manuel I Komnenos", Almagest 3/2 (2012): 46-65
"'Le ciel a la forme d'un cube ou a été dressé comme une peau': Pierre le Philosophe ou l'orthodoxie du savoir astronomique sous Manuel Ier Comnène", Byzantion. Revue Internationale des Etudes Byzantines 81 (2011): 19-73
"Un univers sphérique ou voûté ? Survivance de la cosmologie antiochienne à Byzance (XIe et XIIe s.)", Byzantion. Revue Internationale des Etudes Byzantines 78 (2008): 66-86.
"Pamvo Berynda's Poems on the Nativity of Christ. Between Western Education and Byzantine Hymnography", Canadian Slavonic Papers 49 (2007): 9-26
"Cycles des astres et calendriers dans la Rus médiévale du onzième au treizième siècles,"
Slavica Gandensia
31 (2004), 23-45.
" Following the Star of Bethlehem. Portrayals of the Magi as Astrologers in Kievan Rus,"
Byzantinoslavica
62 (2004), 161-172.
" Le calcul de l'éclipse de soleil du 15 avril 1409 à Constantinople par Jean Chortasmenos,"
Byzantion
73 (2003), 211-245.