Upcoming: Memorial Reckoning Special Issue Launch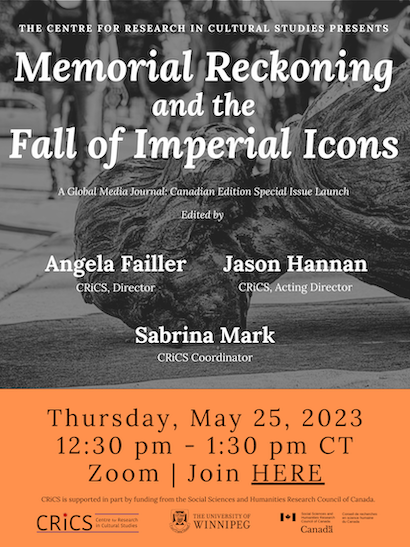 Join us online Thursday, May 25 at 12:30 for the launch of a special issue of Global Media Journal -- Canadian Edition on "Memorial Reckoning and the Fall of Imperial Icons." Zoom link here.
This special issue was co-edited by CRiCS Director Angela Failler, CRiCS Acting Director Jason Hannan, and CRiCS Research Coordinator Sabrina Mark. A number of other CRiCS members and UWinnipeg faculty also acted as contributors; essays and reviews were written by Melissa Funke (Classics), Tracy Whalen (Rhetoric, Writing and Communications), Alyson Brickey (English), and Emma De Sousa (Cultural Studies MA Program). Read the whole issue here.
We hope to see you at our celebration of this exciting collaboration!