Research Talks: Fall 2021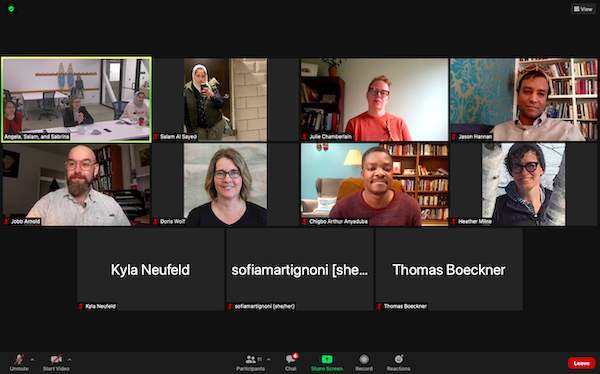 On October 29th, members of CRiCS met on Zoom to listen to Dr. Jason Hannan's and Dr. Julie Chamberlain's Research Talks. Hannan's "New White Saviours: The Colonial Mythology of Meat" explored the rhetoric and politics of the animal agricultural industry. Chamberlain reflected on "how racialized long-time residents of Hamburg-Wilhelmsburg, a historically devalued neighbourhood in Germany, claim the space as one of belonging and identity in the context of exclusion from Germanness."
CRiCS members Zoomed again on November 29th to hear Dr. Chigbo Arthur Anyaduba and Dr. Matthew Flisfeder speak. Anyaduba's "Darfur Children's Atrocity Drawings and the Holocaust: A Multidirectional Process?" examined the intersections of Holocaust memories with a collection of atrocity drawings by refugee children from Darfur. Flisfeder's "On the Persistence of the Jewish Question in Socialist Struggle: Rethinking Emancipatory Universality" aimed to challenge antisemitism on the Left.