Research Talks: Dr. Kevin Walby and Dr. Peter Ives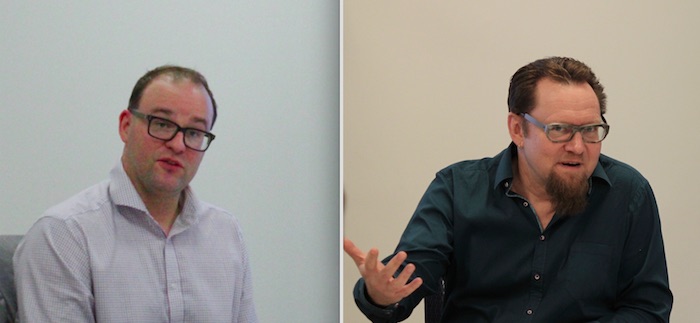 On March 18, 2019, the Centre for Research in Cultural Studies (CRiCS) held the third session of its Research Talks series. The series features members of the Cultural Studies Research Group (CSRG), and offers an opportunity for students and members of CRiCS to hear more about faculty research in progress.
This session included 
presentations by 
Dr. Kevin Walby (Department of Criminal Justice) and Dr. Peter Ives (Department of Political Science). Walby's "Police Museums in Canada: Representations and Absent Presences" focused on the oftentimes absent and misrepresentation of Indigenous people in police museums located in the prairies.  
Ives's 
"Gramsci, Language Politics and Hegemony" explored the use of memes that bring early twentieth-century theorizing by Antonio Gramsci into current political contexts. 
(Image - Dr. Kevin Walby, left, and Dr. Peter Ives during their talks. Photo credit: Lauren Bosc)