CRiCS / CRYTC Official Launch
Tue. Dec. 11, 2018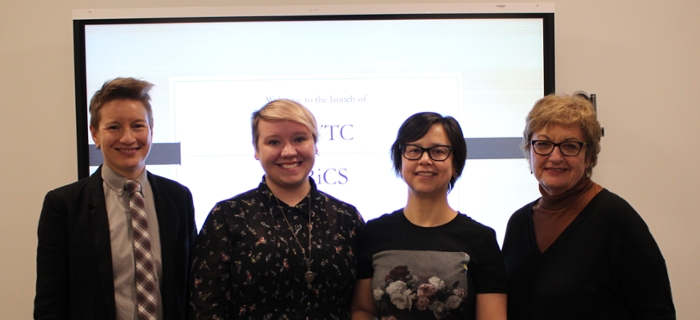 The University of Winnipeg is pleased to announce the official opening of the Centre for Research in Cultural Studies (CRiCS) and the re-opening of the Centre for Research in Young People's Texts and Cultures (CRYTC).
Co-located in UWinnipeg's Centennial Hall, the two cultural studies centres share a newly configured joint space funded through the Canada Foundation for Innovation's John R. Evans Leaders Fund, Research Manitoba, and The University of Winnipeg. The renovation project, which began in fall 2017, was completed in the summer of 2018 and the finishing touches for the space were completed earlier this month. It features:
A collaborative research and knowledge mobilization lab for workshops, cultural production, curatorial design and display, other forms of research creation, in-person meetings, and video conferencing
A workspace for research assistants
An open workspace for the research coordinators of the centres
Office spaces for the centres' directors
A resource area
An interview and data management room
An office space for visiting scholars and postdoctoral fellows
Find the full story in UWinnipeg's News and Events directory.
(Image - From left to right: Angela Failler, Lauren Bosc, Larissa Wodtke, and Mavis Reimer. Photo credit: Naniece Ibrahim)