Dr. Tabitha Wood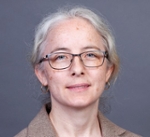 Title: Associate Dean of Science and Associate Professor
Phone: 204.786.9083
Office: 3RC011 - Lab: 3RC031, 3RC033
Building: Richardson College for the Environment and Science Complex
Email: te.wood@uwinnipeg.ca
Degrees:

NSERC  Post-doctoral Fellow, Ontario Cancer Institute, 2007-2010
Ph.D.,  Dalhousie University, 2007
Biography:

Dr. Wood's expertise is in synthetic organic methodology. Her research program centers upon aryl migration rearrangement reactions and the use of biotransformations to achieve interesting small organic molecules. She lectures in the areas of organic chemistry, biochemistry, and medicinal chemistry. Activities promoting public chemistry outreach, scientific literacy, and achieving equity in chemistry are some of the areas that she likes to volunteer for.
STEM From the Prairies - Tabitha Wood
Courses:

CHEM 2202/3 Organic Chemistry I
CHEM 2203/3 Organic Chemistry II
CHEM 3502/3 Intermediate Biochemistry I
CHEM 3503/3 Intermediate Biochemistry II
CHEM 4502/3 Molecular Enzymology
CHEM 4507/3 Drug Design
Research Interests:

Our research interests lie in the area of organic synthetic methodology. The organic synthetic reaction that we study is an aryl migration reaction affiliated with the Truce-Smiles rearrangement. Our research involves exploring the nature of this reaction in terms of its mechanism, what kind of molecules it can accept as substrates, and what we can do to make it a reliable and predictable technology for use in the synthesis of new molecules. With this kind of information, we can investigate ways to apply the reaction to solving problems like making the production of difficult molecules easier, and accessing new molecules with interesting new properties.
Our other area of research interest is medicinal chemistry, specifically in the discovery of new small molecule cancer therapeutics. Often, adverse side effects are experienced by chemotherapy patients due to the indiscriminant cytotoxic activities of cancer drugs. Researchers have made excellent progress in creating targeted drugs for cancer chemotherapy, but there remains a great opportunity to develop new drugs that offer decreased side-effects while potently treating this diverse disease. Our research in this area involves using some established organic synthetic methods, as well as developing new organic reactions, for creating small libraries of new potential chemotherapeutic drugs. The molecules will not only be characterized for typical evidence of identity and purity, but also for specific biological activities. In doing so, we hope to gain a better understanding of the complex factors involved in targeting tumors over normal healthy tissue. Interdisciplinary research of this nature creates the opportunity for trainees to learn skills from the field of synthetic organic chemistry as well as biochemistry.
Website TE Wood Research Group
Publications:

Peer-Reviewed Publications
Fuss, D.; Wu, Y.Q.; Grossi, M.R.; Hollett, J.W.; Wood, T.E.* "Effect of the tether length upon Truce-Smiles rearrangement reactions" Journal of Physical Organic Chemistry 2017, e3742.
DOI: 10.1002/poc.3742
Henderson, A.R.P.; Kosowan, J.R.; Wood, T.E.* "The Truce-Smiles Rearrangement and Related Reactions: A Review" Canadian Journal of Chemistry 2017, 95(5), 483-504.
DOI: 10.1139/cjc-2016-0594
Craig, D.B.*; King, S.D.; Reinfelds, G.; Henderson, A.R.; Wood, T.E. "Electrophoretic mobility, catalytic rate, and activation energy of catalysis of single molecules of the enzyme β-glucuronidase from Escherichia coli" International Journal of Biological Macromolecules 2017, 96, 669-74.
DOI: 10.1016/j.ijbiomac.2016.12.034
Kosowan, J.R.; W'Giorgis, Z.; Grewal, R.; Wood, T.E.* "Truce-Smiles rearrangement of substituted phenyl ethers" Organic & Biomolecular Chemistry 2015, 13, 6754-65.
DOI: 10.1039/C5OB00812C
Lundrigan, T.; Baker, A.E.G.; Longobardi, L.E.; Wood, T.E.; Smithen, D.A.; Crawford, S.M.; Cameron, T.S.; Thompson, A.* "An Improved Method for the Synthesis of F-BODIPYs from Dipyrrins and Bis(dipyrrin)s" Organic Letters 2012, 14(8), 2158-61.
DOI: 10.1021/ol300681w
Mao, X.; Cao, B.; Wood, T.E.; Hurren, R.; Tong, J.; Wang, X.; Wang, W., Li, J.; Jin, Y.; Sun, W.; Spagnuolo, P.A.; MacLean, N.; Moran, M.F.; Datti, A.; Wrana, J.; Batey, R.A.; Schimmer, A.D.* "A small-molecule inhibitor of D-cyclin transactivation displays preclinical efficacy in myeloma and leukemia via phosphoinositide 3-kinase pathway" Blood 2011, 117(6), 1986-97.
DOI: 10.1182/blood-2010-05-284810
Wood, T.E.; Uddin, M.I.; Thompson, A.* "The Synthesis and Properties of Dipyrrins" Chapter 39, Volume VIII The Handbook of Porphyrin Science, ed. Kadish, K.M.; Smith, K.M.; Guilard, R. World Scientific Publishing Co., Inc.: 2010.
Sharmeen, S.; Skrtic, M.; Sukhai, M.A.; Hurren, R.; Gronda, M.; Wang, X.; Fonesca, S.; Sun, H.J.; Wood, T.E.; Ward, R.; Batey, R.A.; Datti, A.; Wrana, J.; Kelly, S.; Schimmer, A.D.* "The anti-parasitic agent ivermectin induces chloride-dependent membrane hyperpolarization and cell death in leukemia cells" Blood, 2010, 116(18), 3593-603.
DOI: 10.1182/blood-2010-01-262675
Wood, T.E.; Dalili, S.; Simpson, C.D.; Sukhai, M.A.; Hurren, R.; Anyiwe, K.; Mao, X.; Suarez Saiz, F.; Gronda, M.; Eberhard, Y.; MacLean, N.; Ketela, T.; Reed, J.C.; Moffat, J.; Minden, M.D.; Batey, R.A.; Schimmer, A.D.* "Selective inhibition of histone deacetylases sensitizes malignant cells to death receptor ligands" Molecular Cancer Therapeutics 2010, 9(1), 246-56.
DOI: 10.1158/1535-7163.MCT-09-0495
Li, X.; Wood, T.E.; Sprangers, R.; Jansen, G.; Franke, N.E.; Mao, X.; Wang, X.; Zhang, Y.; Verbrugge, S.E.; Adomat, H.; Li, Z.H.; Trudel, S.; Chen, C.; Religa, T.L.; Jamal, N.; Messner, H.; Cloos, J.; Rose, D.; Navon, A.; Guns, E.; Batey, R.A.; Kay, L.E.; Schimmer, A.D.* "Effect of non-competitive proteasome inhibition on Bortezomib resistance" Journal of the National Cancer Institute 2010 102(14) 1069-82.
DOI: 10.1093/jnci/djq198
Xu, G.W.; Ali, M.; Wood, T.E.; Wong, D.; MacLean, N.; Wang, X.; Gronda, M.; Skrtic, M.; Li, X.; Hurren, R.; Mao, X.; Venkatesan, M.; Beheshti Zavareh, R.; Ketela, T.; Reed, J.C.; Rose, D.; Moffat, J.; Batey, R.A.; Dhe-Paganon, S.; Schimmer, A.D.* "The ubiquitin activating enzyme E1 as a therapeutic target for the treatment of leukemia and multiple myeloma" Blood 2010, 115(11), 2251-9.
DOI: 10.1182/blood-2009-07-231191
Eberhart, Y.; McDermott, S.P.; Wang, X.; Gronda, M.; Venugopal, A.; Wood, T.E.; Hurren, R.; Datti, A.; Batey, R.A.; Wrana, J.; Antholine, W.E.; Dick, J.E.; Schimmer, A.D.* "Chelation of intracellular iron with the antifungal agent ciclopirox olamine induces cell death in leukemia and myeloma cells" Blood 2009, 114(14), 3064-73.
DOI: 10.1182/blood-2009-03-209965
Ito, E.; Yip, K.W.; Katz, D.; Hedley, D.W.; Chow, S.; Xu, W.; Wood, T.E.; Bastianutto, C.; Schimmer, A.D.; Liu, F.-F.* "Potential Use of Cetrimonium Bromide as an Apoptosis-Promoting Anti-Cancer Agent for Head and Neck Cancer" Molecular Pharmacology 2009, 26(5), 969-83.
DOI: 10.1124/mol.109.055277
Mao, X.; Li, X.; Sprangers, R.; Wang, X.; Venugopal, A.; Wood, T.; Zhang, Y.; Kuntz, D.; Coe, E.; Trudel, S.; Rose, D.; Batey, R.A.; Kay, L.E.; Schimmer, A.D.* "Clioquinol inhibits the proteasome and displays preclinical activity in leukemia and myeloma" Leukemia 2009, 23(3), 585-90.
DOI: 10.1038/leu.2008.232
Wood, T.E.; Dalili, S.; Hurren, R.; Gronda, M.; Simpson, C.D.; Suarez Saiz, F.; Eberhard, Y.; Minden, M.D.; Bilan, P.J.; Klip, A.; Batey, R.A.; Schimmer, A.D.* "A novel inhibitor of glucose uptake sensitizes cells to FAS-induced cell death" Molecular Cancer Therapeutics 2008, 7, 3546-55.
DOI: 10.1158/1535-7163.MCT-08-0569
Hurren, R.; Beheshti Zavareh, R.; Dalili, S.; Wood, T.; Rose, D.; Chang, H.; Minden, M.D.; Jamal, N.; Messner, H.; Brummel, J.H.; Batey, R.; Schimmer, A.D.* "A novel diquinolonium displays preclinical anti-cancer activity and induces caspase-independent cell death" Apoptosis 2008, 13, 748-55.
DOI: 10.1007/s10495-008-0209-6
Wood, T.E.; Thompson, A.* "Recent advances in the chemistry of dipyrrins" Chemical Reviews 2007, 107, 1831-61.
DOI: 10.1021/cr050052c
Wood, T.E.; Berno, B.; Beshara, C.; Thompson, A.* "15N NMR chemical shifts for the identification of dipyrrolic structures" Journal of Organic Chemistry 2006, 71, 2964-71.
DOI: 10.1021/jo0524932
Wood, T.E.; Ross, A.C.; Dalgleish, N.D.; Power, E.D.; Thompson, A.*; Chen, X.; Okamoto, Y. "Dinuclear zinc(II) double-helicates of homochirally-substituted bis(dipyrromethene)s" Journal of Organic Chemistry 2005, 70(24), 9967-74.
DOI: 10.1021/jo051727e
Wood, T.E.; Dalgleish, N.D.; Power, E.D.; Thompson, A.*; Chen, X.; and Okamoto, Y. "Stereochemically-stable double-helicate dinuclear complexes of bis(dipyrromethene)s: A chiroptical study" Journal of the American Chemical Society 2005, 127(16), 5740-5751.
DOI: 10.1021/ja0500613
Abd-El-Aziz, A. S.*; Okasha, R. M.; Todd, E. K.; Wood, T.E. "Novel Approach to Oligomers and Polymers Containing Neutral and Cationic Iron Moieties Within and Pendent to their Backbones" Macromolecular Rapid Communications 2005, 23(13), 743-748.
DOI: 10.1002/1521-3927(20020901)23:13