Andrew Sannie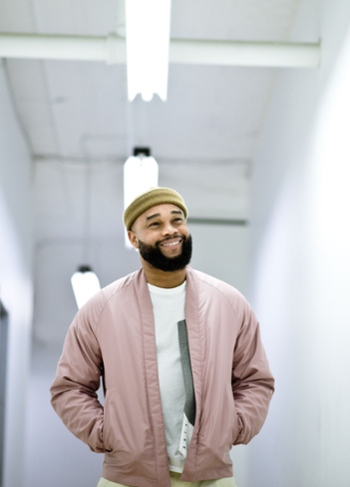 Andrew Sannie Engages Students on Winnipeg Futures and Work
This Spring (2021), UW graduate Andrew Sannie engaged a class of Rhetoric students taking Composing Winnipeg in a dialogue about creative work and opportunities in Winnipeg.
Andrew is a Canadian creative and business owner, as well as a member of acclaimed Canadian hip hop group, The Lytics. Andrew is also a co-founder of Canadian based experiential marketing and consultation company, Grape Experiential. In his personal time, Andrew works with several community groups and non-profits, contributing to the executive boards of several organizations across the country.
Though Andrew started in the worlds of community development, marketing and public relations, he's recently welcomed opportunities in the placemaking and public planning realm, as well as new endeavours in retail, product development and community engagement. Through these new ventures, he's found partners in municipal governments in Edmonton, Calgary and Winnipeg as well as nationally recognized brands like JustEat, Hudson's Bay Company and Redbull. Most importantly however, Andrew is a graduate and alum of the Rhetoric, Writing, and Communications program at The University of Winnipeg.
In his talk, Andrew shared about his work and experiences in Winnipeg, and also touched on models from other cities, overcoming obstacles, and creating a vision of what Winnipeg could be. This provided an invaluable bridge for students in the course, as they covered a unit on examining city futures, change, decline, sustainability/creativity, and work.
---
Image credit: Andrew Sannie