South of Inuit Nunangat: A Conversation
Fri. Apr. 3 02:30 PM - Fri. Apr. 3 04:00 PM
Location: Convocation Hall, University of Winnipeg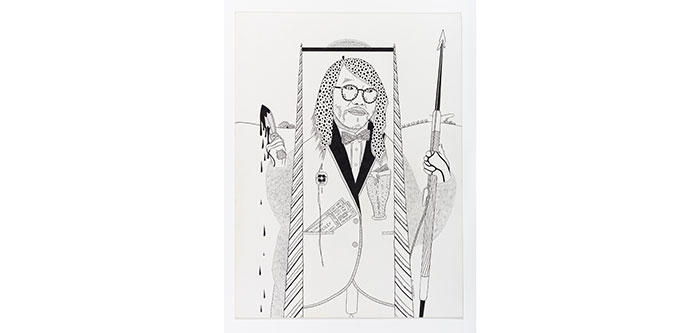 Gallery 1C03 is pleased to host the exhibit "Walking Both Sides of an Invisible Border," honouring the work of Inuit artist and writer Alootook Ipellie (1951-2007).
The exhibit runs from February 27 to April 11 and is curated by Sandra Dyck, Heather Igloliorte, and Christine Lalonde. This circulating exhibition has been produced by Carleton University Art Gallery (Ottawa, Ontario) and has been made possible in part by the Canada Council for the Arts and the Ontario Arts Council. 
Alootook Ipellie was born at Nuvuqquq on Baffin Island and grew up in Iqaluit before moving to Ottawa as a young man. He started working as a translator, illustrator and reporter for Inuit Monthly (renamed Inuit Today) in the early 1970s, and later was its editor. Through his widely read poems, articles and essays, Ipellie gave voice to important cultural, political and social issues affecting Inuit Nunangat, with humour and immense patience.
"South of Inuit Nunangat: A Conversation" will feature exhibition co-curator Heather Igloliorte in conversation with Nikki Komaksiutiksak, Nicole Luke, and Jocelyn Piirainen.
Dr. Heather Igloliorte is an Inuk scholar, independent curator and art historian from Nunatsiavut. She is an Associate Professor of Indigenous art history at Concordia University, where she holds the University Research Chair in Indigenous Circumpolar Arts.
Nikki Komaksiutiksak is an Inuit woman from Chesterfield Inlet, Nunavut, and currently works for the Manitoba Inuit Association. Although Winnipeg is now her home, Nikki has found the strength to preserve her "Inukness", living in the southern part of Canada. Nikki is an active member with the Inuit community in Winnipeg, and uses her knowledge and understanding of the south to assist Inuit moving to the big city.
Nicole Luke is the Research Assistant in Exhibition Design at the forthcoming Inuit Art Centre at the Winnipeg Art Gallery. She is currently a Masters student in the Department of Architecture at the University of Manitoba.
Jocelyn Piirainen is a curator, artist and filmmaker originally from Ikaluktutiak (Cambridge Bay), NU and currently based in Winnipeg. Piirainen's educational background has focused on the arts, particularly film and new media, and her current artistic practice primarily involves analog photography. She has contributed to publications such as Canadian Art, Canadian Geographic and the Inuit Art Quarterly. Alongside, Piirainen has designed and developed various exhibitions, curatorial projects, screenings and arts festivals at numerous galleries and artist-run centres, including SAW Video Association in Ottawa and the Art Gallery of Ontario in Toronto, among others. In 2019, she became the inaugural Assistant Curator of Inuit Art at the Winnipeg Art Gallery.