Weweni: Jennifer Nez Denetdale
Wed. Mar. 11 12:30 PM - Wed. Mar. 11 01:30 PM
Location: Convocation Hall, University of Winnipeg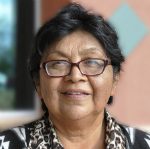 The sixth lecture in the University of Winnipeg's Weweni Indigenous Scholars Speaker Series is Dr. Jennifer Nez Denetdale on "Indigenous Gender and Sexuality Studies and the Possibilities for Decolonial Futures."
In the past few decades, gender and sexuality studies has reinvigorated Critical Indigenous Studies with its interventions that offer pathways to valuing Indigenous life and liberation. This presentation provides critical thought on the significance of gender as a category of analysis toward transforming Indigenous nations and communities.
Dr. Denetdale (Navajo) is Professor of American Studies at the University of New Mexico and teaches courses in Critical Indigenous Studies, Indigenous gender and sexuality, Indigenous feminisms and gender, and Navajo Studies. In 2007, her book, Reclaiming Diné History: The Legacies of Navajo Chief Manuelito and Juanita, was published by the University of Arizona Press, and her book for young adults, The Long Walk: The Forced Exile of the Navajo, was published by Chelsea House. She has expertise as a consultant for Native museum exhibits and was an expert witness on behalf of the Navajo Nation. She is the director of the University of New Mexico's Institute for American Indian Research (IfAIR) and the chair of the Navajo Nation Human Rights Commission. She has been recognized for her scholarship and service to her nation and community with several awards, including the Rainbow Naatsiilid True Colors for her support and advocacy on behalf of the Navajo LGBTQI and the UNM Faculty of Color Award for her teaching, research, and service in the academy.
MEDIA INDIGENA will be recording a live podcast immediately following the lecture, hosted by Rick Harp.