Student Support Services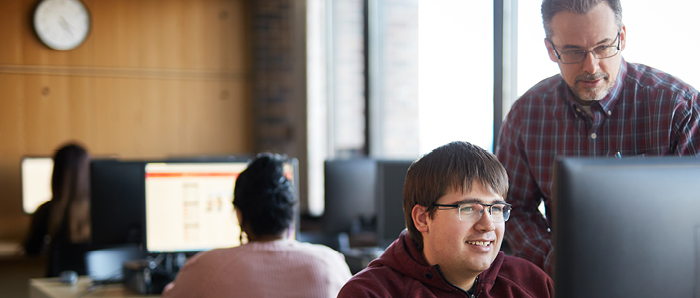 As a student at The University of Winnipeg you will have access to a variety of free student services that are there to support you in your studies. These supports are available from the day you are accepted to the day you graduate. No matter what the problem or concern, there is always someone to help. One number connects you to all services:  204.779.UWIN (8946).
Aboriginal Student Services Centre
The Aboriginal Student Services Centre (ASSC) builds bridges between students' cultural and personal backgrounds and the culture of the University. All Aboriginal (First Nations, Métis, Inuit) students have access to supports including mentorship, tutoring and elder services.

Academic & Career Services

If you need help planning your program of study, choosing classes, or interpreting regulations and requirements, our team of Academic Advisors is available to assist you.
We also offer assistance with career planning, and help with resumes, interviews, and the job search process.  Watch for our Career Fair in January and other events held throughout the academic year.  Check out the job postings on the website. For details, see Career Services, or email careers@uwinnipeg.ca

Accessibility Services and Resource Centre
Assistance and academic accommodations, including access to adaptive equipment and software, are available to students with disabilities. If you have a physical or learning disability, please call with inquiries and make an appointment with Accessibility Services at 204.779.UWIN (8946).

Adult Learner Services
If you are over the age of 21, The University of Winnipeg's Prior Learning Assessment and Recognition and Adult Leaner Services can help you explore and achieve your educational goals. We can work to assess the knowledge and skills you have gained through education, work, and life experience, and apply those credentials towards admissions to The University of Winnipeg. To lean more about the services offered for Adult Learners, visit uwinnipeg.ca/adult-learner-services or contact the Academic Advising Office at 204.779.8946.

Awards and Financial Aid
Financial assistance administered by the Awards & Financial Aid Office supports the access and excellence mandate of The University of Winnipeg through a comprehensive program of scholarships, awards, prizes and bursaries. The University of Winnipeg provided $3.6 million in annual scholarships and bursaries in 2014 to assist students with their direct education costs – up from $2.6 million in 2007. The University also administers more than $7.5 million in annual assistance from the Manitoba Student Aid Program.


Counselling Services/Student Wellness Centre

The university experience will provide you with many opportunities for growth and change. While many of these opportunities can be very exciting, some can be confusing or overwhelming. Our Counselling Services can provide personal support when you need it.    To make an appointment to see a counsellor, please email studentwellness@uwinnipeg.ca or call 204.988.7611.  Counselling Services is located within the Student Wellness Centre in Room 1D25 (1st floor, Duckworth Centre).

International, Immigrant, and Refugee Student Services
If you are a student from outside of Canada, we offer a wide range of services, fun events and informative workshops to attend throughout the year. For more information, visit the website International, Immigrant, and Refugee Student Services or email iirss@uwinnipeg.ca.