4 year Bachelor of Science - Athletic Therapy
Four Year Bachelor of Science - Athletic Therapy
This degree focuses on the prevention and care of muscle, bone and joint injuries as they occur in sport, recreation, fitness and in the workplace. Students will learn to assess the cause and severity of an injury and provide the most effective rehabilitation and return to sport/recreation/work protocol.
Our Bachelor of Science in Athletic Therapy program is accredited by CATA, the Canadian Athletic Therapists Association.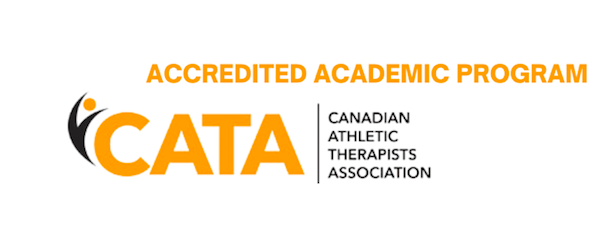 ---
Applying to the Program
All students planning to pursue the 4 year BSc - Athletic Therapy degree must submit an Enhanced Major Form after successful completion of 60 credit hours of prescribed courses (2 years of full-time study).
If you require more information regarding prerequisites or course requirements for the 4 year Bachelor of Science - Athletic Therapy, please refer to the Academic Calendar or click here for AT prerequisite courses.
Click here to see the 2021 changes to the Athletic Therapy Program.
If you have further questions please visit our FAQ page.
---
News and Updates:
Please note, those who started their Kinesiology major in Fall 2019 or 2020 with intentions of applying for AT for Fall 2023, can still apply with the previous 60 credit hours of prerequisites that were required. Some waivers will be made where appropriate. If accepted in to the AT program, students then have to complete years 3 and 4 of the Enhanced Major in AT as per the new 2021 criteria.