Visiting "Behind Racism: Challenging the Way We Think"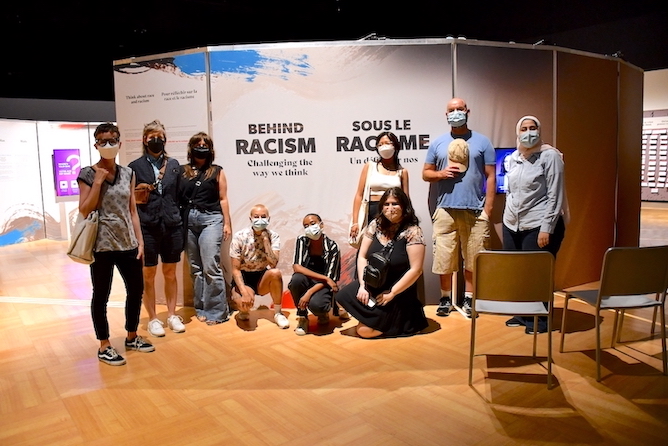 On July 22, 2022, CRiCS took a visit to the Canadian Museum for Human Rights to view "Behind Racism: Challenging the Way We Think," an exhibit developed by the Canadian Race Relations Foundation and the Ontario Science Centre. Learn more about the exhibit. CRiCS members read, engaged with, and discussed the interactive exhibit, enjoying the opportunity to explore it as a group.
Dr. Alyson Brickey shares her thoughts:
"The Behind Racism exhibit at the CMHR offered a fascinating and important opportunity to think more about how racism operates in our everyday lives. I was most interested in the portion of the exhibit that visualized how racism plays out at the social and institutional level, with excellent and accessible information about the over-representation of Indigenous children in the child welfare system, anti-Black policing policies in Toronto, and discriminatory healthcare practices across Canada. The focus on statistics as well as personal stories was extremely effective. Unfortunately, I was less impressed by the exhibit's attempt to attribute the mechanisms of racism to individual psychological factors that can be measured scientifically. To me, thinking through racism requires critically attending to both historical and contemporary social realities. If we focus on benign examples of how individual bias might work (our favourite ice cream flavours etc.), we are not, in my view, doing justice to the complexity of those realities. What's more, racism has been historically supported by scientific practices and theories that attempted to essentialize what were entirely socially constructed categories. These practices justified settler colonialism, the transatlantic slave trade, eugenics, and much more. I would have liked to see more critical awareness of the role that science has played in this history, particularly in the "DNA" portion of the exhibit . There seemed to be much opportunity here for a more robust investigation. Overall, I applaud the museum for taking on this important and difficult topic."
CRiCS found this group visit to the exhibit to be a valuable forum for thinking critically about how racism functions as well as analyzing how museums and other institutions should present exhibits on racism. We look forward to more CRiCS field trips in the future.