Unmasking the Carceral State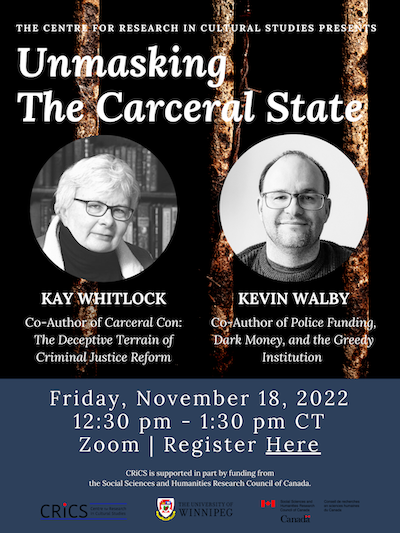 On Friday, November 18, CRiCS hosted "Unmasking the Carceral State," an event featuring CRiCS member Kevin Walby (Criminal Justice) and writer and activist Kay Whitlock. Over 25 people gathered on Zoom to hear about their recently published books: Carceral Con: The Deceptive Terrain of Criminal Justice Reform by Kay Whitlock and Nancy A. Heitzeg and Police Funding, Dark Money, and the Greedy Institution by Randy K. Lippert and Kevin Walby. These works interrogate the functioning of policing in our society in unique and fascinating ways.
Acting Director Jason Hannan said, "Kay and Kevin work at the cutting edge of carceral studies, having recently published highly acclaimed books on the topic. It was so nice for CRiCS to bring them together for this exciting event. Their talks really helped inform the community about the nature of the carceral state in Canada and the US."
Their presentations were followed by a lively group discussion on the institutions, the funding, and the rhetoric that enable continued systems of oppressive policing. At the end of the hour, attendees had been left with a great deal of food for thought, the mark of a successful CRiCS event!