The Politics of Identity Politics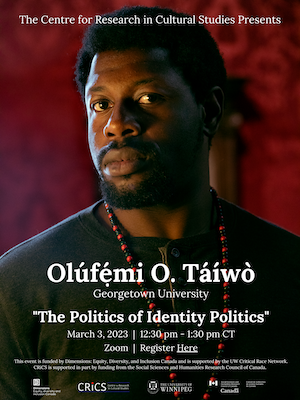 On March 3, 2023, CRiCS hosted an online event on "The Politics of Identity Politics" featuring Olúfẹ́mi Táíwò (Georgetown University). This event was funded by Dimensions: Equity, Diversity, and Inclusion Canada and was supported by the Critical Race Network. Over 30 people gathered on Zoom to hear Táíwò speak about concepts from his book Elite Capture: How the Powerful Took Over Identity Politics (And Everything Else). His presentation focused on the complexities and practicalities of how to effect social change.
Regarding this event, Acting Director Jason Hannan said, "Olúfẹ́mi O. Táíwò is one of the most exciting critical voices to emerge in recent years. Elite Capture is an outstanding book that helps us make sense of the complex world of identity politics. We were very fortunate to be able to host his thought-provoking talk for the University community."