Building an Interconnected Environmental Movement Through Media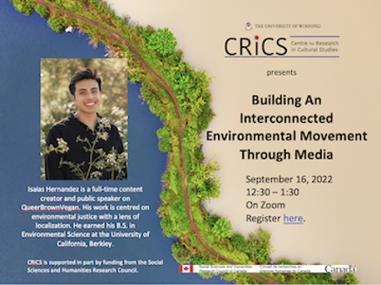 On September 16, 2022, CRiCS hosted a virtual talk featuring environmental educator Isaias Hernandez, following his appearance at Winnipeg VegFest the previous weekend. This talk, entitled "Building an Interconnected Environmental Movement Through Media," encouraged us to engage in conversations and connect with those around us to advocate for positive environmental change. Attendees, both faculty and students, found Hernandez's presentation thought-provoking and compelling.
"We were very fortunate to have a rising star in the environmental movement speak to the CRiCS community about environmentalism, racial justice, and public communication. Isaias has extensive experience as an environmental activist, educator, and communicator, which really helped us understand the challenges and possibilities for civic engagement in the digital age." – Jason Hannan, CRiCS Acting Director
"Isaias Hernandez was tremendously engaging and raised many pressing issues that Cultural Studies scholars and climate justice activists alike are concerned about. It was great to have this new voice be part of CRiCS programming, and to collaborate with the local, community run VegFest." – Angela Failler, CRiCS Director
"Isaias expressed how to effectively communicate concise and purposeful information via social media. I think this method of engagement with environmentalism is vital in a contemporary society where there's access to a breadth of information from one's phone." – Taylor Boucher, MA in Cultural Studies student and CRiCS Research Assistant
Read more about Hernandez and his work at QueerBrownVegan.