A Visit to the Canadian Museum for Human Rights
by Sabrina Mark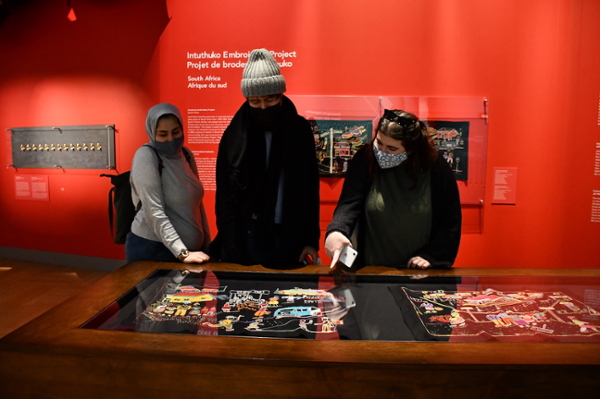 [Research Assistants at the Canadian Museum for Human Rights, Photo Credit: Sabrina Mark]
On December 3, 2021, CRiCS organized a visit to the Canadian Museum for Human Rights. Research Assistants Salam Al Sayed, Thomas Boeckner, and Sofia Martignoni attended, accompanied by me (Sabrina Mark, Research Coordinator). Our intention was to explore the museum with a critical lens, informed by our interest in several areas of research, including disability studies, museum studies, gender studies, and critical race studies. Ultimately, as I made my way through the museum, my own experience coalesced into one of notable absences and presences.
The CMHR is dominated by seemingly endless ramps that lead from one level to the next, hanging in empty space and distanced from the ostensible purpose of the museum: to provide visitors with exhibits on human rights. The lack of tangible content to examine while walking these ramps pushed my mind toward thinking of absences, to look around and see what's missing in other parts of the museum. Salam and I discussed the curatorial role in determining what was included in and, by extension, excluded from the museum. The gallery "What Are Human Rights?" contained a timeline of human rights moments. But what stuck out to me was that, following Confucius, East Asians were absent for hundreds of years. When I commented on this, Thomas pointed out to me that Latin America was only featured in the very last section. As a result, a narrative of progress in human rights led by Europe and the West was—likely inadvertently—constructed.
Such absences made certain presences more poignant. In particular, the way in which the museum privileged the voices of the subjects of many of the exhibits. In the "Canadian Journeys" gallery, I was confronted by statues of real migrant workers who told their own stories via video screens that each statue was holding. I was struck by the impact of these solid bodies, an undeniable and assertive presence of people who, by the nature of their work, are present in Canada only temporarily and, as a result, are often threatened by exploitation. The "Indigenous Perspectives" gallery also made use of video to promote the voices of people who have historically been silenced. Sofia noticed that it included an Indigenous sign language interpreter, further emphasizing the focus on actual Indigenous perspectives.
The museum provided an interesting venue for reflections on how absences can tell a story about human rights just as forcefully as what is present, but sometimes with unintended consequences. CRiCS members at the University of Winnipeg are fortunate to be in close proximity to sites like the CMHR that afford the opportunity for such important critical engagement.