Research Talks: Dr. Tracy Whalen and Dr. Adina Balint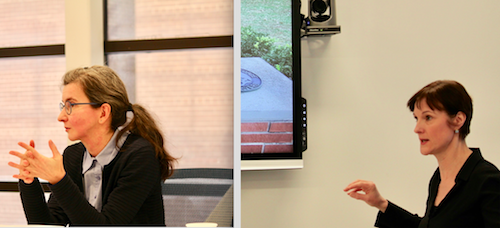 On February 11, 2019, the Centre for Research in Cultural Studies (CRiCS) held the second session of its Research Talks series. The series features members of the Cultural Studies Research Group (CSRG), and offers an opportunity for students and members of CRiCS to hear more about faculty research in progress.
This session included 
presentations by 
Dr. Tracy Whalen (Department of Rhetoric, Writing, and Communications) and Dr. Adina Balint (Modern Languages & Literatures). Whalen's "Rhetorical Witnessing, Comparatively Considered: Remembering the Crash of Arrow Air Flight 1285 in Newfoundland and Kentucky" focused on the rhetoric of witnessing in and around memorial sites dedicated to a military plane crash.  
Balint's 
"Mobility and Creativity in Twenty-First Century Canadian Literature in French" explored her methodology and theoretical underpinnings for her ongoing project on mobility. 
(Image - Dr. Adina Balint, left, and Dr. Tracy Whalen during their talks. Photo credit: Lauren Bosc)