Research Talks: Dr. Jane Barter and Dr. Christina Fawcett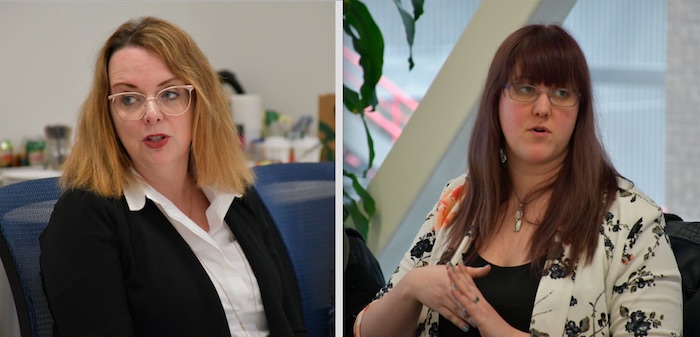 On April 15, 2019, the Centre for Research in Cultural Studies (CRiCS) held the fourth and last session of its winter Research Talks series. The series features members of the Cultural Studies Research Group (CSRG), and offers an opportunity for students and members of CRiCS to hear more about faculty research in progress.
This session included 
presentations by 
Dr. Jane Barter (Department of Religion and Culture) and Dr. Christina Fawcett (Department of English). Barter's "The Human beyond Humanity: Toward an Ethics of Shame" focused on Giorgio Agamben's theories of witnessing, shame, and the complexities of humanity in the context of the Holocaust. 
Fawcett's 
"YA Narrative Gaming: Engaging the In-Between Spaces of Youth" explored a number of video games and raised questions about agency and empathy in gaming narrative structures. 
(Image - Dr. Jane Barter, left, and Dr. Christina Fawcett during their talks. Photo credit: Lauren Bosc)