Acting Director Announcement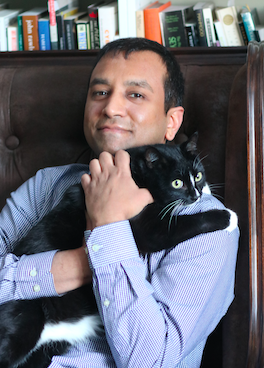 CRiCS Director Dr. Angela Failler will be going on a year-long research leave starting July 2022. We are excited to announce that Dr. Jason Hannan will be taking on the role of Acting Director of CRiCS during this time. Jason is Associate Professor in the Department of Rhetoric, Writing, and Communications and has been an active member of CRiCS since its founding in 2018. He recently gave a CRiCS Research Talk on "New White Saviours: The Colonial Mythology of Meat," and is in the process of guest editing a special issue of the Global Media Journal on "Memorial Reckoning and the Fall of Imperial Icons" with Angela and CRiCS Research Coordinator Dr. Sabrina Mark.
When asked about taking on this new role, Jason said, "Angela has built something really quite incredible with CRiCS. We're very fortunate to have such a vibrant research centre and innovative scholarly community on campus. I've personally benefited immensely from the talks, the workshops, and the summer writing café. So, it's a genuine honour to be taking up the role of Acting Chair for the coming year. I look forward to working with Sabrina in continuing the Centre's important and exciting event programming."
Jason's research interests include: media and communication theory; democracy and public communication; rhetoric and political theory; moral conflict and disagreement; the culture wars; social media and trolling; posthumanism and critical animal studies; and bioethics and medical humanities. He has published several books in recent years. He edited Meatsplaining: The Animal Agriculture Industry and the Rhetoric of Denial (Sydney University Press, 2020) (a Gourmand Awards winner); he authored Ethics Under Capital: MacIntyre, Communication, and the Culture Wars (Bloomsbury, 2019); and he has another book under contract, Trolling Ourselves to Death: Democracy in the Age of Social Media (Oxford University Press). Jason also contributed a chapter, entitled "'What the MSM Won't Tell You!' Social Media and Coronavirus Conspiracy Theories," to COVID-19 in Manitoba: Public Policy Responses to the First Wave (University of Manitoba Press, 2020).
Outside of this academic work, Jason acts as an organizer of Winnipeg's VegFest, the host of this year's Veg Out!, a food festival that took place March 3-12 and involved dozens of local restaurants who presented their best vegan dishes.

In anticipation of the upcoming change, Angela said, "I'm thrilled for Jason to be stepping into this role. CRiCS has really come into its own as an intellectual community in recent years, and Jason has been a key part of this. CRiCS will benefit from his energy and initiative, I have no doubt."
We look forward to the new ideas and perspectives that Jason will bring to CRiCS during his time as Acting Director.