Member Publications
Centre for Research in Cultural Studies (CRiCS)
---
October 16, 2019
Ethics Under Capital
MacIntyre, Communication, and the Culture Wars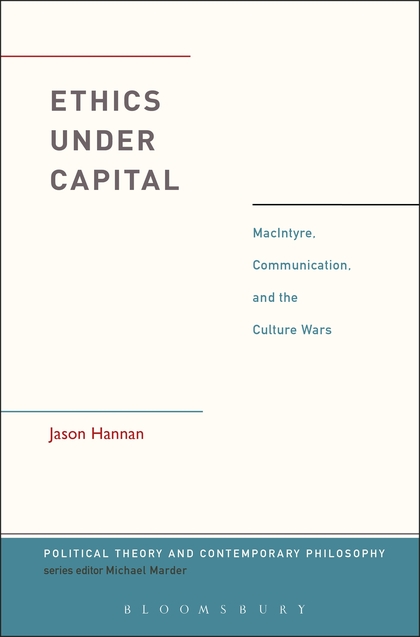 Another exciting publication from a member of CRiCS: Ethics Under Capital: MacIntyre, Communication, and the Culture Wars, by Dr. Jason Hannan. Described by theorist Slavoj Žižek as making "a forceful case for the renewed relevance of Alasdair MacIntyre's ethics of the virtues, grounded in a common way of life," this monograph is due to be officially released November 14, 2019.
Here is the description from the publisher's website for this book:
"We in the West are living in the midst of a deadly culture war. Our rival worldviews clash with increasing violence in the public arena, culminating in deadly riots and mass shootings. A fragmented left now confronts a resurgent and reactionary right, which threatens to reverse decades of social progress. Commentators have declared that we live in a "post-truth world," one dominated by online trolls and conspiracy theorists. How did we arrive at this cultural crisis? How do we respond?

This book speaks to this critical moment through a new reading of the thought of Alasdair MacIntyre. Over thirty years ago, MacIntyre predicted the coming of a new Dark Ages. The premise of this book is that MacIntyre was right all along. It presents his diagnosis of our cultural crisis. It further presents his answer to the challenge of public reasoning without foundations. Pitting him against John Rawls, Jürgen Habermas, and Chantal Mouffe, Ethics Under Capital argues that MacIntyre offers hope for a critical democratic politics in the face of the culture wars."
Visit the publisher's page for more information!
---
October 9, 2019
Older Sister. Not Necessarily Related.
A Memoir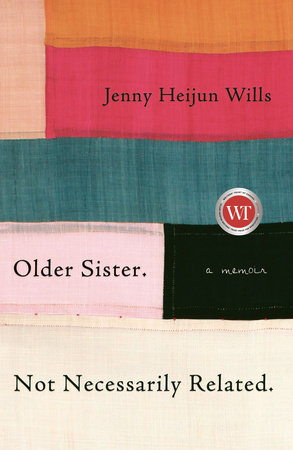 We're excited to share a recent publication by one of CRiCS's Members: Older Sister. Not Necessarily Related. by Jenny Heijun Wills. Described as "A beautiful and haunting memoir of kinship and culture rediscovered," this book was recently shortlisted as a finalist for the Hilary Weston Writers' Trust Prize for Nonfiction. Congratulations on your publication and nomination, Jenny.
Read on for the book's description from the publisher's website:
Jenny Heijun Wills was born in Korea and adopted as an infant into a white family in small-town Canada. In her late twenties, she reconnected with her first family and returned to Seoul where she spent four months getting to know other adoptees, as well as her Korean mother, father, siblings, and extended family. At the guesthouse for transnational adoptees where she lived, alliances were troubled by violence and fraught with the trauma of separation and of cultural illiteracy. Unsurprisingly, heartbreakingly, Wills found that her nascent relationships with her family were similarly fraught.

Ten years later, Wills sustains close ties with her Korean family. Her Korean parents and her younger sister attended her wedding in Montreal, and that same sister now lives in Canada. Remarkably, meeting Jenny caused her birth parents to reunite after having been estranged since her adoption. Little by little, Jenny Heijun Wills is learning and relearning her stories and those of her biological kin, piecing together a fragmented life into something resembling a whole.

Delving into gender, class, racial, and ethnic complexities, as well as into the complex relationships between Korean women--sisters, mothers and daughters, grandmothers and grandchildren, aunts and nieces--Older Sister. Not Necessarily Related. describes in visceral, lyrical prose the painful ripple effects that follow a child's removal from a family, and the rewards that can flow from both struggle and forgiveness.
Visit the publisher's page for more information and to read an excerpt from the book.
---
Visit this page often for different features for newly published works by members of CRiCS!
More coming soon.