AS Student Portal Information - Online Services
Accessibility Services (AS) and Deaf & Hard of Hearing Services (DHoHS)
---
Accessibility Services (AS) has implemented some changes to our procedures that we believe will increase accessibility and benefit students and instructors: we introduced a website that offers online access for several AS supports and services, including LETTERS OF INTRODUCTION, and TEST/EXAM BOOKINGS. Students registered with AS and their instructors can access the portal links from our department's website and use their WebAdvisor account's username and password to log in. This is a secure platform that has been tested with TSC, reviewed by the Privacy office, and is currently used by a number of colleges and universities across North America.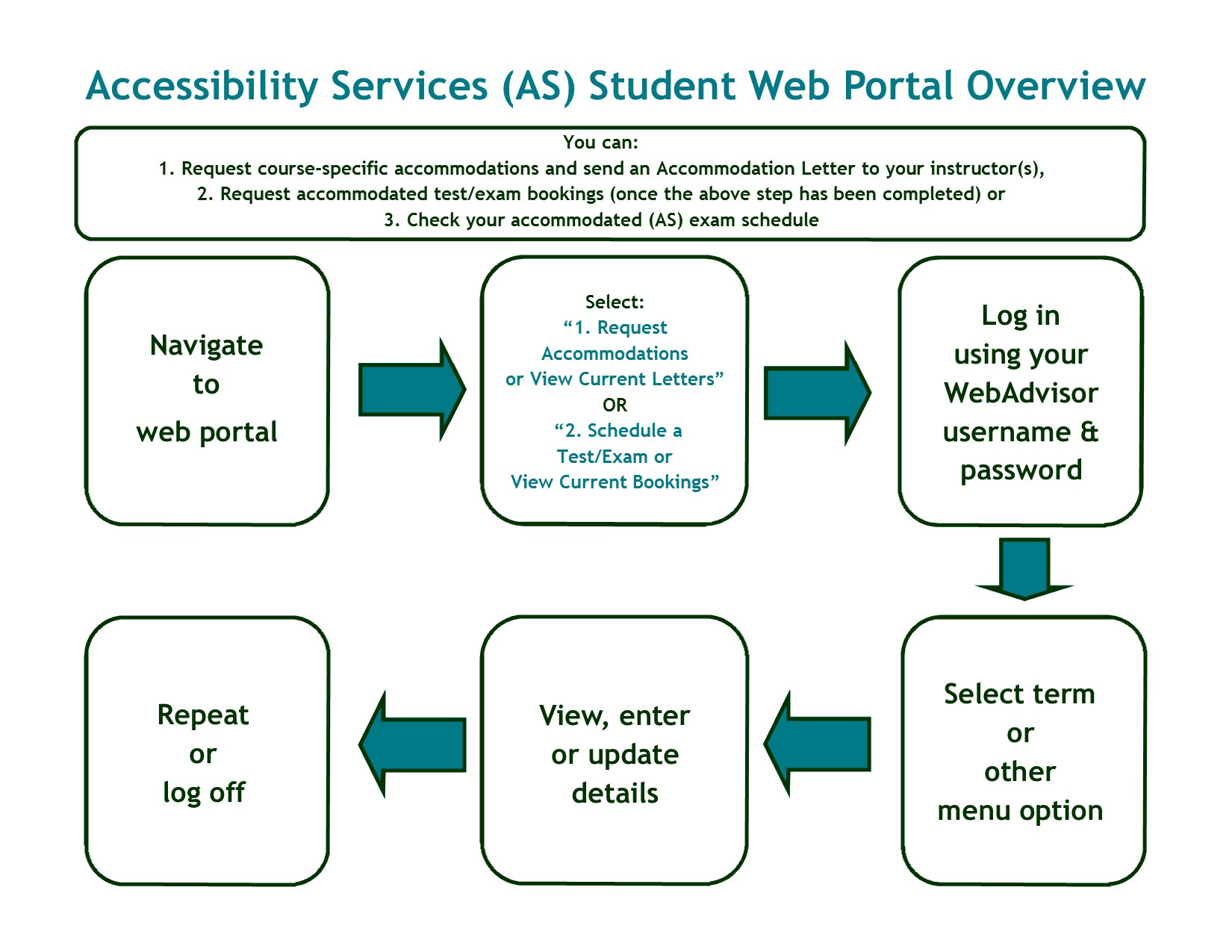 LETTERS OF INTRODUCTION TO FACULTY/INSTRUCTORS
As soon as you have registered for a University of Winnipeg course (and you have already met with an Accessibility Advisor and have submitted medical documentation to register with Accessibility Services) your next step will be to log into the online services portal to notify us of your course-specific accommodations and generate a Letter of Introduction/Accommodation for your instructor(s). On this section of the student web portal, you will be able to choose from all of your pre-approved academic accommodations (both classroom and test accommodations, where applicable) - from these, you may select just the specific ones that will be needed in each course. 
If there are no changes to your documented accommodations, your Accommodation Letter (which contains just those classroom-related accommodations you selected) will both be ready for you to download from the student AS web portal and for your instructor to download from the faculty AS web portal. 

Your Accessibility Advisor will review your request, and if you notified us of changes to your documented accommodations, will contact you regarding the next steps or to let you know once these have been approved. Please make sure AS has your current e-mail address.
If you are:

An Undergraduate/Graduate student:
AS will send your instructor a link to their web portal to log in and view your letter.

A PACE student:
AS will notify you when you can log in again to download a PDF copy of the letter to e-mail directly to your PACE instructor (and cc: a designated PACE advisor). PACE Academic Advisor Kelly Carpick is currently your primary contact to cc: the Accommodation Letter, but if you may also contact Nawal Tajdin, PACE Student Support Advisor.  


ACCOMMODATION LETTERS - WEB PORTAL TUTORIAL:

Step-by-step tutorial on how to request course-specific accommodations and an Accommodation Letter for University of Winnipeg students registered with Accessibility Services
TEST/EXAM BOOKINGS
When you use the online services portal to schedule your tests/exams, the information is automatically entered into our system resulting in less room for error and no more wondering if we received each booking request. You will be able to view and print all of your bookings online, which means that you don't have to call or come into the office for the information.
The option of paper forms will be available under exceptional circumstances (deferred exams or booking requests for Brandon University Psychiatric Nursing tests/exams), but we strongly encourage all other students to use the online portal to ensure a more efficient scheduling experience for all involved.
TEST/EXAMS - WEB PORTAL TUTORIAL:

Step-by-step tutorial on online Test/Exam booking requests for University of Winnipeg students registered with Accessibility Services


These are major changes, so we understand that there may be some questions or concerns. If you require any assistance, please contact your Accessibility Advisor as soon as possible to ensure a quality, positive experience through this transition.